A's-Royals Wild Card Game: Did you know?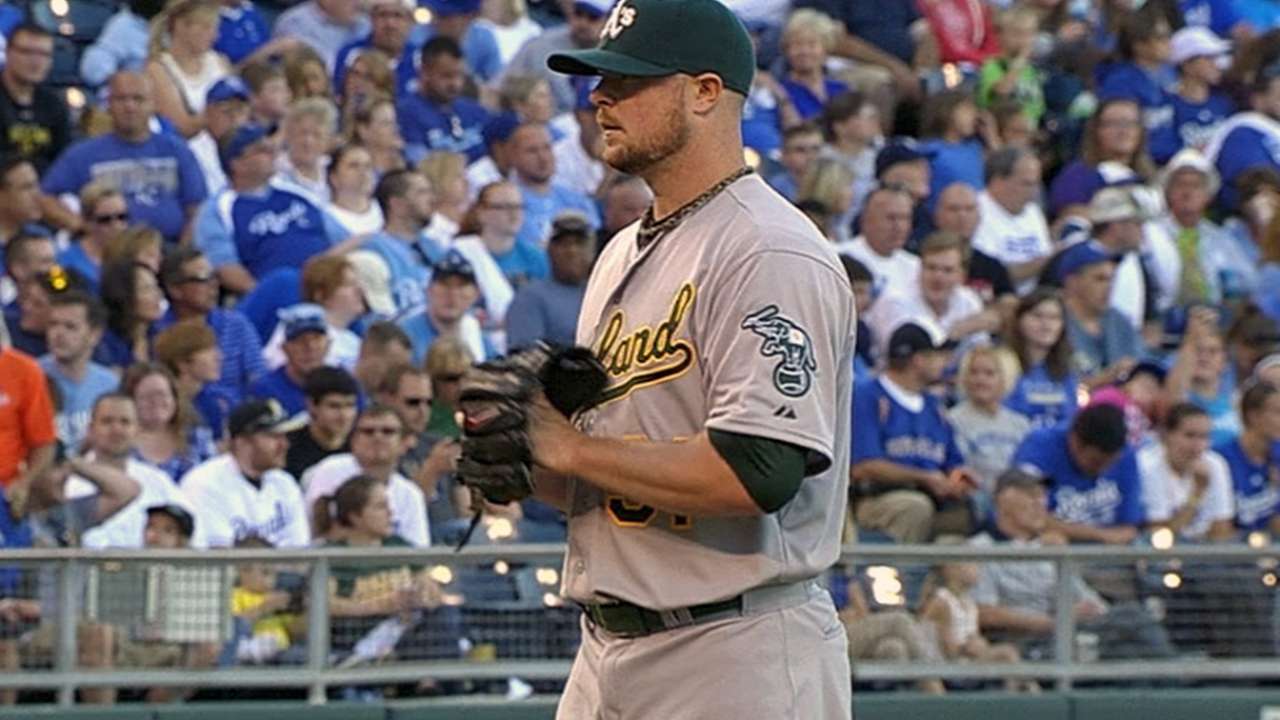 The Royals and A's will square off tonight at Kauffman Stadium in a one-game, win-or-go-home American League Wild Card Game.
Here's what you ought to know about the matchup.
• Left-hander Jon Lester, who will start for Oakland, is 9-3 with a 1.84 ERA in 13 career starts against the Royals. This year, he is 3-0 with a 2.61 ERA in three starts against them.
• The Royals fell victim to Lester's only no-hitter on May 19, 2008, as a member of the Red Sox. Lester tossed a career-high 130 pitches in that game.
• Lester boasts a 2.11 ERA in 13 postseason appearances (11 starts). Last year, he went 4-1 in the playoffs to claim his second World Series title with the Red Sox.
• Several current Royals have had success against Lester. Jayson Nix is 8-for-26 with three home runs off him, while Eric Hosmer and Raul Ibanez have also taken him deep. Salvador Perez is 3-for-6; Nori Aoki is 4-for-9; Alcides Escobar is 6-for-17; and Lorenzo Cain is 5-for-16.
• Righty James Shields will take the mound for the Royals. He is 1-0 with a 3.21 ERA in two starts against the A's this season, and for his career he is 6-4 with a 3.82 ERA in 15 starts vs. Oakland.
• The last time Shields pitched in the postseason was 2011, when he allowed seven runs in five innings in a Game 2 ALDS loss to Texas as a member of the Rays. His career playoff ERA in six starts is 4.98.
• Shields will be pitching on standard four days' rest. Lester will be pitching on five days' rest; his career ERA on five days' rest is 3.36.
• Kansas City took the 2014 regular-season series from Oakland, 5-2, to claim home-field advantage on Tuesday. All seven games came in August: the Royals took two of three in Oakland from Aug. 1-3 before winning three of four at Kauffman Stadium from Aug. 11-14. Lester earned both of the A's victories.
• Starting with their four-game set in Kansas City, the A's dropped eight of their final 14 series -- and 30 of their last 46 games -- to finish the regular season. Prior, they had dropped just 10 of 37 series. Oakland's post-All-Star break winning percentage of .433 is the lowest in MLB history for a team that reached the postseason.
• The A's and Royals have met once in the playoffs -- in the 1981 AL Division Series, which Oakland swept, 3-0. The regular season had been shortened to 109 games due to a players' strike, and it was split into two halves, with the winners of each half squaring off in MLB's first-ever divisional playoff. Oakland posted the AL West's best record in the first half, and Kansas City had the West's best record in the second half. The A's went on to get swept by the Yankees in the ALCS.
• The Athletics called Kansas City home from 1955-67 before moving to Oakland in '68. During those years, they played at Municipal Stadium, where the Royals also played from their inception in 1969 until '72. The Kansas City Athletics never reached the postseason and did not record a single winning season.
• The A's lead the all-time series against the Royals, 307-254.
• Postseason baseball was last played in Kansas City on Oct. 27, 1985, when the Royals defeated the Cardinals in Game 7 of the World Series. This is Kansas City's first playoff appearance since '85, while it's Oakland's third consecutive postseason trip -- and eighth in the last 15 years.
• Tuesday will mark the first postseason contest for A's slugger Adam Dunn, who has played in 2,001 career games -- all during the regular season.
• A's starting pitchers did not walk a batter in the team's last five regular-season games, which is the longest such streak in Oakland history.
• Thanks to their lights-out bullpen, the Royals went 72-1 in the regular season when leading after seven innings and 79-1 when leading after eight. The A's, meanwhile, led the Majors with 13 wins when trailing after seven and eight wins when trailing after eight.
• Kansas City topped MLB in stolen bases (153) for a second straight year. Oakland catchers, on the other hand, threw out just 22 percent of attempted base stealers. For All-Star Derek Norris, that number was 17 percent, which is why the A's are likely to give the start to Geovany Soto, who has gunned down 8-of-17 runners since joining the A's and 10-of-23 on the year.
• The Royals are 42-39 at Kauffman Stadium in 2014.
Aaron Leibowitz is an associate reporter for MLB.com. This story was not subject to the approval of Major League Baseball or its clubs.