D-backs to pick first in 2015 First-Year Player Draft
Astros to make second, fifth picks after not signing Aiken from 2014 Draft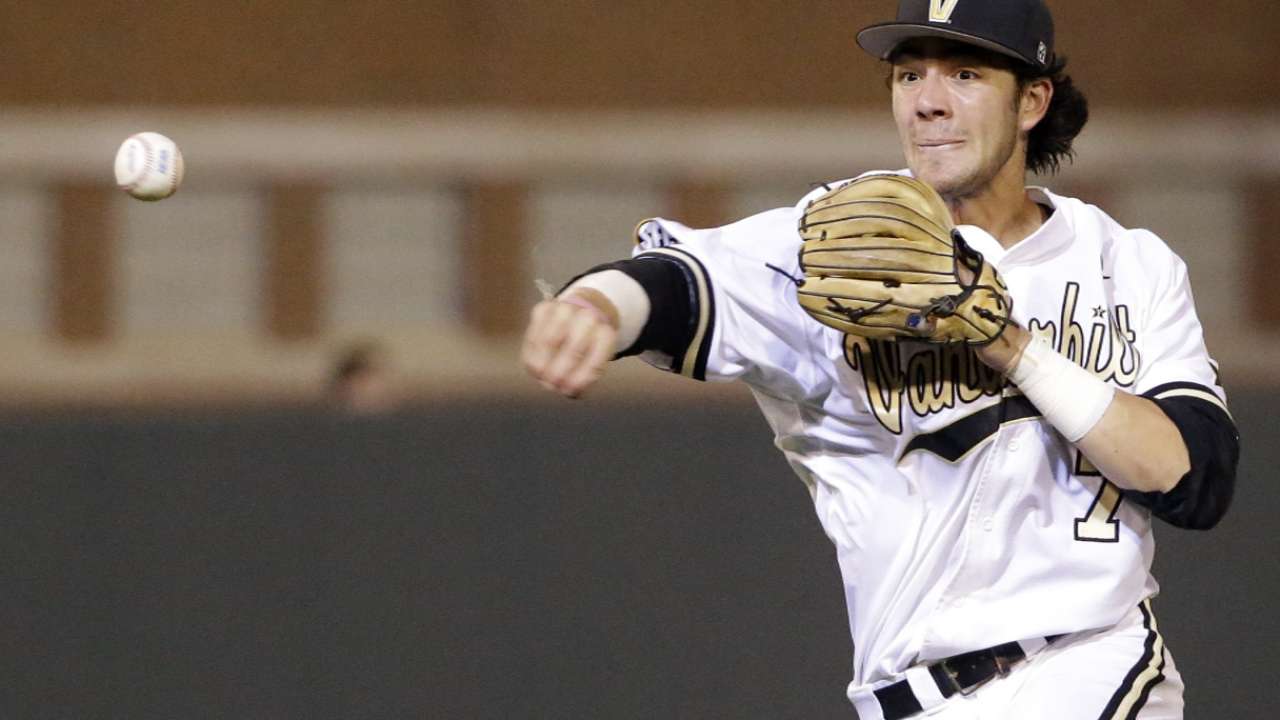 This year didn't turn out anywhere close to as well as the D-backs might have hoped. Their playoff aspirations dissipated quickly after a 5-18 start, and general manager Kevin Towers and manager Kirk Gibson both lost their jobs before the season ended.
Arizona did get a nice consolation prize after finishing 2014 with a 64-98 record, its worst in a decade. By virtue of finishing with MLB's lowest winning percentage (.395), the D-backs received the No. 1 overall pick in the 2015 First-Year Player Draft. The only other time they had the top choice was in 2005, when they selected Justin Upton.
The Astros had owned the No. 1 pick in the previous three Drafts, an unprecedented run. They'll make history again in the 2015 Draft, as they have a higher pair of choices than any club ever. Houston has the No. 2 selection (compensation for not signing Brady Aiken, the No. 1 pick in 2014) and the No. 5 choice (by virtue of having baseball's fourth-worst record this season).
2015 Draft Order
Draft order based on reverse of 2014 regular-season standings; 2013 records used to break ties.
Pick
Team
W
L
1
D-backs
64
98
2
Astros
Comp pick
3
Rockies
66
96
4
Rangers
67
95
5
Astros
70
92
6
Twins
70
92
7
Red Sox
71
91
8
White Sox
73
89
9
Cubs
73
89
10
Phillies
73
89
11
Reds
76
86
12
Marlins
77
85
13
Padres
77
85
14
Rays
77
85
15
Mets
79
83
16
Braves
79
83
17
Brewers
82
80
18
Blue Jays
83
79
19
Yankees
84
78
20
Indians
85
77
21
Mariners
87
75
22
Giants
88
74
23
Pirates
88
74
24
Athletics
88
74
25
Royals
89
73
26
Tigers
90
72
27
Cardinals
90
72
28
Dodgers
94
68
29
Orioles
96
66
30
Nationals
96
66
31
Angels
98
64
Arizona set the previous standard for the earliest pair of selections in 2011, when it drafted Trevor Bauer at No. 3 and Archie Bradley at No. 7. The Nationals also had two top 10 picks in 2009, taking Stephen Strasburg at No. 1 and Drew Storen at No. 9.
There's no clear-cut favorite for the No. 1 choice in 2015 at this point, though Duke right-hander Michael Matuella is the front-runner. Other candidates include Lake Mary (Fla.) High shortstop Brendan Rodgers and Eagle's Landing Christian Academy (McDonough, Ga.) outfielder Dazmon Cameron.
As usual, free-agent compensation will create several changes in the first-round Draft order between now and next June. Teams have until five days after the end of the World Series to make a qualifying offer (one year at the average of the top 125 salaries in 2014, roughly $14 million) to their free agents. If a club loses a free agent after giving him a qualifying offer, it will get a pick at the end of the first round as compensation.
A team that signs a free agent with a qualifying offer will lose its first-rounder, unless it falls among the first 11 picks (the top 10 regular choices, plus the Astros' selection for Aiken). That's a change from the first three years of the current Collective Bargaining Agreement, when rules protected only the top 10 picks (regardless of whether they included compensation choices). Rather than forfeit a protected selection, a club would lose its highest unprotected pick.
A year ago, 13 players received qualifying offers. All of them declined those offers and nine of them changed teams before the 2014 Draft.
Jim Callis is a reporter for MLB.com and writes a blog, Callis' Corner. Follow @jimcallisMLB on Twitter. This story was not subject to the approval of Major League Baseball or its clubs.
This story was not subject to the approval of Major League Baseball or its clubs.