Constructing a winner: Angels
How Anaheim used the Draft, trades, free agency and international signings to build its playoff team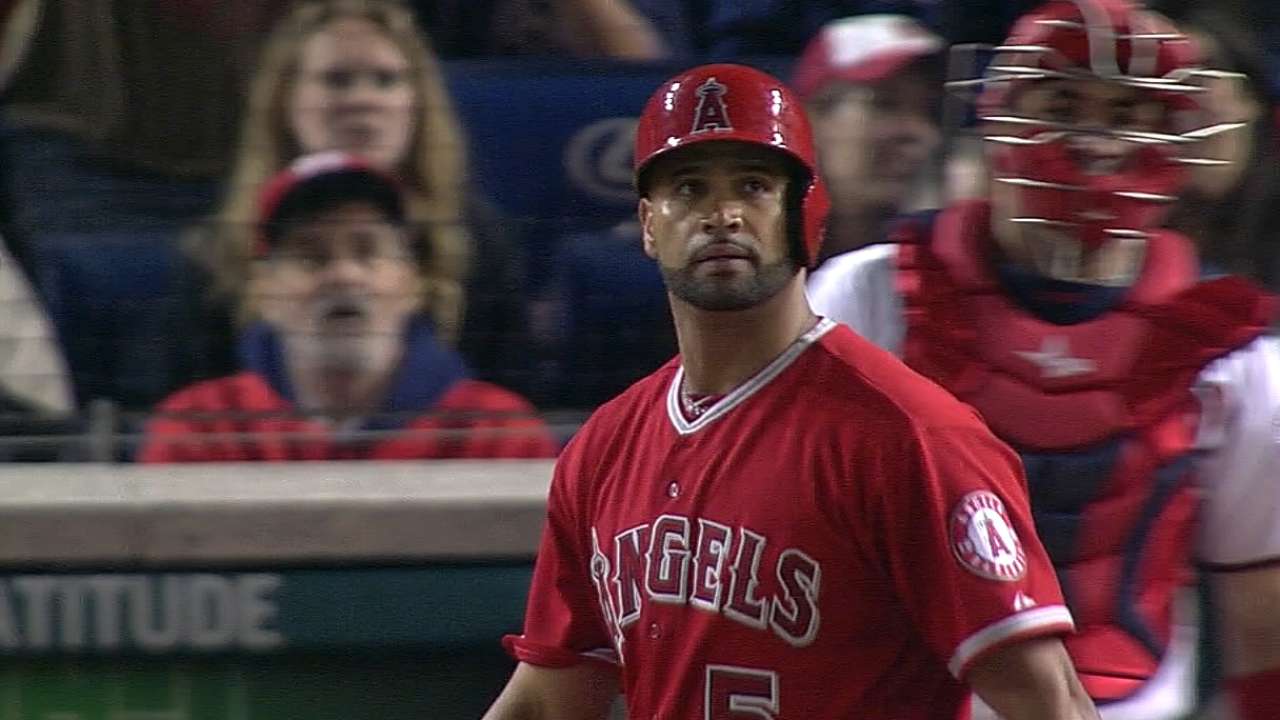 At the 2011 Winter Meetings, little more than a month after becoming the Angels' general manager, Jerry Dipoto shocked the baseball world, closing out the Meetings by signing Albert Pujols and C.J. Wilson in one day.
At the time, the Angels had missed the playoffs in back-to-back seasons, leading to Dipoto's hiring. Suddenly, they seemed ready to take the American League by storm.
The Angels' rise atop the standings this season didn't quite happen that way, however. Even with Mike Trout's historic rookie season in 2012, the Angels came up short of the playoffs again. That winter, they made another big splash in free agency, signing Josh Hamilton. But, again, the Angels missed the playoffs in 2013.
Following that disappointment, the Angels had a much quieter offseason. There were no big-ticket free-agent signings. Dipoto executed a few trades, acquiring third baseman David Freese and pitchers Fernando Salas, Hector Santiago and Tyler Skaggs.
Instead of a new acquisition, the Angels' most significant move of the offseason may have been signing Trout to a contract extension in March that would keep him in Los Angeles through at least 2020.
Dipoto said that while he doesn't view himself as a high-stress person, having Trout locked into the lineup for several more years has put him at ease.
"He's a great player, and justifiably the front-runner for the MVP this year," Dipoto said. "I think it's a contract that rewards him for what he's done and what we anticipate him doing moving forward. And it rewards us with control that we feel is a cornerstone building block for this organization."
After those minor tweaks, the Angels have played like the team many expected after their shocking Winter Meetings haul in 2011. They captured the AL West title, posted the best record in the Majors and have returned to the playoffs for the first time since 2009.
Even with Trout and several other All-Stars on the roster already, Dipoto still had a lot of work to do to build the 2014 Angels. Here's a closer look at how the roster was built.
HOMEGROWN
Player, how acquired, year:
Erick Aybar, Int'l sign, 2002
Kole Calhoun, Draft, 2010 (8th)
Hank Conger, Draft, 2006 (1st)
C.J. Cron, Draft, 2011 (1st)
Kevin Jepsen, Draft, 2002 (2nd)
Howie Kendrick, Draft, 2002 (10th)
Mike Morin, Draft, 2012 (13th)
Efren Navarro, Draft, 2007 (50th)
Matt Shoemaker, Undrafted free agent, 2008
Mike Trout, Draft, 2009 (1st)
Jered Weaver, Draft, 2004 (1st)
Due in part to the fact that the club surrendered three high Draft picks after signing Pujols, Wilson and Hamilton, the Angels' farm system is perceived as relatively weak in the industry. No Angels prospect was ranked on MLBPipeline.com's Top 100 Prospects list this spring, and left-hander Hunter Green, their top pick in the 2013 Draft, spent his first full professional season on the disabled list.
The composition of each team's projected Division Series roster:
| National League | | | | | |
| --- | --- | --- | --- | --- | --- |
| Homegrown | 11 | 9 | 12 | 16 | 11 |
| - Draft | 6 | 7 | 11 | 14 | 11 |
| - Int'l signing | 5 | 2 | 1 | 2 | 0 |
| Trade/Waivers | 6 | 11 | 4 | 5 | 10 |
| Free Agency | 8 | 5 | 9 | 4 | 4 |
| American League | | | | | |
| Homegrown | 6 | 7 | 14 | 11 | 2 |
| - Draft | 4 | 6 | 11 | 10 | 2 |
| - Int'l signing | 2 | 1 | 3 | 1 | 0 |
| Trade/Waivers | 14 | 9 | 9 | 10 | 19 |
| Free Agency | 5 | 9 | 2 | 4 | 4 |
Bold numbers indicate that the team has the most players in the given category; red numbers indicate the team has the fewest players in the given category.
But the Angels were still able to tap into their farm system for a few players critical to their success this season. First baseman Cron, the 17th overall pick in the 2011 Draft, showed off his prodigious power in the big leagues and right-hander Morin, the Angels' 13th-round pick in 2012, became a steady presence in the bullpen.
The Angels' most impactful rookie, however, wasn't even drafted. Right-hander Matt Shoemaker signed with Los Angeles as an undrafted free agent in 2008 after finishing his career at Eastern Michigan. This year, he has developed into one of the team's best pitchers. He went 16-4 with a 3.04 ERA in 136 innings, helping to make up for some of the injuries sustained by the team's other starting pitchers.
Dipoto said that while the Angels' prospects haven't gotten as much outside recognition in recent years as other teams, he is still pleased by what the farm system has been able to contribute.
"I just ran through a variety of names -- Shoemaker, Mike Trout, Kole Calhoun, Hank Conger -- that have come through our system," Dipoto said. "One of the things that we're proud of is that we have presently developed a really balanced group of Major League role players, Major League relievers."
TRADES/WAIVERS
Player, year, acquired from:
Gordon Beckham, 2014, White Sox
Collin Cowgill, 2013, Mets
David Freese, 2013, Cardinals
Jason Grilli, 2014, Pirates
Chris Iannetta, 2011, Rockies
Vinnie Pestano, 2014, Indians
Cory Rasmus, 2013, Braves
Fernando Salas, 2013, Cardinals
Hector Santiago, 2013, White Sox
Huston Street, 2014, Padres
One of Dipoto's biggest challenges this year was to essentially rebuild the Angels' pitching staff on the fly. Starters Garrett Richards and Skaggs both suffered season-ending injuries and the bullpen saw significant turnover, most notably when Ernesto Frieri lost his job as closer due to ineffectiveness.
While some of Dipoto's solutions came from within the organization, several were acquired in a series of trades. Frieri was dealt to the Pirates in June in exchange for Grilli, who had also struggled as a closer this season, but rebounded with the Angels. A week after the Frieri-Grilli swap, Dipoto acquired another reliever, sending Minor Leaguers Zach Borenstein and Joey Krehbiel to the D-backs in exchange for left-hander Joe Thatcher and outfielder Tony Campana.
And Dipoto still wasn't done. Two weeks later, he found a new closer, acquiring All-Star Street from the Padres in a six-player deal. That trade cost the Angels four of their top prospects, including shortstop Jose Rondon, who had represented the club in the SiriusXM All-Star Futures Game just seven days before the deal.
The moves worked. Street kept pitching like an All-Star for the Angels, giving manager Mike Scioscia a reliable closer. The rest of the bullpen followed suit, become one of the club's strengths in the second half of the season.
When he was identifying potential trade targets, Dipoto said he prioritized relievers with good control who would attack hitters.
"This year, we just got a point where strike throwing became a critical thing for us," Dipoto said. "If you're not going to come out here and command the strike zone and give us a chance to win games, then we needed to make a change. And that was the biggest change."
An added benefit of the deals was to bring more veterans to the bullpen. Grilli and Street have both pitched high-leverage innings in the playoffs, which they will be asked to do again this season.
"They were good, veteran players who understood how to play the game, how to go about their jobs," Dipoto said. "And I think they really helped take the culture in our clubhouse to another level, most notably Jason Grilli and Huston Street, what they bring."
FREE AGENTS
Player, year:
Josh Hamilton, 2012
Albert Pujols, 2011
Joe Smith, 2013
C.J. Wilson, 2011
Dipoto's first two offseasons as GM were characterized by the big splashes on the free-agent market.
In contrast, there were no blockbuster deals this year. Instead, the two free agents from last year's class that had the biggest impact on the Angels were pitchers Smith and Wade LeBlanc. They lost LeBlanc on waivers to the Yankees in June, but he was back with the Angels two weeks later after being released.
Smith has been one of the constants in the back end of the team's bullpen, even successfully serving as the Angels' closer for a while. LeBlanc, like Shoemaker, provided critical depth to a pitching staff that was beset by injuries.
Teddy Cahill is a reporter for MLB.com. Follow him on Twitter at @tedcahill. This story was not subject to the approval of Major League Baseball or its clubs.