A master craftsman, Duquette restores the foundation
O's lose many key players during season, but general manager answers every time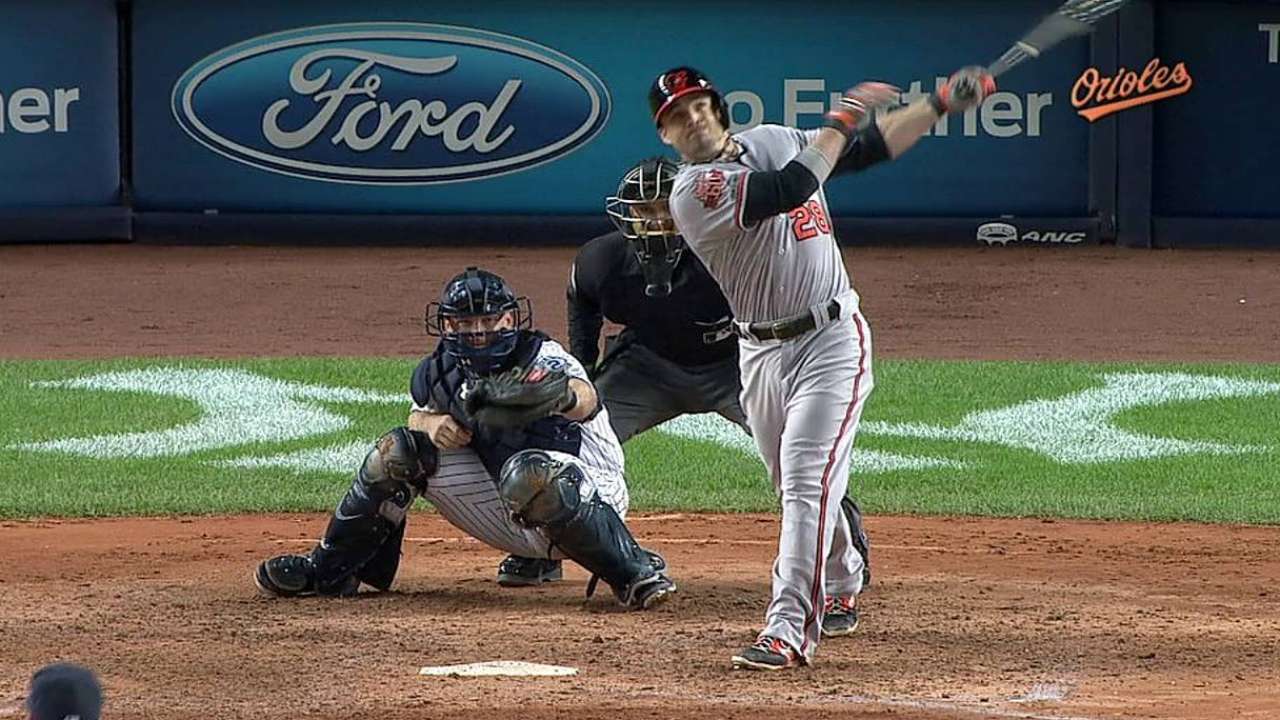 BALTIMORE -- There are no more moves to be made, free agents to mull or trades to contemplate, meaning Orioles executive vice president of baseball operations Dan Duquette will sit up in his suite and take in Thursday's Game 1 of the American League Division Series with the same anxious hopefulness as the expected sellout crowd at Camden Yards.
"There's a lot of things you can do to help your team but when you get to this point it's mostly enjoy the team," said Duquette, who used to work out during the games when he was with Montreal as a way to keep his mind off of things.
His perch now allows him more opportunity to at least try to enjoy the game, and Duquette is optimistic this year's AL East-winning club, which squares off against the Tigers in the best-of-five ALDS (Game 1, Thursday, on TBS), will allow him to do so.
"It should be fun," Duquette said of the Orioles second postseason appearance in three years. This is a good group. They are good, resilient, gritty baseball players. And I like our chances with this group."
Duquette sat down with MLB.com recently to talk a little more about this year's squad, and why he's excited for October.
MLB.com: How is this year's team different than 2012?
Duquette: We are stronger in 14 than we were in '12. We've got better starting pitching. We might score a few more runs in '12 than '14, but the strength of our pitching staff -- particularly starting pitching -- has improved and we have depth in our bullpen. So, that's primarily the reason for the stronger ballclub. The development of starting pithing and the overall depth of the pitching staff.
MLB.com:
You guys made a few late-spring signings for pitching, including
Ubaldo Jimenez
and Suk-Min Yoon, but the real difference has been the guys already here. Why is that?
Duquette: The fact that we have six starters that have taken their spots regularly. And they've improved. Bud Norris has developed a better changeup, [Wei-Yin] Chen's breaking pitches are more consistent. [Kevin] Gausman's secondary pitches are more consistent, he's got better command of his fastball. Tillman has improved as a pitcher. And Miguel Gonzalez has been steady. That's really what Dave Wallace did for the Mets in 2000 and what he did for the Red Sox in 2004. He has helped get the most out of the pitching staff. Dom Chiti's work in the bullpen is good work, but we've had good bullpens in the past. The difference is the improvement in the starting pitching, around June 1.
MLB.com: What about Zach Britton gave the organization confidence that he could finally succeed consistently?
Duquette: He has a great arm and when he first came to the big leagues he had an outstanding sinker. Dave and Dom went to him in Spring Training and asked him what his best pitch was, what his strength was. He said his sinker, so at that point they went with just sinkers exclusively. No four-seamers, no sliders, just the sinker. And he developed better command of it. Saw he could get outs with it, so he developed more confidence in it. And after he gave up a home run in New York throwing just sinkers, he started mixing in his breaking pitch which made his sinker a little bit better. Zach worked hard in the offseason and he was determined to make the team this year. He deserves a lot of credit. But Dave and Dom identified what traits he had that could make him successful and went about it in a way that heaped him pitch real well.
MLB.com: With that being said, Britton was out of options this spring. How close did you come to trading him this winter?
Duquette: There's interest in Zach because when he came up he won 11 games. But then he was inconsistent for a couple years. One of the big things for him to have a good year this year is he was healthy and well conditioned. He prepared to have a good year. So the time to get a pitcher is when he's not throwing good, because once he starts throwing good you are going to keep him. Zach Britton is good and we're glad he's with us.
MLB.com: What has Steve Pearce brought to this team?
Duquette: That's a great story. It's an inspiration. It really is. Steve Pearce was a journeyman. And you can make the argument he's had as good of a season as anyone on the team.
He likes the Orioles. He had an opportunity, he could have went to another ballclub. And he was ready when he got the opportunity and he developed the skills to hit against right-handed pitching, so when he did get the opportunity he went from a platoon bat to an every day ballplayer. He also improved defensively. No matter where Buck [Showalter] put him, first base, left field, right field. His defense at first base on paper, is outstanding.
MLB.com: Pearce seems to be one of many guys who have stepped forward this season when the Orioles needed it most.
Duquette: Steve Pearce saved us. The addition of [Jimmy] Parades and [Alejandro] De Aza and Kelly Johnson, we wanted to add some depth to our lineup. Johnson we picked up as another player in case something happened. And what happened was Chris Davis isn't with the ballclub, so that created opportunity for Jimmy Parades and De Aza because now Pearce is there every day and we don't have a third baseman. To their credit, those guys were ready. And they've performed. De Aza was a good player, he's not a secret.
MLB.com: You lose Davis to suspension after you had already lost Matt Wieters and Manny Machado. Was there ever a moment as a GM you thought, this is it, we can't overcome this?
Duquette: I was concerned when we lost Matt Wieters. Because the task of replacing a catcher in-season? That's a formidable task. But the organization was up to that task and we were able to acquire [Nick] Hundley and bring up [Caleb] Joseph and they did the job, got to know our pitchers, worked with Buck and John Russell helped them develop better skills, particularly Caleb. Caleb did some player development here in the big leagues. That's another really good story that we've got of a player that preserved. And took the opportunity when he was given it.
It's hard to replace a catcher and remain competitive during the season. It really is. That's happened to me a couple times. But these guys did it.
MLB.com: You've been to the postseason before, obviously just recently two years ago. Is this any different for you?
Duquette: The fact that we are back in the playoffs for the second time in three years I think shows the fans that we are serious and want to have a good team year in and year out. It's always fun. It's more fun when you are the last team standing. We got our tickets punched and now we get to dance in the tournament. I like these players. These are great guys that do the work that needs to be done. And I'm looking forward to seeing our ball club play in October.
Brittany Ghiroli is a reporter for MLB.com. Read her blog, Britt's Bird Watch, and follow her on Facebook and Twitter @britt_ghiroli. This story was not subject to the approval of Major League Baseball or its clubs.