Yanks have quite a few players with uncertain futures
Club has decisions to make about bringing back Ichiro, Robertson, McCarthy, Headley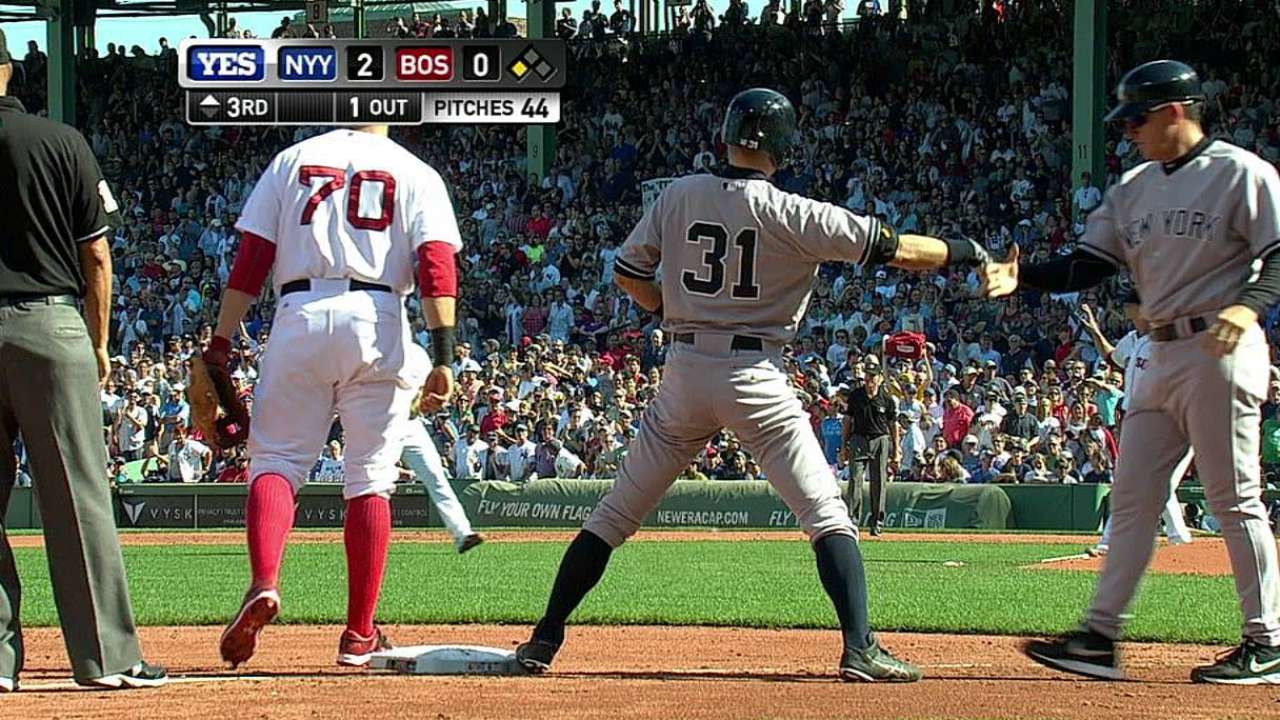 BOSTON -- Derek Jeter walked out of a Fenway Park gate on Sunday afternoon, looking forward to a brave new world of summer barbecues, vacation travel and some choice business opportunities. Several of his Yankees teammates left the building with less certainty.
Ichiro Suzuki started the season without a defined role and managed to bat .284 in 143 games for the Yankees while playing solid defense and running well, showing that while his All-Star days may be over, he can still be a productive player at the big league level.
His time in New York appears to be over -- Ichiro sidestepped a question about his willingness to return, saying, "That might be a question that you shouldn't ask right now" -- but he said that he does want to continue playing.
"Obviously, a lot of things go on that the fans and the media don't see, but what I can say is that the experiences I've had this year will help me in the future," Ichiro said through an interpreter. "It will be somewhat of a support for me because of the experiences I had this year. It will help me in the future."
Ichiro, who turns 41 in October, said that he does not know how many more seasons he would want to play, but said that he feels "great" and would prefer to play in a starting role.
"I don't know where I am going to be, but obviously as a player, you want to play and be in that position," Ichiro said. "If you don't feel that way, I don't know why you play the game. Of course you want to be in that position, but sometimes it doesn't work out that way. Stuff like that happens, too, but you want to be in that position."
There are other questions. David Robertson took over Mariano Rivera's closer role and posted a 39-save season, and the right-hander will be eligible for free agency. Robertson said that thought did not cross his mind as he wore his road gray uniform in the bullpen on Sunday.
"I don't know what's going to happen, we'll just see how things play out," Robertson said. "I did a pretty good job. I wouldn't say it was the best I've ever done, but I did well enough."
Right-hander Brandon McCarthy pitched well after a midseason trade from the D-backs, going 7-5 with a 2.89 ERA in 14 starts. Amid several injury-related questions about next year's rotation, McCarthy has expressed interest in returning to New York.
"There is nothing from my time here that I've seen that makes me think, 'That's a hands off,'" McCarthy said. "The coaching staff and team were great, the facilities, everything is top notch. Nothing turns you off to playing here."
Chase Headley batted .262 with six homers and 17 RBIs in 58 games after being acquired from the Padres and said that his preference would be to play every day in 2015. That may not be possible with the Yankees, where Mark Teixeira is locked in at first base and Alex Rodriguez is expected to return at third base.
"Tremendous people, tremendous players and coaching staff," Headley said. "I've loved every second of being here, and obviously the cherry on top was to play with Jeet in his final months. What a special couple of months. Obviously, I wish we were still playing. If this is the end of my time in the organization, then I've treasured the time. We'll see what happens."
Bryan Hoch is a reporter for MLB.com. Follow him on Twitter @bryanhoch and read his MLBlog, Bombers Beat. This story was not subject to the approval of Major League Baseball or its clubs.