Girardi: Group effort needed to fill void left by Jeter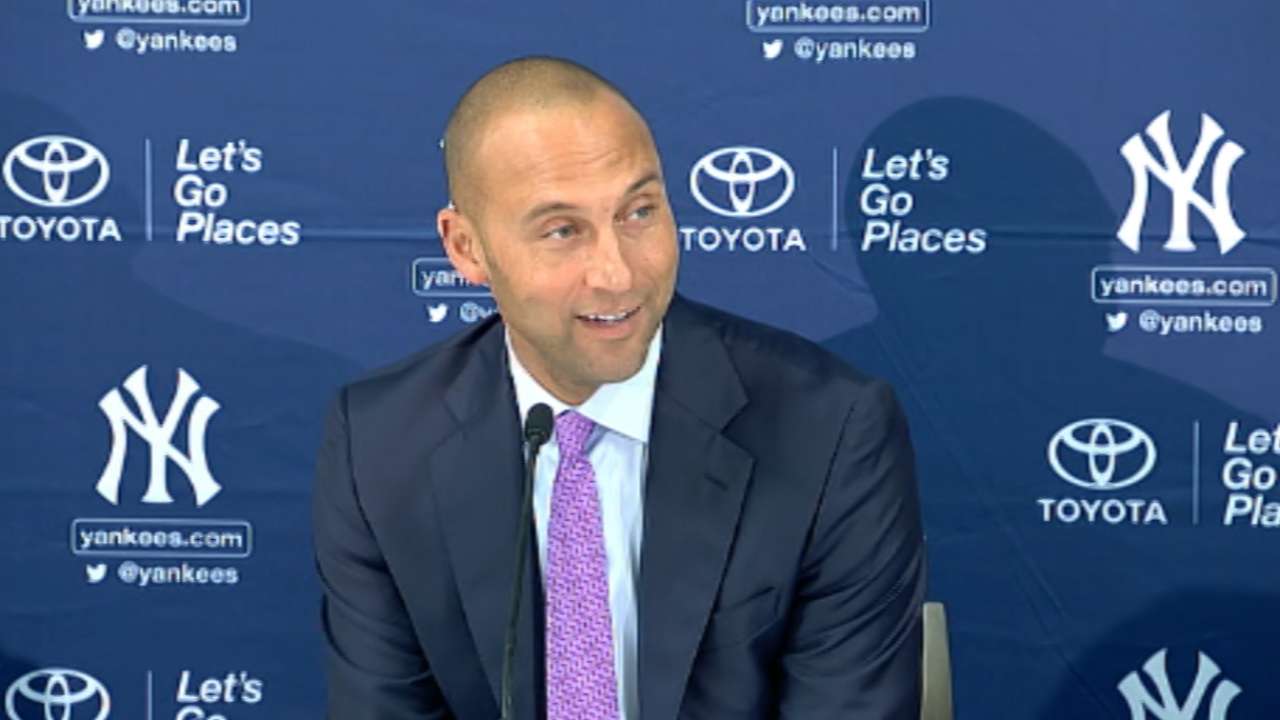 BOSTON -- The last of the single-digit Yankees is gone now, and so when the team reports to Spring Training next season, uniform No. 11 -- currently issued to Brett Gardner -- will be the lowest one still remaining in circulation.
For the first time since 2003, the Yankees are likely to begin their season without an official captain, and they may not have one for quite some time. Derek Jeter's retirement will create a void in the clubhouse, one that manager Joe Girardi believes will take a group effort to fill.
"I think there's a number of guys, I really do. But I don't think it will be one leader," Girardi said. "I think it will be a group of leaders. When I played here in the '90s, we didn't really have a captain. We didn't have one guy. We had a lot of guys that did a lot of things and took care of things."
Girardi noted that in 1996, closer John Wetteland was in charge of the bullpen. Wetteland's departure via free agency created a void that was gradually filled by Mariano Rivera's emergence into the closer's role. That is probably how it will go for the 2015 Yankees.
"The transition didn't happen overnight, but pretty quickly, that was Mo's 'pen," Girardi said. "It will happen, but you won't necessarily see it right away."
Naming Jeter captain was George M. Steinbrenner's decision, ordering it to be done in a hastily scheduled news conference while the club visited Cincinnati in 2003. Jeter became the first Yankees captain since Don Mattingly, who held the title from 1991-95.
Prior to that, Willie Randolph and Ron Guidry served as co-captains in 1986-88, following Graig Nettles' tenure from 1982-84. Thurman Munson had assumed the title in 1976, which was shelved for decades in Lou Gehrig's honor after the 1939 season.
Girardi said that if ownership asked him this winter about naming a new captain, "I would say, 'Wait.' I would say, 'Wait to see who you see really becomes the guy.'"
"You're not going to replace Derek Jeter at all," Brian McCann said. "What he produces on a daily basis is incredible. We just need guys to play hard, that's it. And I feel like we did that. We didn't get it done, but it wasn't from a lack of effort."
It has been suggested that McCann and CC Sabathia could be two personalities to step into a more vocal role in Jeter's absence. Alex Rodriguez also held a good amount of influence with younger players before his season-long suspension and could have some impact.
"I don't necessarily think he would say that [he wants] to be [captain], but Alex at heart is a teacher," Girardi said. "He likes to teach the game and where you're supposed to be and how to play a position. He likes to talk about hitting. Alex loves to talk about the game, but I don't necessarily think that he would seek that."
Bryan Hoch is a reporter for MLB.com. Follow him on Twitter @bryanhoch and read his MLBlog, Bombers Beat. This story was not subject to the approval of Major League Baseball or its clubs.