McClendon: 'Our future is very bright'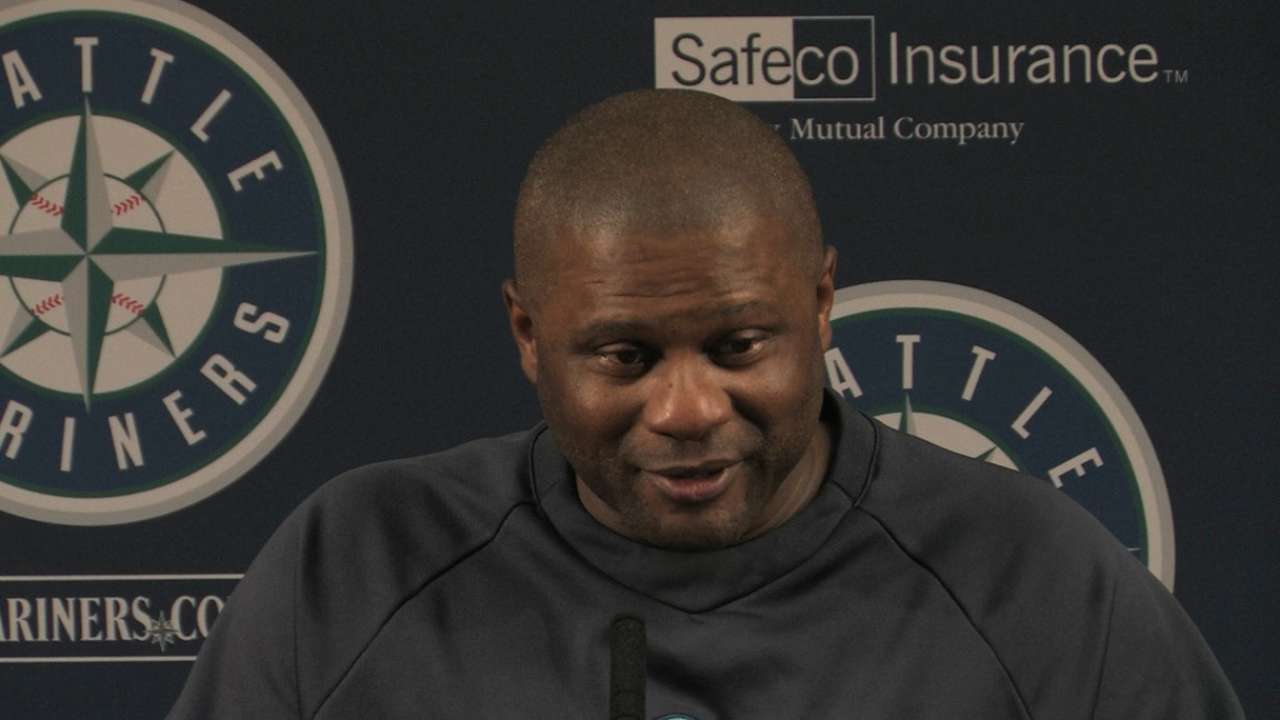 SEATTLE -- In the big picture, the Mariners surprised a whole lot of folks by taking their push for an American League Wild Card berth to the final day of their first season under new manager Lloyd McClendon.
Admittedly, that big picture might take a little time to come into focus, given the immediate disappointment of a frustrating stretch run that saw the Mariners lose 12 of their last 21 games to let their first playoff shot in 13 years just slip from their grasp. Despite finishing on a four-game winning streak, the Mariners' hopes officially ended on Sunday, when the A's clinched the final berth with a 4-0 victory in Texas, making moot Seattle's 4-0 win over the Angels an hour later.
But McClendon and his players know that a foundation was laid this season, and there were plenty of smiles and hugs and handshakes as the Mariners gathered for one last time following Sunday's game.
"You can always say 'coulda, woulda, shoulda,'" McClendon said. "It just was not in the cards for us. I think this was a tremendous learning experience for this club. They took a tremendous step forward, and we'll be better. We've got a lot of work to do, and we're going to start rolling up our sleeves and getting it done."
Though the Mariners hung in the race until the last day, mathematics eliminated any miracle. The A's and Royals grabbed the two AL Wild Card berths and will play on Tuesday in Kansas City while the Mariners pack their bags and await next spring's return to Peoria, Ariz.
"It's kind of a tough pill to swallow, coming one game short," said All-Star third baseman Kyle Seager. "It's a long season, for 162 games, and we played meaningful games the whole time, which is a big improvement. But it kind of sends you into the offseason really wanting to work hard and get ready for next season."
Despite the pain of losing some critical games in September, going 87-75 overall was a large leap for a club that went 71-91 in 2013 and hadn't enjoyed a winning season since 2009.
"I think that's a tremendous step forward," McClendon said. "Particularly for where we've come from when I took this job. Are we there yet? Are we where we want to be as far as being that quality championship club year in and year out? No. There's a lot of work that still has to be done. But it sure is a step in the right direction."
Most promising is the fact that the Mariners should bring back almost the entire core group next season. Robinson Cano and Felix Hernandez are early into long-term deals, Hisashi Iwakuma and Fernando Rodney have another year on their contracts, and the rest of this season's group consists largely of young players still under team control.
The only free agents are veteran pitchers Chris Young and Joe Beimel, designated hitters Kendrys Morales and Corey Hart, outfielders Endy Chavez and Chris Denorfia, and third-string catcher Humberto Quintero.
With Hernandez and Iwakuma joined by promising rookies Roenis Elias, James Paxton and Taijuan Walker, the rotation should be strong and deep again. And that doesn't even take into account 2012 first-round Draft pick Danny Hultzen, who is throwing well in Arizona as he recovers from shoulder surgery that caused him to miss all of 2014, or the possibility of converting Tom Wilhelmsen to a starting role or adding further through free agency.
The AL's best bullpen also figures to be well stocked, with only Beimel no longer under contract from a group that added several hard-throwing rookies in midseason in Brandon Maurer and Carson Smith. And Beimel said on Sunday that he's already told general manager Jack Zduriencik he'd love to return, and Young also indicated that he'd like to rejoin the rotation if things work out.
Clearly, the offseason focus will again be on adding offense, but McClendon said that playing tough games in a playoff chase this season should help everyone be better going forward.
"No question," he said. "And not just the younger players. All of us should be better. Your past should prepare you for your future, and I believe this will prepare us for our future. And our future is very bright."
Greg Johns is a reporter for MLB.com. Follow him on Twitter @GregJohnsMLB as well as his Mariners Musings blog. This story was not subject to the approval of Major League Baseball or its clubs.