Weeks wraps up time with Brewers on bench
Second baseman, who was drafted by Milwaukee, doesn't appear in finale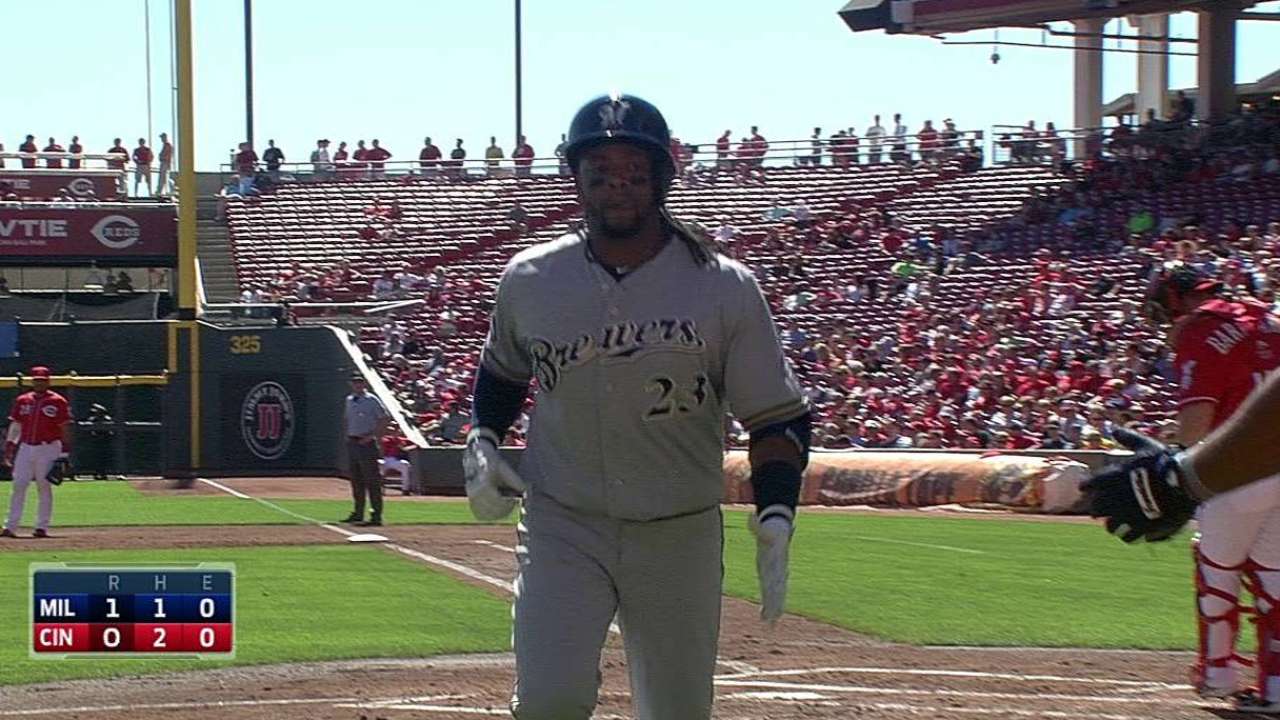 MILWAUKEE -- Rickie Weeks' 10-year tenure with the Brewers ended quietly Sunday, with the former All-Star second baseman remaining on the bench for all nine innings of the Brewers' season-ending loss to the Cubs.
Weeks might not have lived up to the hype he generated when the Brewers drafted him second overall in 2003, but he was part of the wave of prospects, with Prince Fielder, J.J Hardy, Ryan Braun and others, who lifted the Brewers back to respectability beginning a decade ago. Weeks is 11th in Brewers history with 1,009 hits and sixth with 684 runs scored.
He was in the last season of a four-year contract that included a vesting option for 2015 based on appearance criteria Weeks did not meet because he platooned at second base with Scooter Gennett. Weeks, 32, will be a free agent for the first time.
"I asked him yesterday if he wanted to get an at-bat, or whatever he wanted to do -- start, get one [at-bat]," manager Ron Roenicke said, "and he didn't want to."
After the game, Weeks shed little light on that decision.
"I mean, it was some other things. It wasn't a big deal," he said. "It was just one of those things where what's done is done. I had a good conversation earlier this morning with Doug [Melvin, the Brewers' general manager]. Life still goes on. It's not like it's the end of all things. I'm the type of person, I just move on. That's the way it is."
He also said, "I told the manager that if the time permitted itself during the game, put me out there, and if not, so be it."
Starting against left-handed pitchers and playing off the bench, Weeks batted .274 with a .357 on-base percentage in 252 at-bats this season, with eight home runs and 29 RBIs. When the Brewers earlier this season floated the idea of trying some left field, where Khris Davis was struggling, Weeks declined, and he made no secret throughout the season about his belief he could still perform as a starting second baseman in the Major Leagues.
"I don't think I'm going to be here next year," he said. "It's just for me to just move forward with my life. … I mean, I hate to say this, but I'm the type of person that keeps looking forward. There's nothing bad about the city or anything like that. That's just the way I work, really. Obviously, very grateful for the opportunities I had to play here all this time and the fan support and things like that. It's all a great thing."
Adam McCalvy is a reporter for MLB.com. Read his blog, Brew Beat, and follow him on Twitter at @AdamMcCalvy. This story was not subject to the approval of Major League Baseball or its clubs.