MLB.com Columnist
Anthony Castrovince
Captivating capper to end of regular season
From no-hitter, farewells and clinchers, fans whet appetite for postseason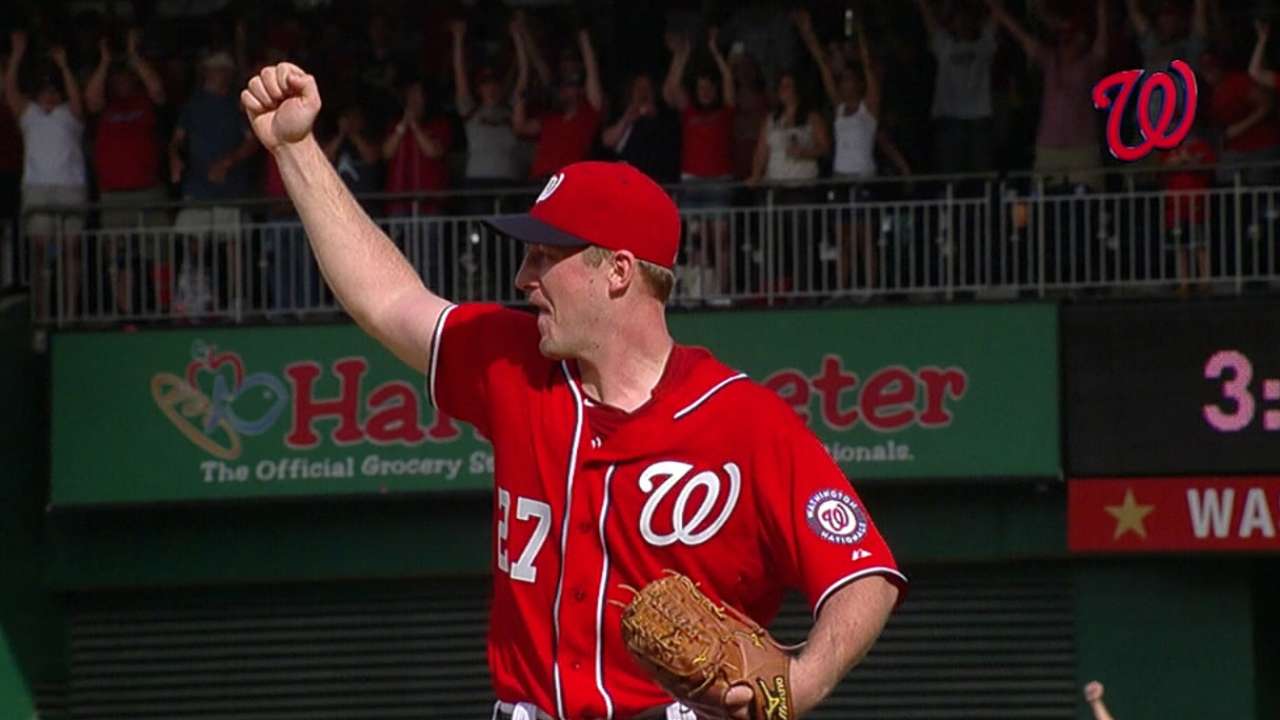 Did you see Steven Souza Jr. laying out to make that crazy catch for the last out of Jordan Zimmermann's no-hitter? Well, of course, you saw it. That was a stupid question. But seriously, was that not the perfect end to the Nationals' rousing regular season?
The whole day was like that, really. Sunday was a captivating capper to a Major League season that kept us guessing all the way until the final outs were registered.
All right, so it wasn't perfect. At least, not for Mariners fans, who watched their team come so tantalizingly close to its first postseason berth in 13 years, only to come up one game short.
And no, it wasn't perfect for lovers of chaos, either.
After all, we entered Sunday with the very real possibility of needing three tiebreakers Monday to finalize the postseason field. Alas, we'll have to "settle" for the standard setup, with the Royals hosting the A's in Tuesday's AL Wild Card Game and the Pirates hosting the Giants in the NL version Wednesday. The Tigers and Cardinals, meanwhile, cemented themselves as the class of their respective Central divisions in Game 162, and they're now lined up to face the Orioles and Dodgers, respectively.
But even if it didn't invite some Monday mayhem, Sunday was still quite special, for the following reasons:
Zimmermann's no-no.
Stephen Strasburg might be the more readily recognized name, and Doug Fister might be the trade acquisition who has helped elevate the Nats, but Zimmermann is the heart and soul of this rotation, and this very well might have been his best season, to date.
What a way to finish it off, blanking the Marlins (and working opposite, ironically enough, Henderson Alvarez, who tossed his own no-hitter on the final day of the 2013 season) with just one walk and 10 strikeouts for the first no-hitter in Nationals history and the fifth in Nationals/Expos history.
Souza's circus catch made this moment in time all the more memorable, and it gave way to a raucous on-field celebration for a Nats club that hopes to have several more celebrations ahead in the coming weeks.
"You want to go out on top, that's for sure," Zimmermann said. "Have some momentum going into the playoffs."
Derek Jeter's final tip of the cap at Fenway, and Paul Konerko's final bow on the South Side.
Even when you know they're coming, goodbyes are tough. And only the most emotionally steeled among us could watch these guys walk off the field one last time and not get at least a little lump in the throat. Jeter's farewell never lacked for attention of course, and nothing was going to top that Yankee Stadium walk-off Thursday night.
But for Jeter, getting one last RBI single on an infield chopper (in an eventual win over the rival Red Sox) and coming off the field for a pinch-runner (Brian McCann will be the answer to that trivia question) allowed him to receive one last standing ovation and go out on a high note.
"We're all disappointed we didn't get an opportunity to go to the playoffs," Jeter said. "[But] I've enjoyed this season as much as I could."
Konerko's was a much more low-key goodbye, and that's fitting for a guy with such a low-key personality. But he meant so much to those Sox fans who had waited so long for the championship he helped deliver in 2005, and his exit was also very emotional for the man they affectionately call "Paulie" and everybody else at U.S. Cellular Field.
Sonny Gray coming up clutch for an Oakland team in need, and David Price doing likewise for the Tigers team that went all-in on him in July.
The A's had the Majors' best record as recently as the morning of Aug. 16, yet they found themselves on the final day needing a win to secure the AL's fifth-best record and the road Wild Card slot it allowed.
Clearly, then, little has gone right for these A's the last six weeks. But this dominant outing by Gray, who went the distance against the Rangers and allowed just six hits with five strikeouts, was a reminder that they still have the pitching to go deep in the postseason. And while a road date with a hungry Kansas City team is not ideal, they will have a rested Jon Lester at the ready. Buckle up.
As for Price, his showing in Motown has been a bit of a mixed bag, but the Tigers acquired him for moments like Sunday, when he was a stopper in a win-and-get-in scenario. The Tigers did not want to settle for the Wild Card, and they definitely didn't want to find themselves in a rotation-burning tiebreaker Monday. So Price took care of business with 7 1/3 excellent innings against the Twins in a 3-0 win, ensuring another one of the Tigers' aces -- Max Scherzer -- will be rested up for Game 1 of the Division Series in Baltimore.
Also encouraging for the Tigers? Joba Chamberlain got the hold and much-maligned closer Joe Nathan got the save. Maybe the back-end of that Detroit bullpen is ready for its close-up, after all.
Jose Altuve wrapping up the AL batting title with a two-hit day.
You've got to love this. The Astros, obviously, had nothing to play for Sunday, and Altuve, with a .340 average going into the day, had the batting title lead in-hand, with Victor Martinez looming behind at .337. The Astros initially posted a lineup without Altuve's name in it, against his wishes. Twitter went nuts with the news, and, next thing you knew, the Astros had a change of heart. Altuve played, got two hits, and finished with a league-best .341 mark, giving him the first batting title in Houston history.
"That means a lot," Altuve said. "That's something I've been working for, and I'm trying to help my team every day."
Hey, this wasn't just meaningful in the context of 2014. Altuve had one of the greatest seasons for a right-handed hitter in history. After all, since 1937, only four other right-handers finished a season with more than his 225 hits (Joe Medwick had 237 in '37, Kirby Puckett had 234 in '88, Tommy Davis had 230 in '62 and Joe Torre had 230 in '71).
King Felix Hernandez putting an exclamation point on his Cy Young Award bid.
On the day his dream of reaching his first postseason went unrealized, King Felix nonetheless gave the M's 5 1/3 innings in which he allowed just a hit with no walks and seven strikeouts.
Hernandez could have yanked himself from the game once he knew the M's were eliminated, but he opted instead to trot back out there for the sixth. After Hernandez got one last out, manager Lloyd McClendon went out to get him, and a packed Safeco Field filled with members of the King's Court gave him a heartfelt roar of gratitude. Watching that moment, you couldn't help but think that an M's team that knocked on the door in the first year of the Robinson Cano era could beat it down in 2015.
In the meantime, that Cy Young race between Hernandez and the Indians' Corey Kluber, who was excellent Friday night, is too close to call.
Clint Hurdle giving the Central a shot with Gerrit Cole.
Wow. What a gutsy move by Hurdle and the Buccos. They had only the slightest statistical chance of winning the Central -- needing not only a win over the Reds but a D-backs win over Adam Wainwright and the Cardinals -- but Hurdle went for it anyway with his best-available pitcher. This move will be second-guessed for an eternity if the Pirates don't make it out of the Wild Card Game.
For now, you've got to admire Hurdle's courage, even if you question his decision.
Manager Juan Uribe and pitching coach Clayton Kershaw.
Because baseball is weird, and sometimes the last day of the regular season is even weirder. Kudos to Don Mattingly for having a sense of humor, and kudos to Uribe, who is now 1-0 in the managerial hot seat.
Now, it's on to bigger and better things in baseball. Sunday was great, but we're really just getting started.
Anthony Castrovince is a reporter for MLB.com. Read his columns and follow him on Twitter at @Castrovince. This story was not subject to the approval of Major League Baseball or its clubs.