Royals enjoy 2014 success against A's, with one exception
Kansas City goes 5-2 vs. Oakland, but both losses to Wild Card starter Lester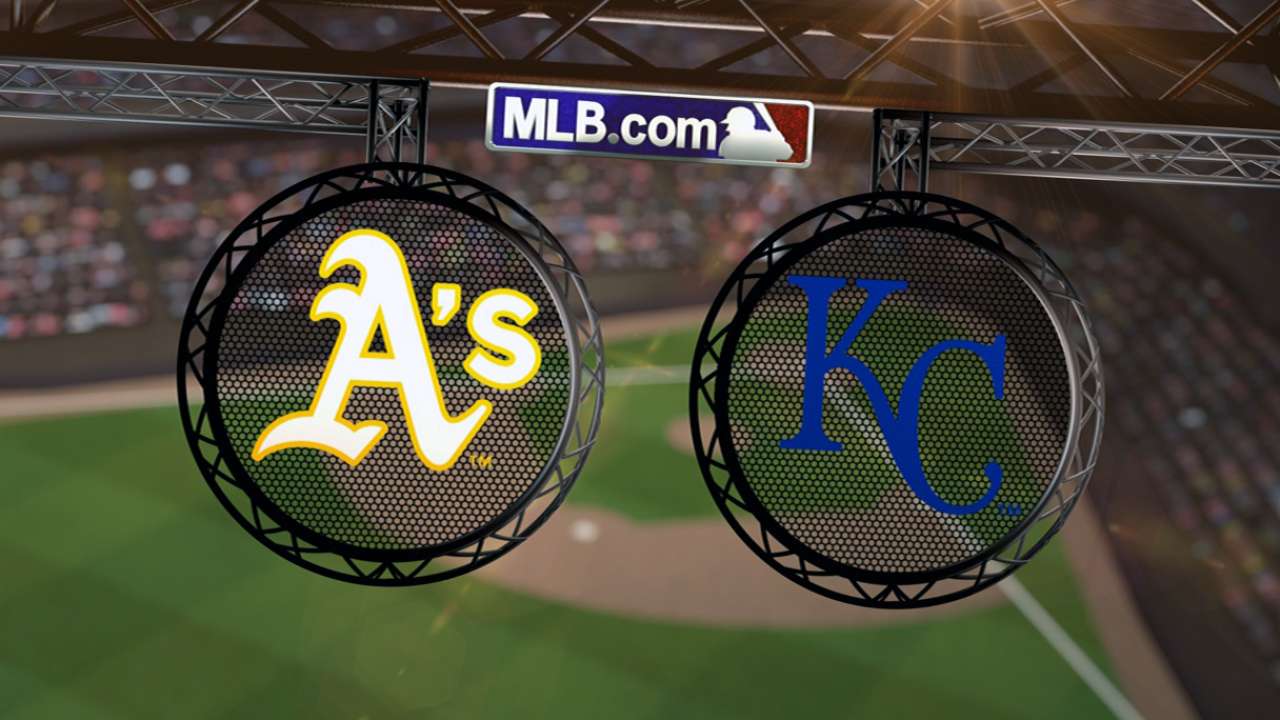 After missing the playoffs for 28 consecutive seasons, the Royals receive no favors in their first postseason matchup since 1985.
Kansas City faces the Athletics, and perennial thorn-in-the-side Jon Lester in the American League Wild Card game at Kauffman Stadium on Tuesday 7:07 p.m. CT on TBS. To say that Lester historically has the Royals' number would be a massive understatement.
Just this season, Lester handed the Royals two losses in an 11-day span (Aug 2 and Aug. 12). He also no-hit the Royals in 2008.
"We're due to beat Lester, that's for sure," said Royals closer Greg Holland. "So that's actually kind of comforting if you ask me. But anything can happen in a one-and-done situation."
Oakland acquired Lester from the Red Sox on July 31 with the hopes that the left-hander would bolster the team's chances to claim that elusive World Series. The fact that the A's barely squeaked into the playoffs represents just how far they dropped after that trade.
On the day the Athletics swapped Yoenis Cespedes for Lester and Jonny Gomes, they led the Angels in the AL West by 2 1/2 games. At season's end, Los Angeles had passed Oakland, and not by a narrow margin, either. The Halos created 10 games of space between the Athletics, who finished 22-33 after the trade.
The Royals and A's offer a stark contrast in recent postseason experience.
Oakland qualified for the playoffs for the third straight season with a 4-0 win over the Rangers on Sunday. The Royals make their first playoff appearance since their 1985 World Series victory.
The two teams matched up on seven previous occasions this year. All seven games came in the second half, and the Royals claimed five of them.
Kansas City took a three-game series in Oakland, 2-1, then won three of four against the A's at Kauffman Stadium from Aug. 11-14.
"We've played well against them," Holland said. "At this point of the season, the best team doesn't always win, so we've got to go out there and play our game."
Jackson Alexander is an associate reporter for MLB.com. This story was not subject to the approval of Major League Baseball or its clubs.