Three keys for Royals to win AL Wild Card Game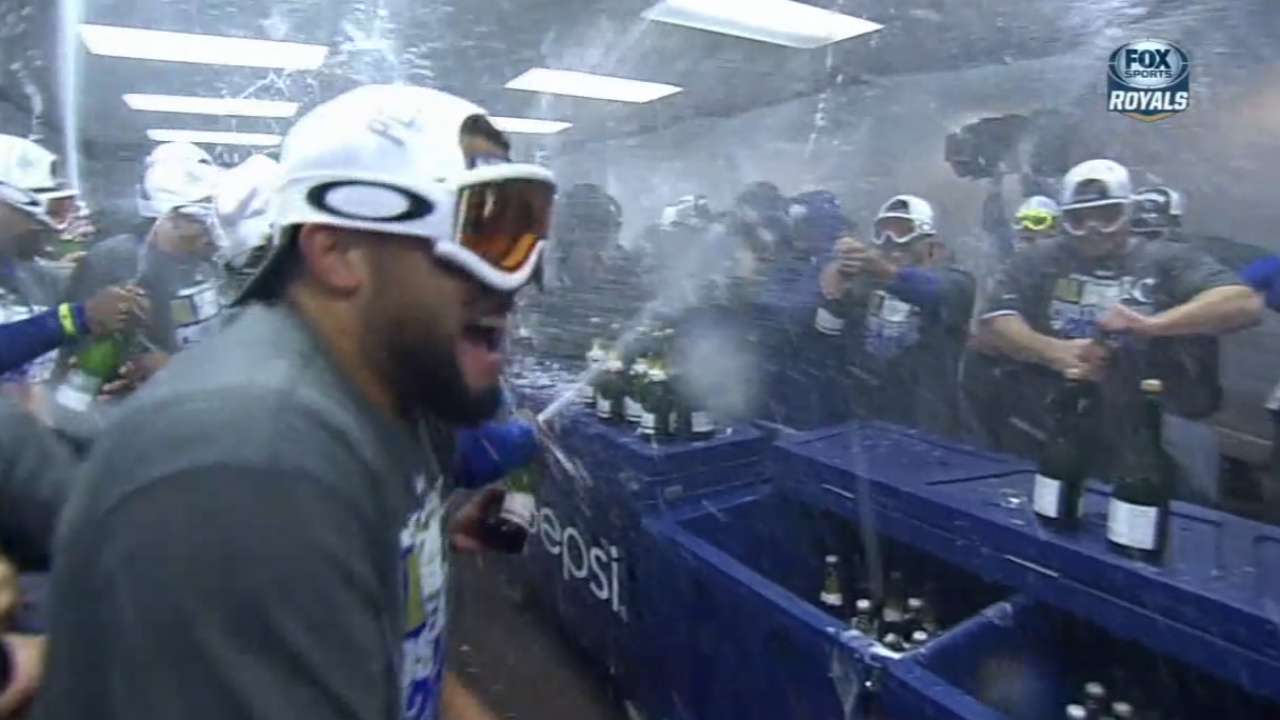 The final day of the Major League regular season secured a first-round date between the Royals and Athletics, who will battle in the American League Wild Card Game at Kauffman Stadium on Tuesday at 7:07 p.m. CT on TBS.
Kansas City makes its first postseason appearance since 1985. Oakland squeaked into the second Wild Card spot on Sunday, securing its third straight trip to the postseason. Here are the three keys to the Royals winning their first playoff game in nearly three decades.
When Kansas City's offense produces like it's capable of, the case could be made that the Royals -- with their superb defense, exceptional starting pitching and sublime bullpen -- lack a true flaw.
But reaching its full potential means consistent contributions from Alex Gordon, Salvador Perez and Billy Butler, something the team missed during a good chunk of September.
Perez enters Tuesday looking to scrub away a three-week slump. The Royals' All-Star catcher entered Sunday's 6-4 win over the White Sox with a .193/.202/.277 slash line in his last 21 games.
On Aug. 26, Alex Gordon launched a walk-off home run against the Twins and put his name in the race for the AL Most Valuable Player Award. Since then, he's batting .194 (20-for-103).
Butler had a disappointing regular season, with his average (.271), on-base percentage (.323) and slugging percentage (.379) all at career-low levels. From Aug. 30-Sept. 20, Butler went 2-for-32 and started only half of Kansas City's 20 games.
However, all three displayed some form of productivity at the plate in the final week of the season, a stretch the Royals finished, likely not by coincidence, 6-2.
Perez cracked a solo home run on Saturday, snapping a 23-game homerless streak. Gordon reach based at a .500 clip in the team's final six games, while Butler, reinstated to the lineup full time, hit .385 (10-for-26) on the seven-game road trip.
2. Get the bullpen a lead: There's no greater guarantee for a Royals win than when manager Ned Yost can hand the ball off to his seventh-eighth-ninth-inning relief combination with a lead. Kelvin Herrera, Wade Davis and Greg Holland make up Kansas City's fearsome back end of the bullpen, a unit that Oakland should avoid entirely if it hopes to continue its season.
The Royals had the best record in baseball when entering the eighth or ninth inning with a lead, thanks to setup man Davis and closer Holland.
Only the Padres trump Kansas City's 65-4 record when holding an advantage starting the seventh, the inning Herrera usually presides over.
The trio combined for 205 1/3 innings, 258 strikeouts and a 1.28 ERA this season.
3. Use the speed: When one game is the difference between the end of your season and a chance at continuing the chase for a World Series, the smallest things can make a big difference. And for the Royals, this revolves around how Yost plans on using his team's speed in the Wild Card Game.
Yost must decide whether he values Terrance Gore's speed over, say, an extra arm in the bullpen or an additional body to play the field, when selecting his postseason roster. Gore joined Kansas City on Aug. 31, and despite only one plate appearance this season, he's 5-for-5 on stolen-base opportunities.
If Gore does not appear on the postseason roster, Yost could turn to Jarrod Dyson in pinch-running situations. Dyson collected a career-high 36 steals this year.
The Royals finished the season leading the Major Leagues in steals, with 153, well ahead of the second-place Dodgers (138).
Jackson Alexander is an associate reporter for MLB.com. This story was not subject to the approval of Major League Baseball or its clubs.