Souza joins impressive company with grab
Nationals outfielder preserves no-hitter with amazing catch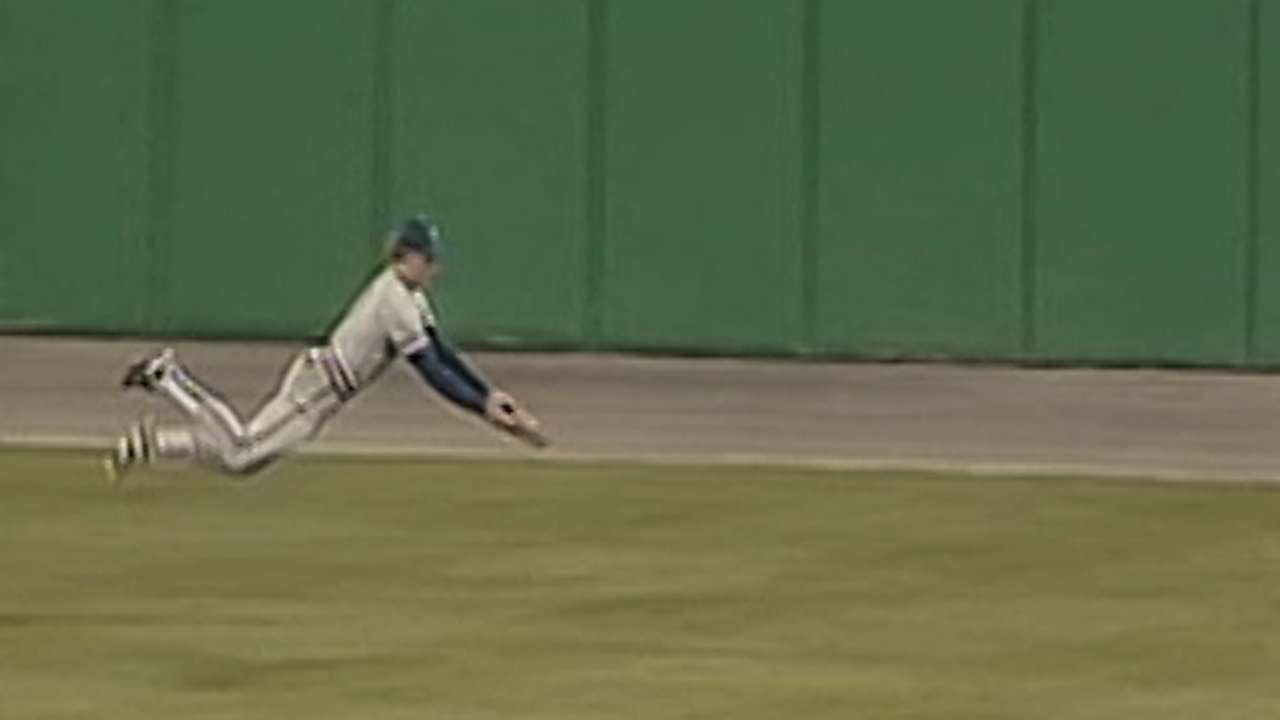 The image of Steven Souza Jr. leaping into a Superman dive in left-center field at Nationals Park to catch the final out of Jordan Zimmermann's no-hitter Sunday afternoon put an exclamation point on the 2014 season's spectacular final day, and the day's most historic achievement.
The eye-boggling catch might also have jumped right to the front of the line of the greatest plays ever made for the final out of a no-hitter, joining efforts by Hall of Famers and Gold Glovers among the greatest defensive efforts to clinch a piece of pitching history.
Of course, many no-hitters have been blessed with defensive plays that saved the day, some coming early in the game and others late. One like Souza's in the ninth inning is rare, but there have been some great late-innings catches over the years.
While we're settling our pulses following Souza's thrilling catch to save Zimmermann's no-hitter, here's a glimpse at some of the great gem-savers in no-no history:
Robin Yount: Before Souza might have one-upped it, the all-time defensive save of a no-hitter belonged to Hall of Famer Yount, who made his mark as a shortstop but helped Juan Nieves make history while playing the outfield on April 15, 1987. In center field, Yount made a full-stretch dive into right-center to rob Eddie Murray, another future Hall of Famer, of a hit for the final out of the game -- the Brewers' first and only no-hitter.
Omar Vizquel: With the Kingdome crowd going crazy and Chris Bosio one out away from a no-hitter on April 22, 1993, it was Vizquel to the rescue. Ernest Riles of the Red Sox hit a chopper that went bouncing over Bosio's head -- and in burst Vizquel from shortstop, sprinting toward first and firing a perfect strike to put a cap on the gem.
DeWayne Wise: Mark Buehrle worked a perfect game into the ninth inning on July 23, 2009, but Tampa Bay's Gabe Kapler hit a drive to left-center that left the U.S. Cellular crowd groaning. Wise, the White Sox center fielder, leaped at the fence, caught the ball in his glove, bobbled it and retained it in his bare hand for a thrilling way to start the ninth. Buehrle, of course, would finish it off.
Hunter Pence: The Giants' right fielder made sure Tim Lincecum's first no-hitter got to the ninth inning with an amazing diving grab for the final out of the eighth on July 13, 2013, robbing the Padres' Alexi Amarista of a gem-bashing knock. That one was among a few strong outfield plays during the Giants' run of four no-nos in six years, including a catch at the wall by Aaron Rowand to help out Jonathan Sanchez on July 10, 2009, and a sprinting, diving catch by Gregor Blanco to help secure Matt Cain's perfect game on June 14, 2012.
Mike Baxter: The Mets had gone their entire history without a no-hitter, and Johan Santana was on his way there on June 1, 2012. In the seventh, Yadier Molina ripped a ball to left field, and Baxter sold out all the way, making an over-the-shoulder catch and then slamming into the wall, hanging onto the ball. Santana would hold onto the no-no, the first for the Mets after missing out since 1962. As for Baxter, he'd wind up with a displaced right collarbone and fractured rib cartilage, and he was out for six weeks. Talk about giving it up for history.
Other recent no-hitters have had late gems, like the double play by Neifi Perez and Placido Polanco in the eighth to help the Tigers' Justin Verlander on June 12, 2007, and a diving catch in the seventh inning by Dexter Fowler to help Ubaldo Jimenez get it done for the Rockies on April 17, 2010. Even the most famous of all no-hitters -- Don Larsen's perfect game in the 1956 World Series -- had its defensive gems, including a running catch by Hall of Famer Mickey Mantle.
Ah, but to do what Souza did Sunday, that's just special -- final out of a no-hitter, one of the plays of the year. That's hard to top.
John Schlegel is a reporter for MLB.com. This story was not subject to the approval of Major League Baseball or its clubs.