MLB.com Columnist
Mike Bauman
Blame for Brewers' collapse might fall on Roenicke
While it wasn't the fault of the manager, club struggled to close out season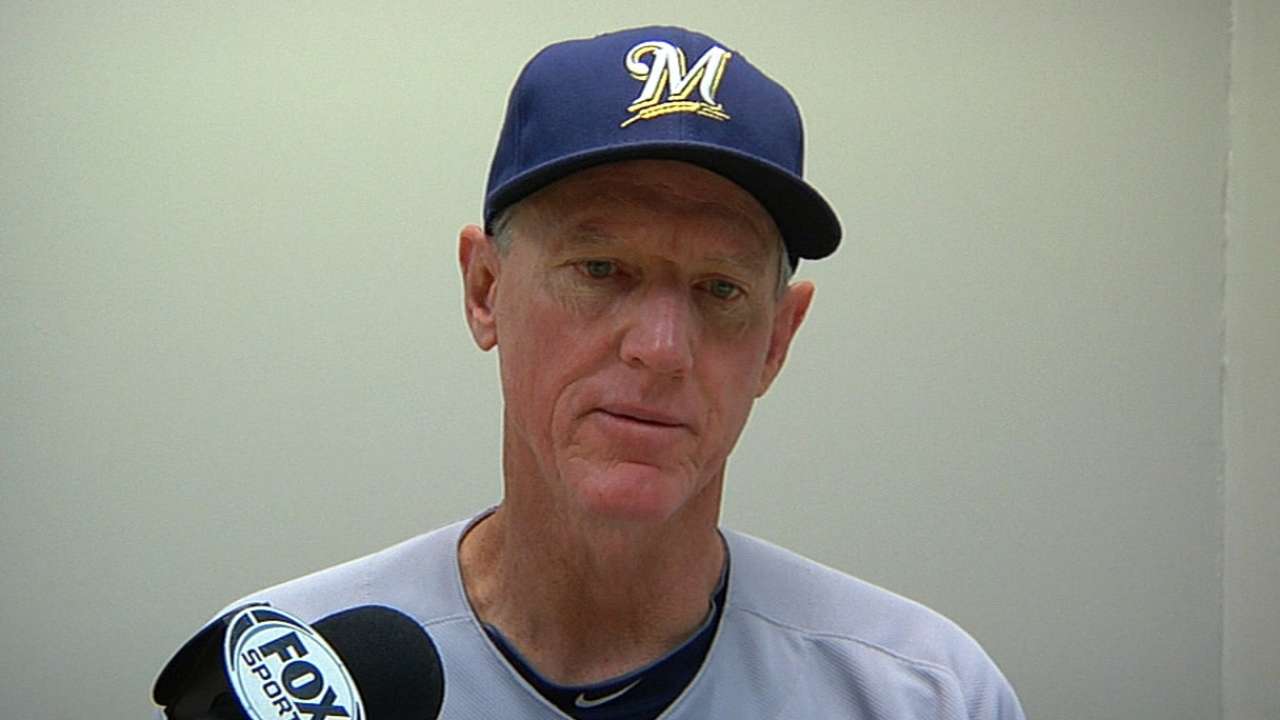 MILWAUKEE -- It is not Ron Roenicke's fault that the Brewers went 9-22 in their last 31 games of this season. But when blamed is placed, the manager is often the first in line.
The 2014 Brewers are a particularly painful case since they were in first place for 149 consecutive days, but then, starting Aug. 26, they lost nine in a row and 13 of 14. For two weeks, the entire team slumped. After that, the pitching recovered, but the offense continued heading south. What happens next?
Brewers principal owner Mark Attanasio has said that general manager Doug Melvin would return, but that the status of Roenicke and the coaching staff are under review. Roenicke has one year left on his contract.
Attanasio left little doubt about his dissatisfaction with the Brewers' late-season performance.
"You can pick the adjectives -- frustrated, disappointed, catatonic," Attanasio said. "Very disappointed. In fact, I'm disappointed in the team, disappointed in the guys. They're better than this and they didn't show it. ... It started with not hitting.
"We have to identify what went wrong, we have to have a good explanation for how we're fixing it, and if we're not making any changes, we'd better have a damn good reason for why."
That doesn't sound much like a prediction in favor of the status quo. Roenicke said Sunday that he had no idea what his status was, and that it wasn't a comfortable situation. But he was not at all consumed by self-pity.
"It's always uncomfortable when you're not sure what's going to happen," Roenicke said. When asked for a self-evaluation, he replied:
"I worked my tail off; I did the best that I thought I could do. I'm always wanting to do things better and get better at what I do. So you do the best that you can do, and you know that as a manager, sometimes if it doesn't go well you're the guy that's going to get blamed for it."
As Roenicke said, everybody knows what happened, but the trick is to uncover the causes. "You can point to what happened, but the 'why' is what we really need to figure out," the manager said.
There are a couple of obvious "whys" and they have nothing to do with the manager. Going into the season the Brewers had an obvious shortcoming in their offense at first base. They never fixed it. At what must be a run-producing position, the Brewers couldn't produce runs. Brewers first basemen combined for a .642 OPS, by far the worst among NL teams. (The next-highest club, Pittsburgh, got a .689 OPS from the position.)
And right fielder Ryan Braun was a shadow of himself offensively. Braun hit .226 with eight home runs after the All-Star break. He had been better, although still beneath his career norms, in the first half of the season. Braun has been bothered by a damaged nerve in his right thumb. He will undergo a procedure this week in which the nerve will be deadened.
After the season finale Sunday, a 5-2 loss to the Cubs, Braun indicated that his limitations were an important factor in the team not succeeding.
"If I was relatively healthy, if I was performing up to the standards that I set for myself, we'd be in a different place," Braun said.
Asked if Braun's return to his previous productivity could be in itself an answer to the Brewers' offensive woes, Roenicke responded:
"Oh, absolutely. You know, when you have your three-four hitters with the capability of doing the things that he can do, along with [Carlos] Gomez, we know what [Jonathan Lucroy] is and his numbers this year. It fits in with a package that I think can be a pretty exciting package."
The unanswered question relates to Braun's suspension for the final 65 games of the 2013 season for violation of Major League Baseball's Joint Drug Prevention and Treatment Program. Can he be the player he was before the suspension?
Roenicke would be satisfied if Braun merely got back to the numbers he put up in the first half of this season (.298/.348/.515).
"If we get back to that, we still have a really nice player," Roenicke said. "But we need to get back to that. I know he's been disappointed in what's happened here the second half and I think he feels if he can get this thumb issue behind him that he can be that same player again. Hopefully, there's some things that he's going to do that will get him back to being that player that has a chance to be that same guy that I saw my first couple of years [in Milwaukee]."
In Roenicke's first year in Milwaukee, 2011, Braun was the National League Most Valuable Player. The Brewers won the NL Central, had their best regular season in franchise history (96-66) and advanced to the NL Championship Series. At that point, Roenicke was praised as a solid tactician, an aggressive in-game manager and a leader of men.
Roenicke didn't become somebody less in the next three seasons. He is not a charismatic personality, but he is an honest, diligent, fundamentally decent man. Even with all that, if someone has to take the fall for what happened to the Milwaukee club the last five weeks, the manager would be first in line. It wouldn't be fair, but it would be business as usual in this line of work.
Mike Bauman is a national columnist for MLB.com. This story was not subject to the approval of Major League Baseball or its clubs.