Five reasons why A's made the postseason
Fast start, ability to overcome injuries helped put Oakland in Wild Card Game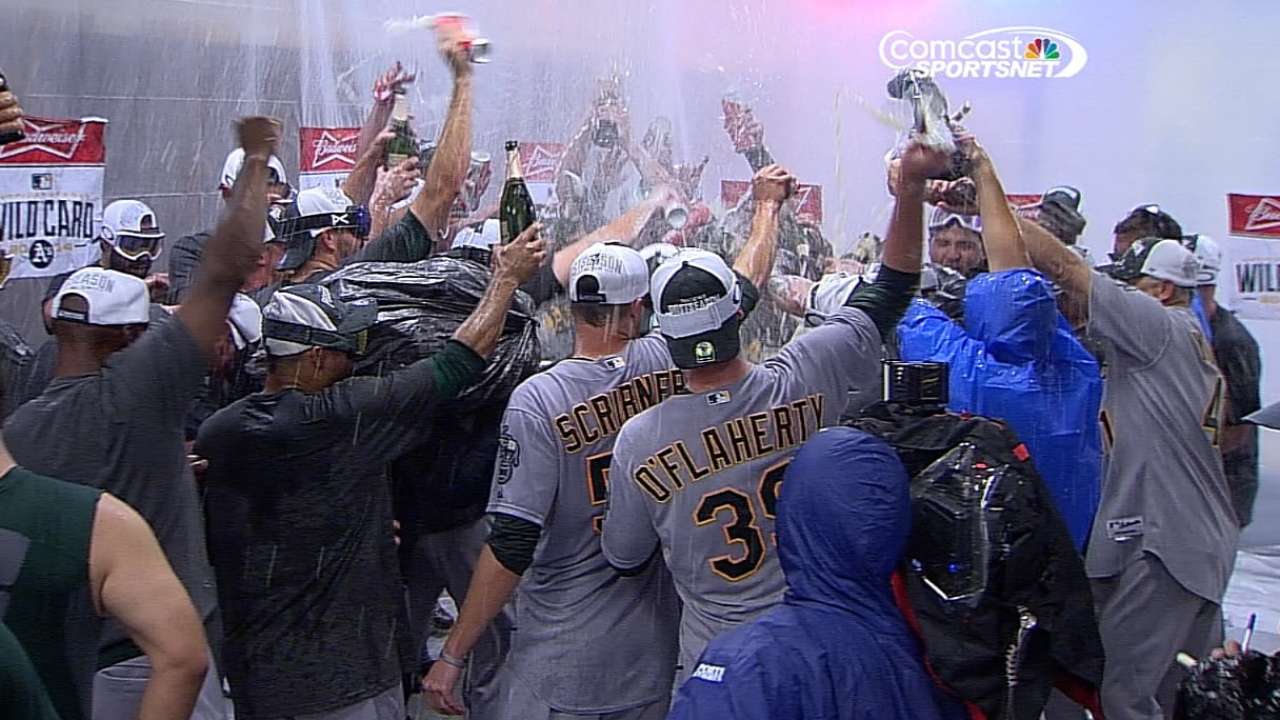 This was a tale of two seasons. The A's fired on all cylinders in a tremendous first half, taking baseball's best record into the break and sending seven players to the All-Star Game, having appeared to punch an advance ticket to the World Series. Then came the slump of all slumps. The A's played sub-.500 ball in their final two months, lost the division title to the Angels and essentially limped their way into their third consecutive postseason appearance by way of the American League Wild Card Game.
There's been persistence in the middle of trials and tribulations, though, and the A's found a way to get it done at the end, in large part because of these five reasons:
Pitching depth: Spring injuries to starters Jarrod Parker and A.J. Griffin could've easily set the A's back, but they thrived without them thanks to their always-coveted depth, which in this case included Jesse Chavez, Tommy Milone and Drew Pomeranz. Chavez, moved from the bullpen to help solidify the rotation, gave them more than they could've ever hoped for in the first half, providing seven wins and a 3.14 ERA in 19 starts. The right-hander made two more starts after the break before transferring back to the bullpen. Oakland has gotten 146 innings from Chavez, while Milone tallied 117 before his trade to the Twins. Pomeranz, too, has been invaluable, racking up five wins and a 2.35 ERA in 10 appearances, including 10 starts, in a dual role.
The trades: General manager Billy Beane pulled off not one but two blockbusters before the annual Trade Deadline, first reeling in Jeff Samardzija and Jason Hammel from the Cubs in exchange for hurler Dan Straily and top prospects Addison Russell and Billy McKinney, before wowing the entire baseball community with the acquisition of ace Jon Lester from the Red Sox -- at the expense of Cuban slugger Yoenis Cespedes. The latter trade has been met with much debate, particularly amid the A's second-half offensive blunders, but it's worth asking where they would be without Lester, who has given them six wins. Samardzija has been equally stellar in 16 starts, posting a 3.14 ERA, while Hammel, despite a rough beginning in green and gold, has consistently held his own every fifth day.
Josh Donaldson: Coming off a breakout 2013 campaign that resulted in a fourth-place finish in American League MVP voting, Donaldson's overall average took a hit this year, but his value to the A's did not. He not only provided his usual stellar defense but tallied more home runs and RBIs than he did last season, all while playing banged up for much of the season, as he battled hip, hamstring and knee injuries.
Change at closer: When the $10 million Jim Johnson experiment was a bust, the A's didn't have to look very far for a replacement closer, entrusting flamethrower Sean Doolittle with the ninth-inning duties. Doolittle, awarded a five-year deal in April that includes club options for 2019 and 2020, has been fantastic in his new role, earning his first career All-Star nod and racking up 22 saves with a crazy 89:8 strikeout-to-walk ratio.
First-half offensive outburst: For almost all of the first half, the A's topped the Majors in nearly every offensive category, posting an otherworldly run differential. That they plated so many runs and, as a result, won so many games in the first half lessened the impact of a dreadful offensive performance in the second half, allowing the A's to remain in contention despite such a remarkable collapse in the standings.
Jane Lee is a reporter for MLB.com. This story was not subject to the approval of Major League Baseball or its clubs.