Markakis ready for a taste of postseason action
O's mainstay missed '12 ALDS after having late-season thumb surgery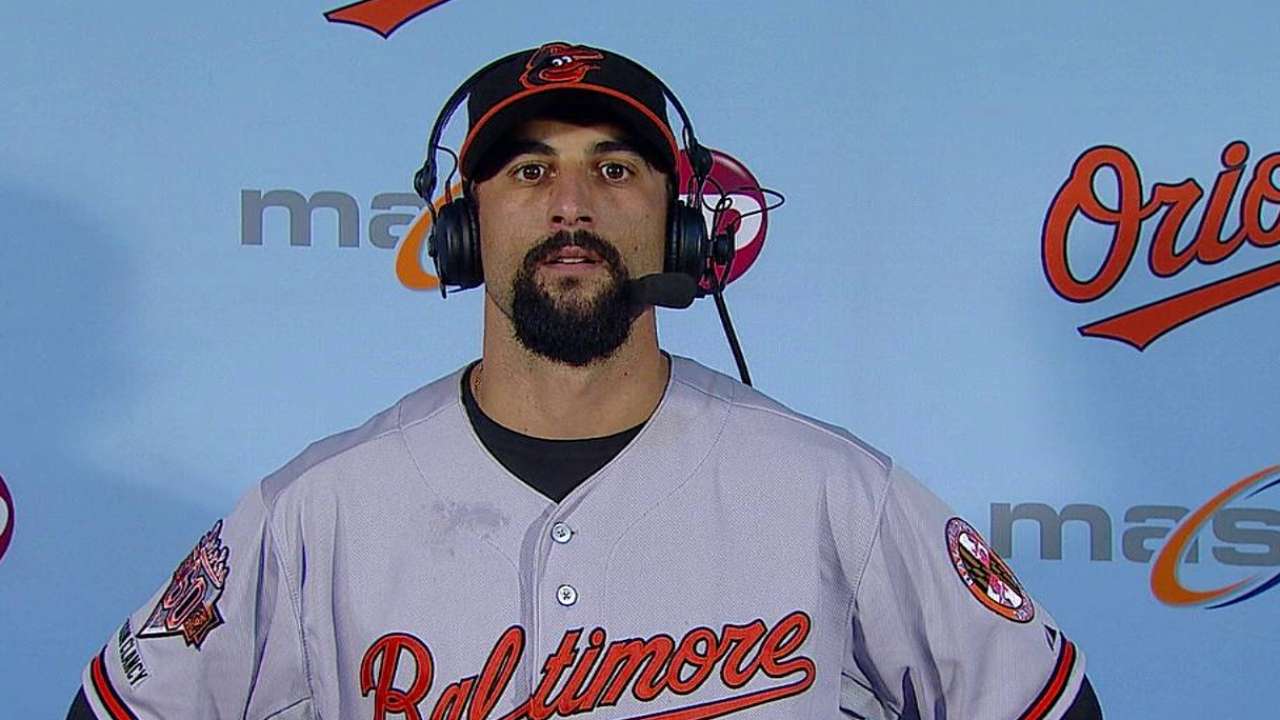 TORONTO -- It has been a long time coming.
Nick Markakis has waited years to play in his first postseason. The right fielder -- a homegrown product of the Orioles' system, who made his Major League debut in 2006 -- was supposed to get that opportunity in 2012, when Baltimore ended a 14-year playoff drought with a 93-win season.
But Markakis required surgery for a fractured left thumb weeks before the '12 postseason began, and had to watch from the sidelines as his Orioles were ushered out by the Yankees in five games in the American League Division Series.
Luckily for Markakis, he has another chance, after a 96-66 season helped the O's secure their first division title since 1997. The next Orioles game, on Thursday against the Tigers at Camden Yards, will be Markakis' first career postseason contest.
"It's exciting. But, then again, it's baseball," Markakis said after the Orioles beat the Blue Jays 1-0 at Rogers Centre in Sunday's regular-season finale. "You've got to have fun doing it. We all realize that. We're just going to go out there and, as they say, play a kid's game and do what we can do to win."
The Orioles, who went 50-31 at Camden Yards, have home-field advantage for the five-game series, after finishing with the AL's second-best record.
Despite Baltimore securing three of the five games at home, if necessary, the Tigers might enter the series as favorites. The O's were held to 20 runs over six regular-season games in going 1-5 against Detroit this season.
Markakis, the longest-tenured Orioles player, is not concerned about those stats.
"It doesn't really matter," Markakis said. "To get to the top, you've got to go through the best.
"We know what kind of team they've got. They've got a strong starting staff and they've got some guys who can swing the bat. We've just got to execute and do our thing."
Markakis was once again a dependable piece for manager Buck Showalter's O's. The 30-year-old hit .276 with a .342 on-base percentage -- primarily batting out of the leadoff spot in the lineup. He was durable, too, playing in 155 games -- marking the seventh time in eight years he has played at least that many contests.
Winning the final game of the season was a good way to enter into the postseason, according to Markakis. But a new season has arrived, one he's never participated in before.
"It's go time now," said Markakis.
Chris Toman is a contributor to MLB.com. This story was not subject to the approval of Major League Baseball or its clubs.