Freeman sets Braves season record for innings played
First baseman starts all 162 games, breaks A. Jones' record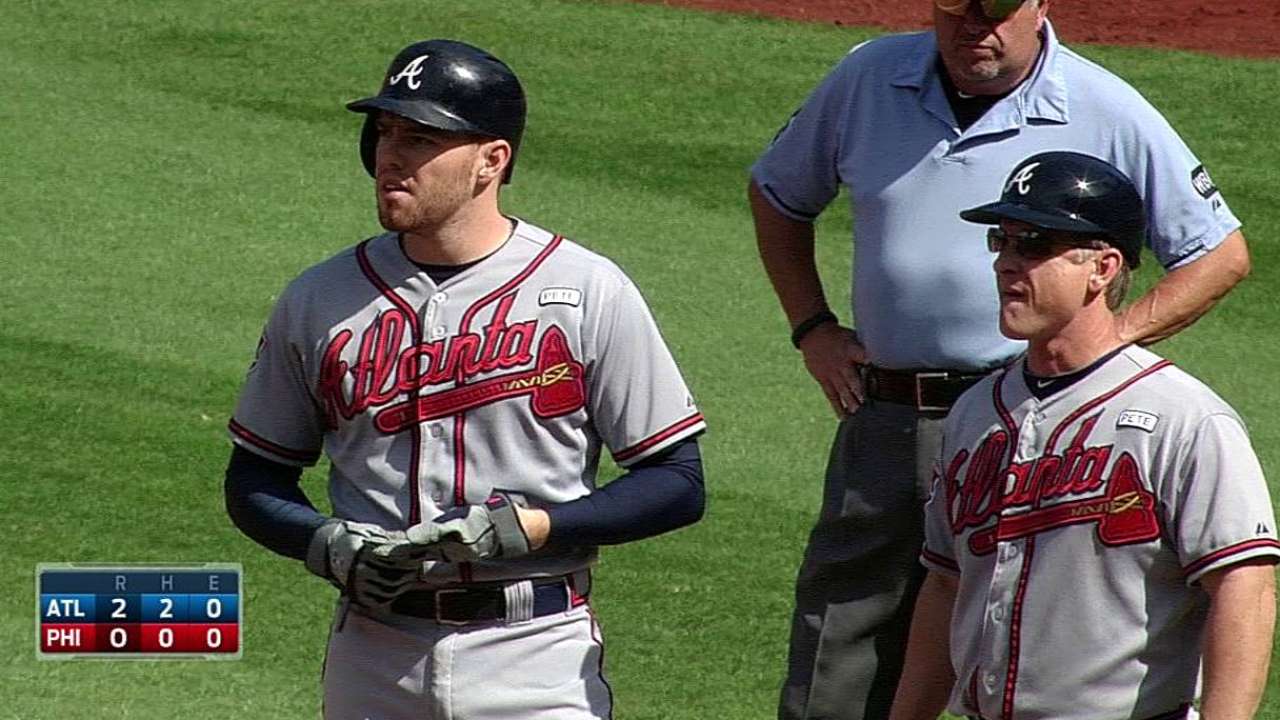 PHILADELPHIA -- As Freddie Freeman sat in the visitors' clubhouse at Citizens Bank Park following Sunday's season-ending 2-1 win over the Phillies, he proudly spoke about the record he had just set and the anguish he felt while starting every game the Braves played this season.
Freeman played in a Major League-best 1,448 2/3 innings in the field this year, breaking the franchise record (1,447 1/3 innings) Andruw Jones set in 1999. The Braves first baseman was the only National League player to start each of his team's 162 games this year.
"It's an accomplishment personally," Freeman said. "I've always wanted to do that and never had the chance. To stay healthy all year and be able to grind out 162 games, it's definitely a nice reward at the end of a season."
Freeman's dedication and determination to play on a daily basis was an indication that he does not plan to sit on the comfort he gained in January when he signed a franchise-record eight-year, $135 million contract.
"Everybody is beat up, it's 162 games and he plays through it," Braves manager Fredi Gonzalez said. "Good for him, that is a goal he wanted to achieve."
In the process of avoiding the nagging injuries and ailments that sidelined him over the previous few years, Freeman led the Braves in batting average (.288) and OPS (.847) this season. But now that this season is complete, he believes he will be better prepared to deal with the mental and physical fatigue he will encounter while attempting to play every game again next year.
"I think everybody who plays baseball wants to play every single day," Freeman said. "That's the ultimate goal. Sometimes, you might need a mental break, but that was a learning experience for me. It's definitely something that is going to take a lot more realization and maybe some more preparation. It's a mental grind.
"Maybe it will be a little easier for me next year. But that is something I'm always going to want to do. I'm going to try to play 162 games every year. That's the ultimate goal."
Mark Bowman is a reporter for MLB.com. This story was not subject to the approval of Major League Baseball or its clubs.