Duda caps breakout year with 30th home run
First baseman became backbone of lineup, posting career highs in hits, RBIs, average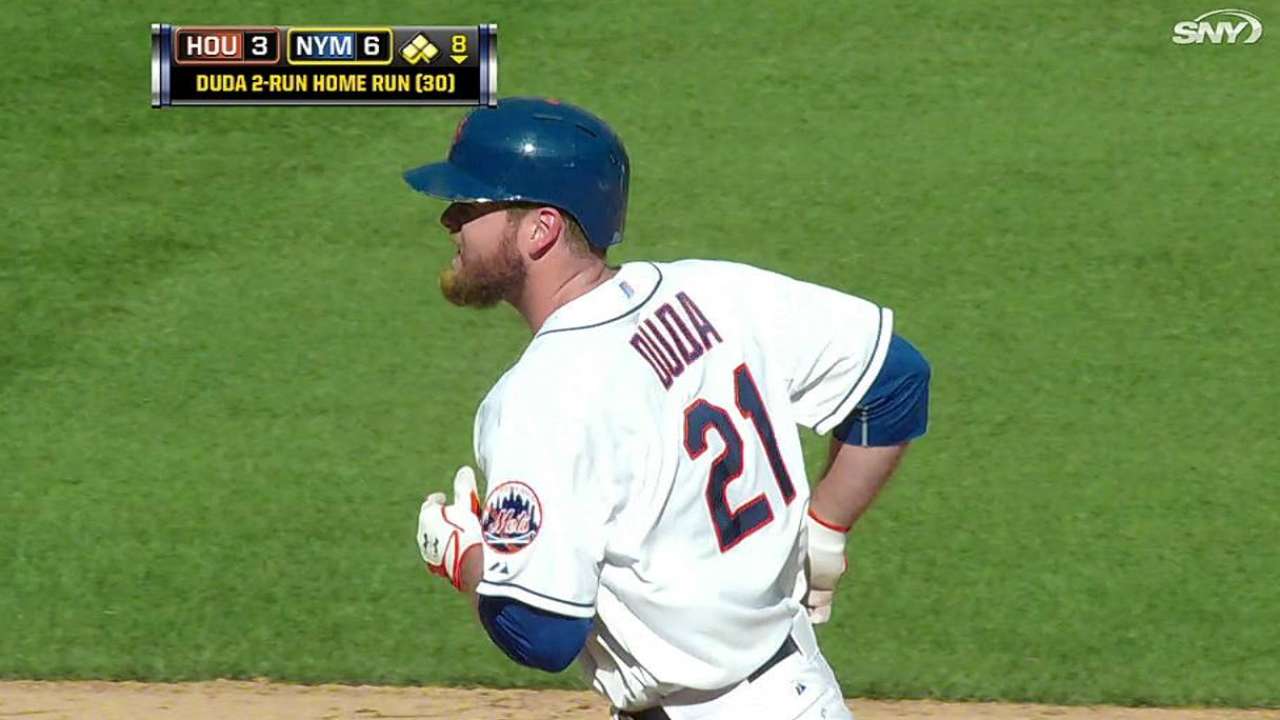 NEW YORK -- When the Mets traded first baseman Ike Davis to the Pirates in mid-April, the move was as much about letting go of their struggling slugger as it was anticipating his replacement. Sunday afternoon that replacement-turned-mainstay, Lucas Duda, punctuated the end of the season with the trusted power he had provided all season.
In the bottom of the eighth inning, Duda walloped a changeup from Michael Foltynewicz into the right-center-field bullpen, his 30th home run of the season, to score Daniel Murphy and solidify the Mets' 8-3 victory over the Astros. That capped off a two-hit day that included a two-run double in the fifth, giving him 92 RBIs for the year.
"It was definitely nice to end on a win," said Duda. "Thirty, that's a pretty nice number. Hopefully I can build on that and take it into next season."
The Mets are hoping for the same thing.
Duda became just the 17th Mets player to reach 30 home runs -- the first since Davis hit 32 in 2012 -- putting Duda in third place behind Anthony Rizzo (32) and Giancarlo Stanton (37) this season and doubling Duda's previous outputs for each of the last two years.
That, following his walk-off goner Saturday night, was enough to make the usually stoic Duda grin as he cleaned out his locker and said his goodbyes.
"This guy shows no emotion and two days in a row, he's got a big smile on his face," said manager Terry Collins. "It was great to see."
It was a breakthrough year for Duda, who posted career highs in just about every major category, including homers, batting average (.253), runs (74), hits (130) and doubles (27), while managing to play in 153 games.
"It's been fun to watch," said David Wright. "[Duda] finally got an opportunity to play and the numbers speak for themselves. To hit 30 home runs here is a pretty tough feat. The production, he's solidified himself as a middle-of-the-lineup type guy. I'm really, really happy for him to get to 30 and give him even more confidence going into next year.
Duda will rightly be excited as he heads into Spring Training not having to directly compete for first base. He may also be excited that the Mets are likely to move in the dimensions of Citi Field's right and right-center field next year, according to general manger Sandy Alderson.
"I think just coming into Spring Training healthy and building on this year … I'm really looking forward to next year and what it holds," said Duda. "I'm excited."
"You can see he can drive the ball more, especially to right-center," said Bobby Abreu, who ended his impressive career Sunday with the Mets. "No doubt he's got the power. All he's got to do is learn how to use it. He's on the way right now with 30. There's going to be more coming for him."
Jake Kring-Schreifels is an associate reporter for MLB.com. This story was not subject to the approval of Major League Baseball or its clubs.