Felix bolsters Cy credentials with ERA crown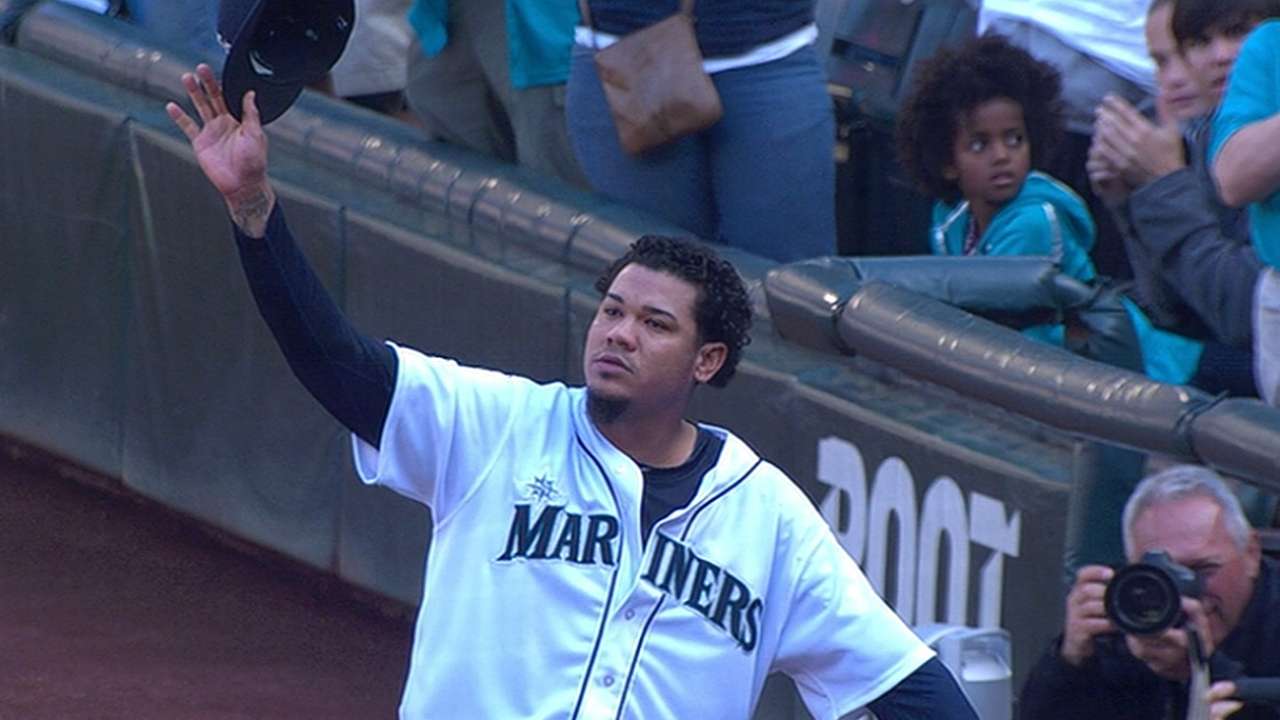 SEATTLE -- There was no way Mariners fans were going to hold back when ace right-hander Felix Hernandez exited for a final time this season.
As Hernandez, 28, walked off the Safeco Field mound on Sunday, all those who gathered to see if he could help Seattle force a postseason play-in game stood and frantically waved their yellow rally towels while chants of "FE-LIX! FE-LIX! FE-LIX!" rocked the stadium.
They kept it going until Hernandez emerged from the dugout for a curtain call.
"That was awesome. That was really good," Hernandez said. "I just got a chance to thank the fans for all their support all year. I love being here. I love the fans."
Hernandez did more than his part on Sunday to extend Seattle's season, holding the visiting Angels to one hit and striking out seven over 5 1/3 shutout innings en route to a 4-1 win.
But manager Lloyd McClendon opted to lift him shortly after the Athletics beat the Rangers, eliminating the Mariners' chance to force a Game 163 tie-breaker.
In what was arguably the most important start of Hernandez' career, he retired 16 of 17 hitters before exiting after just 68 pitches.
"Felix is a heck of a competitor, and you know, truthfully, he wasn't at full strength today. There was no talking him out of starting this game," McClendon said. "He really didn't want to come out in the sixth. I just said, 'To heck with it, I'm going to get him.'
"I was surprised he gave me a hug. I thought he'd probably hit me."
Despite the outcome of the season, Hernandez has reason to celebrate. He entered Sunday with a 2.18 ERA, one-hundredth of a point higher than White Sox left-hander Chris Sale. He ended it at 2.14 to take the AL ERA title and set a club record.
It's the lowest ERA of his career.
He finished 2014 with a 15-6 record and a career-high 248 strikeouts. During an incredible stretch through the summer, he set a Major League record by pitching at least seven innings and allowing two runs or fewer in 16 consecutive starts.
After struggling the past three Septembers, he went 2-1 with 1.66 ERA in six starts over this season's final month, as the Mariners pushed but ultimately fell short of making the playoffs for the first time since 2001.
"We're all disappointed, but you know what? We just have to learn for next year, how close we got," Hernandez said. "We just have to work harder for next year, and we're going to be there."
Perhaps most important, Hernandez rebounded after allowing eight runs (four earned) in a blowout loss to the Blue Jays in his penultimate start of the 2014 season.
So is "The King" deserving of his second AL Cy Young?
"You think I'm crazy?" McClendon said after being posed the question. "Yeah, he should win the Cy Young."
Adam Lewis is an associate reporter for MLB.com. This story was not subject to the approval of Major League Baseball or its clubs.