A's have rich postseason history from Philadelphia to Oakland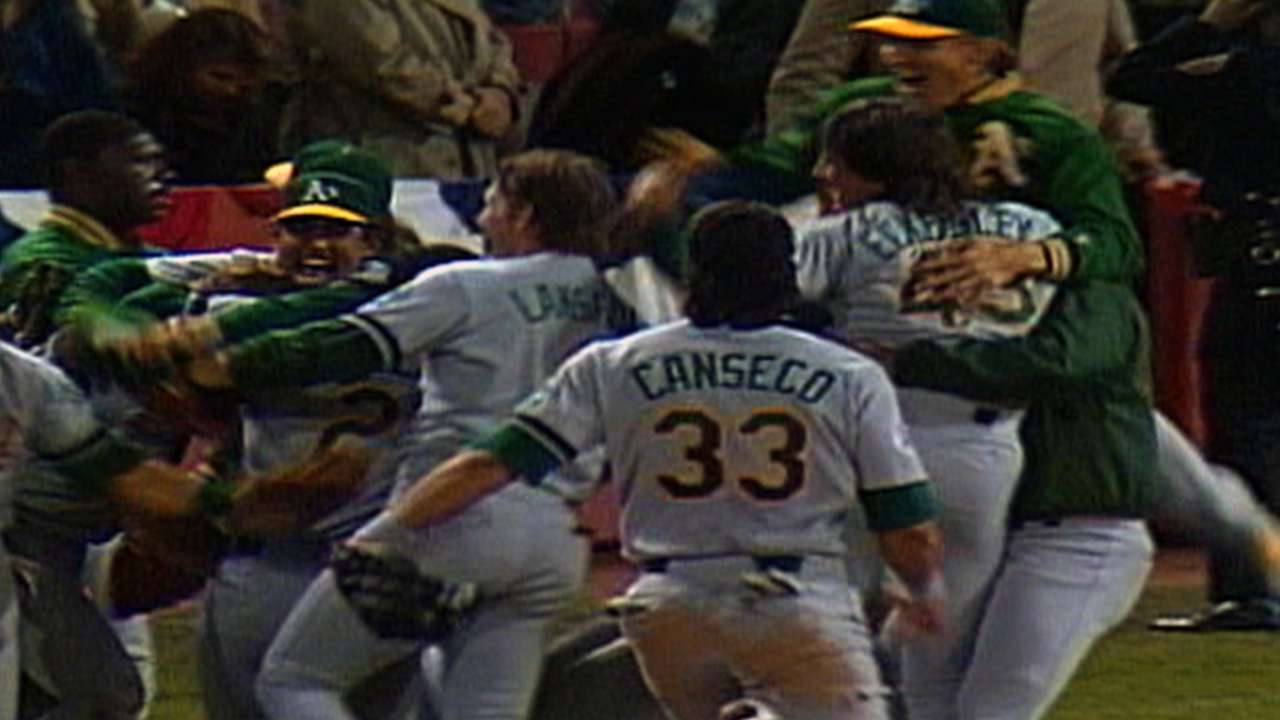 Oakland's postseason history dates to 1971, just three years after the A's transferred their franchise from Kansas City, where they spent 13 seasons. Before that, they were in Philadelphia, where they racked up five World Series titles since their inception in 1901 (1910- '11, '13, '29-'30). The A's lost the American League Championship Series to the Orioles in their inaugural Oakland season, but it also marked the beginning of a great dynasty.
The A's won five consecutive Western Division titles in 1971-75 and three straight World Series championships in 1972-74 under flamboyant owner Charlie Finley with a cast of mustached characters donning flashy green and gold uniforms. In doing so, they became the first team not named the Yankees to win three consecutive World Series. To this day, no other club has accomplished such a feat.
The next decade didn't treat the A's so well, but they've made the playoffs eight times since the start of 2000, advancing past the AL Division Series just once in their seven previous attempts -- a trend they'll look to buck yet again.
• Last time made playoffs: The 2013 season ended in more heartbreak for the A's, who made yet another early postseason departure by virtue of a second consecutive Game 5 loss to Justin Verlander and the Tigers in the American League Division Series.
• Last time won playoff series: That would be 2006, when the A's swept the Twins, 3-0, in the ALDS only to drop out after four consecutive ALCS losses to Detroit.
• Last time won pennant: It's been 24 years since the A's bounced the Red Sox from the ALCS with a four-game sweep to claim the AL pennant and advance to their third consecutive World Series, which ended in a loss to the Reds.
• Last time won World Series: The A's throttled the Giants in the 1989 Battle of the Bay World Series, sweeping them in four games, but not before a magnitude 6.5 earthquake suspended play prior to the start of Game 3. The series would be delayed for 10 days before the A's finished off their rivals, though it will always be remembered for the devastating earthquake, which killed 63.
• Overall Division Series record: 1-6 in series; 15-18 in games, .455 winning percentage.
• Overall LCS record: 6-5 in series; 23-22 in games, .511 winning percentage.
• Overall franchise World Series record: 9-5 in series; 41-34 in games, .547 winning percentage.
• Overall franchise postseason record: 16-16 in series, 79-74 in games, .516 winning percentage.
Jane Lee is a reporter for MLB.com. This story was not subject to the approval of Major League Baseball or its clubs.