Kershaw vs. Waino: Ace-off lined up for start of NLDS
Perennial All-Stars set to meet for Game 1 at Dodger Stadium on Friday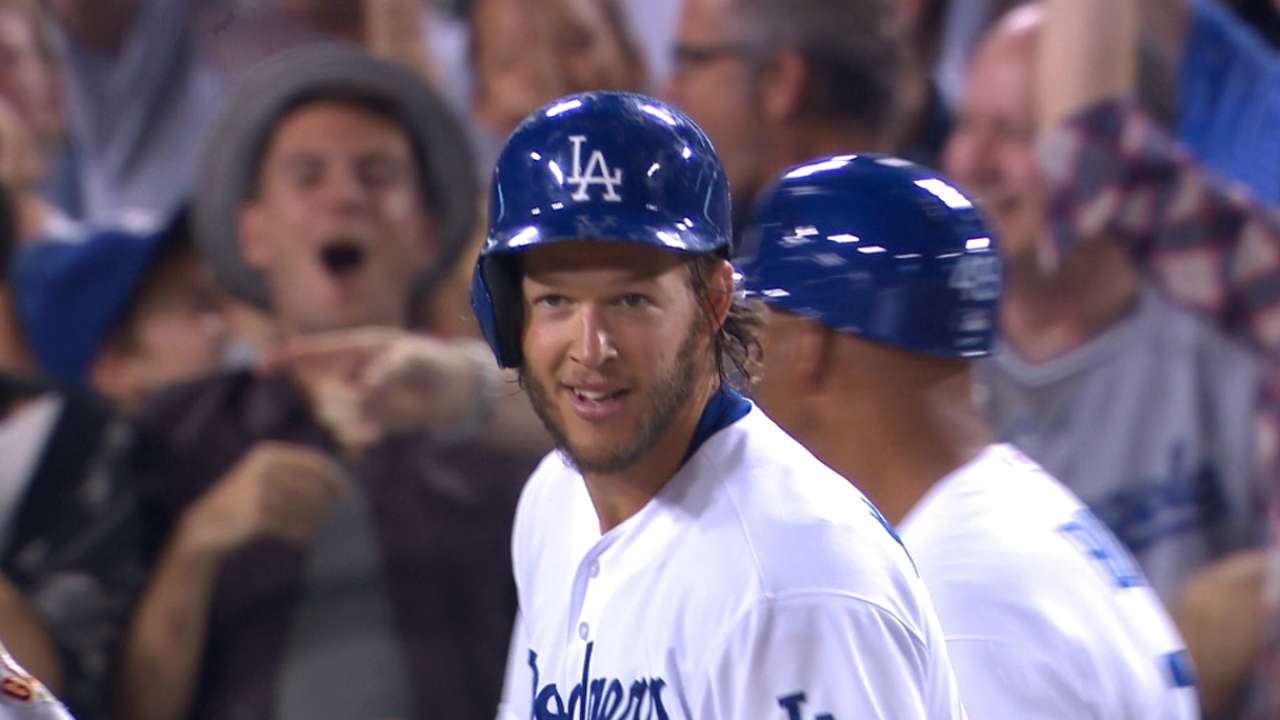 The Pirates' loss on Sunday did more than just clinch the National League Central for the Cardinals. It also set us up for one of the best playoff pitching matchups you could possibly imagine.
When the Dodgers host the Cards on Friday in Game 1 of the NL Division Series, Clayton Kershaw is set to take the hill against Adam Wainwright at Dodger Stadium.
Wainwright was originally scheduled to start Sunday's regular-season finale in Arizona, but after the Bucs lost,
he was scratched
, ensuring he'd be plenty rested for Friday. Kershaw, meanwhile, threw 32 pitches in a simulated game Sunday, and
said he is set to start Friday
.
The aces have combined for seven All-Star appearances, while Kershaw has two NL Cy Young Awards and is likely to add another to his resume this season -- and he may need room on his trophy case for an NL MVP Award.
Wainwright has the edge on Kershaw in experience, both regular season and postseason. And the 33-year-old righty has better playoff numbers than the 26-year-old left-hander.
Wainwright, who served as the Cardinals' closer earlier in his career and threw the pitch to clinch the 2006 World Series title, has a 2.53 ERA and a 0.990 WHIP in 18 career playoff appearances. Wainwright silenced the Pirates last postseason, holding the Bucs to two runs in 16 innings (two starts), as the Redbirds won the NLDS in five games.
After beating the Pirates, the Cardinals defeated the Dodgers in the NL Championship Series, in which Wainwright made one start. He pitched seven innings, allowing just two runs, but was saddled with a Game 3 loss, as the Dodgers blanked St. Louis, 3-0.
In Game 2 of that series -- which the Cardinals won in six games -- Kershaw was saddled with his own tough-luck loss. The southpaw allowed just one run in six innings, striking out five and allowing two hits.
This season marks Kershaw's fourth postseason, and he's still hoping to reach his first World Series. In six playoff starts, Kershaw has just one win and an ERA of 4.23.
Kershaw dazzled in two starts against Atlanta last season in the NLDS. In two outings, he surrendered just one earned run in 13 1/3 innings, good for a 0.69 ERA and a 0.769 WHIP.
In his second start of the NLCS though, Kershaw was tagged for seven runs on 10 hits in four innings. Kershaw took the loss in the sixth and deciding game of the series.
Head-to-head, Kershaw and Wainwright have faced off three times in their careers, with the Cardinals winning two of those games. The last time the two started against one another was on July 24, 2012. Kershaw was also hit hard in that outing, surrendering eight runs on seven hits in 5 2/3 innings. Meanwhile, Wainwright threw 7 1/3 innings that day, striking out seven while giving up two runs.
Against the Dodgers in his career, Wainwright is 4-5 with a 2.90 ERA in 14 games. Facing St. Louis, Kershaw is 5-5 with a 3.46 ERA in 14 career starts.
Stephen Pianovich is an associate reporter for MLB.com. This story was not subject to the approval of Major League Baseball or its clubs.