MLB.com Columnist
Lyle Spencer
Zimmermann's no-no adds to aura of '27' in 2014
Players wearing number 27 had tremendous impact on season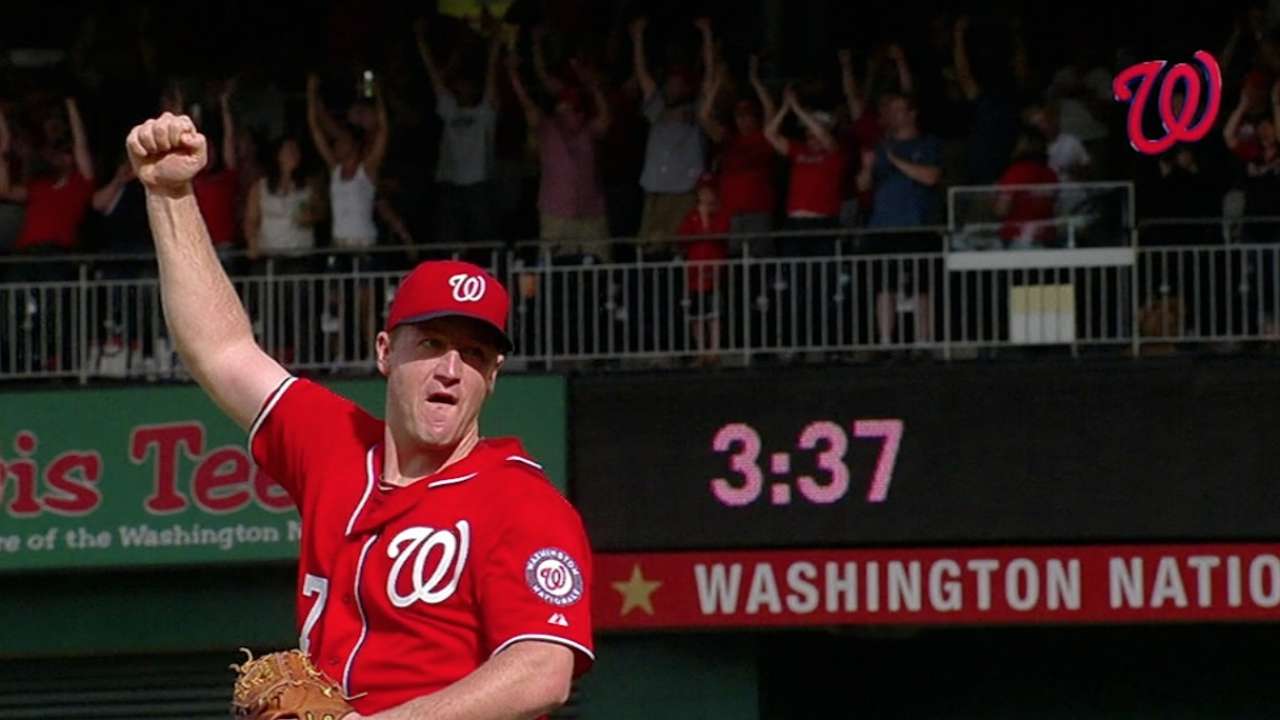 The magic number for the 2014 Major League Baseball season is 27. It has been worn with distinction by Mike Trout, Jose Altuve, Giancarlo Stanton, Carlos Gomez, Matt Kemp and Jordan Zimmermann, a sextet of elite stars.
Zimmermann and the National League East champion Nationals, "riding high right now" in the pitcher's words, gave new meaning on Sunday to the popular notion of carrying positive momentum into the postseason -- with a no-hit masterwork.
Applying an exclamation mark to a remarkable September run by his team's rotation, Zimmermann's no-hitter is the first in franchise history since the move to Washington, a 1-0 decision over the Marlins on the season's final day.
The 27th and final out for Zimmermann, who struck out 10, will be remembered as the defensive highlight of the season for the Nationals.
Inserted by manager Matt Williams at the start of the ninth in left field, rookie Steven Souza Jr. raced into the gap to make a leaping stab of Christian Yelich's bid for extra bases, touching off a wild celebration at Nationals Park.
Zimmermann joins a select club of no-hit artists on the season's final day. Four have done it solo, with one gem a team project.
Miami starter Henderson Alvarez, who gave up two hits to Zimmermann and 11 overall, delivered a no-hitter against the Tigers to close the 2013 season. The Angels' Mike Witt pitched a perfect game to close the 1984 season in Texas. Vida Blue and three relievers combined for a no-hitter against the Angels to finish 1975, and Bumpus Jones threw one for Cincinnati against Pittsburgh on 1892's final day.
Zimmermann, rebounding from concerns over his right shoulder after getting struck by a line drive in his previous outing, will make his next appearance in the NL Division Series against the survivor of the Wild Card Game between the Pirates and Giants.
The Nationals played their way to the NL's best record and home-field advantage through the league playoffs by combining high-end pitching with solid defense and clutch hitting -- qualities that play well in October.
A 28-year-old right-hander from Auburndale, Wis., Zimmermann faced one hitter over the minimum. He walked Justin Bour in the fifth inning on a full count after Bour fouled off two pitches. Two innings later, Garrett Jones reached safely when a third strike got past catcher Wilson Ramos for a wild pitch. Ramos erased Jones when he picked him off first base.
Zimmermann praised Ramos -- the only Nats position player to go the distance -- for "calling a great game back there." The pitcher was equal parts ecstatic and stunned when Souza, off with the crack of the bat, ran down Yelich's drive and clutched the ball with both hands as he hit the ground, like a wide receiver making a catch off the turf.
Souza's play called to mind a similarly spectacular catch by Giants right fielder Gregor Blanco saving Matt Cain's 2012 perfect game, and another masterpiece-saving catch by White Sox center fielder DeWayne Wise in Mark Buehrle's perfect game in 2009.
"Double -- no-doubt double," Zimmermann said when asked for his reaction as Yelich's drive headed for the gap. "He [Souza] comes out of nowhere to make that catch. Whatever he wants he can get. I'll buy him anything."
When he watched "three rockets right at guys" turn into outs in the fifth inning, Zimmermann began to think this might be his day.
"We're riding high right now," he said, "and we're going to keep playing well into the playoffs."
Zimmermann said the emotions compared with "clinching the division and running on the field acting like fools."
Angels executive Bill Stoneman pitched two of the franchise's four no-hitters when it was in Montreal under the Expos banner. Zimmermann in style is much like Stoneman, relying on fastball command to get ahead in counts and breaking pitches to finish the job.
Zimmermann was throwing 94 mph in the final inning, dismissing the shoulder "bruise" as a non-issue. He joked about falling one out short of 200 innings, a common goal of starting pitchers.
A 19-game winner in '13, placing seventh in the Cy Young Award balloting, Zimmermann finishes the season 14-5 with a career-best 2.66 ERA. A two-time All-Star, he is making a name for himself on a star-studded staff featuring fellow starters Stephen Strasburg and Gio Gonzalez.
As for the extraordinary impact of players wearing No. 27 this season, Trout is considered the frontrunner for the American League MVP Award for his all-around brilliance. Altuve, the diminutive Astros second baseman, is the NL batting champion at .341. Stanton was leading the NL in homers and RBIs when he was hit in the face by a pitch, ending his season. Kemp's reemergence as a force has helped power the Dodgers' drive to the NL West title, and Gomez's abundant skills lifted the Brewers all season.
"It's a good number, 27," Kemp said recently. "Maybe it's a lucky number this season."
Preparing for a showdown with the Cardinals in the NLDS, Kemp is ready to find out who draws the most good fortune out of the number 27 in a postseason Zimmermann and his Nationals are entering on an uncommonly high note.
Lyle Spencer is a reporter for MLB.com. This story was not subject to the approval of Major League Baseball or its clubs.