Magic: Clubhouse unity key to Dodgers' growth
LA icon and part owner credits Mattingly for managing star-studded roster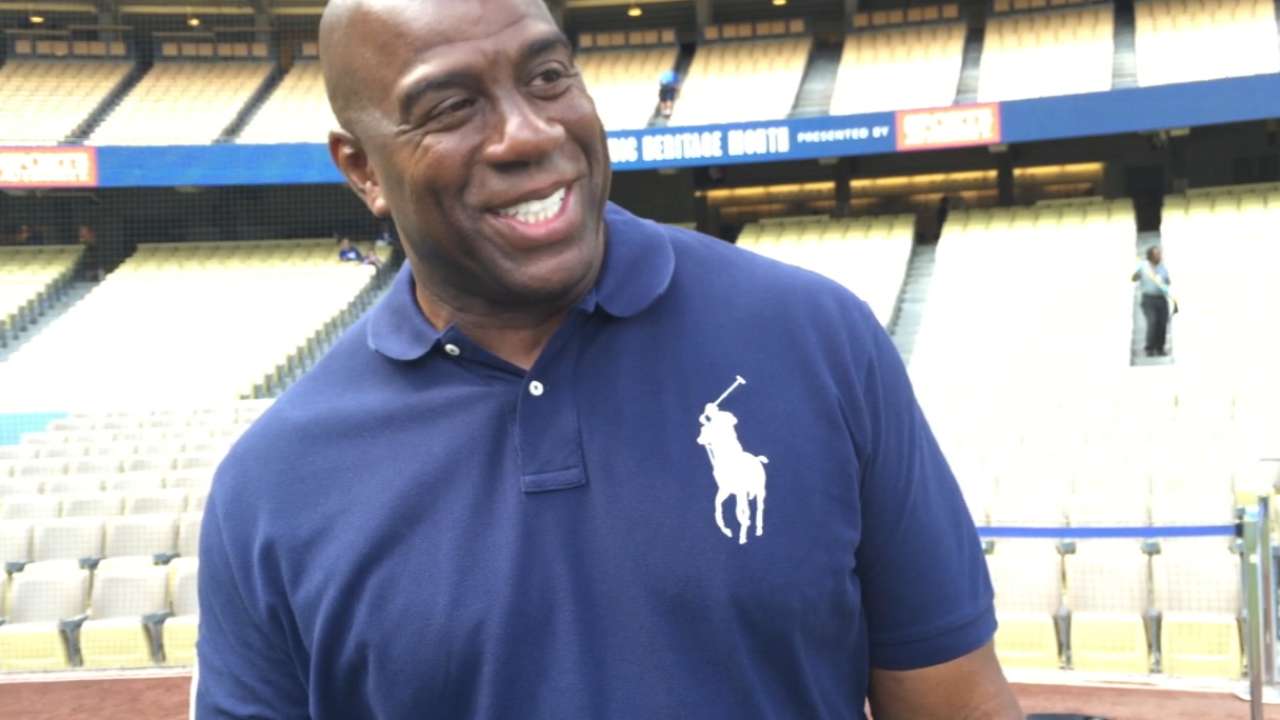 LOS ANGELES -- Ownership partner Magic Johnson doesn't view this postseason as World Series or bust for the Dodgers.
"I think that we want to win it. No question. But this team is still growing," Johnson said Sunday at Dodger Stadium, before the team's final regular-season game against the Rockies. "Everyone wants to put the payroll as the big thing. It's not about that. It's about the team growing. This team has only been together two years. Everybody's, 'Oh, the payroll. They're supposed to win everything.' No, they're supposed to grow like any other organization. That's what it's about. We, as the owners, we know that. So we're seeing the growth in this team."
Part of that growth, Johnson said, has been in the team's cohesiveness this season and its ability to put personal agendas aside. Johnson pointed to veterans Matt Kemp and Andre Ethier as two examples. He said at one point Kemp "didn't know if he wanted to be here" as he dealt with a position switch and first-half struggles.
"He's been, ever since, the last three or four months, he's been a guy who is happy with the changing of his outfield position, and he's been a guy swinging a hot, hot bat, and also he's been a leader in this clubhouse, too," Johnson said.
"Also you've got a guy like Andre Ethier. Give him a lot of credit because he's been a professional, too. He could've been upset, he could've been raising hell. But I really want to thank him and his professionalism for saying, 'OK, I'll be the guy that goes to the bench, and I'm not going to be upset about it.'"
Johnson said he gives the credit to manager Don Mattingly for being able to "manage all the egos" and keep a team of All-Stars and former All-Stars together.
Johnson said he thinks the Dodgers are better prepared for the postseason than they were a year ago, having added last year's experience. The Dodgers fell two wins shy of the World Series, falling to the Cardinals in Game 6 of the National League Championship Series.
"This team hadn't been there, so they didn't know. It's unknown territory," Johnson said. "I think this year, there's no surprises. I think this team is playing well at the right time, and so we just have to continue that, and we can't take anything for granted, and we just have to go out and we got to execute and we got to play."
Michael Lananna is an associate reporter for MLB.com. This story was not subject to the approval of Major League Baseball or its clubs.