Much of Angels' playoff history written this century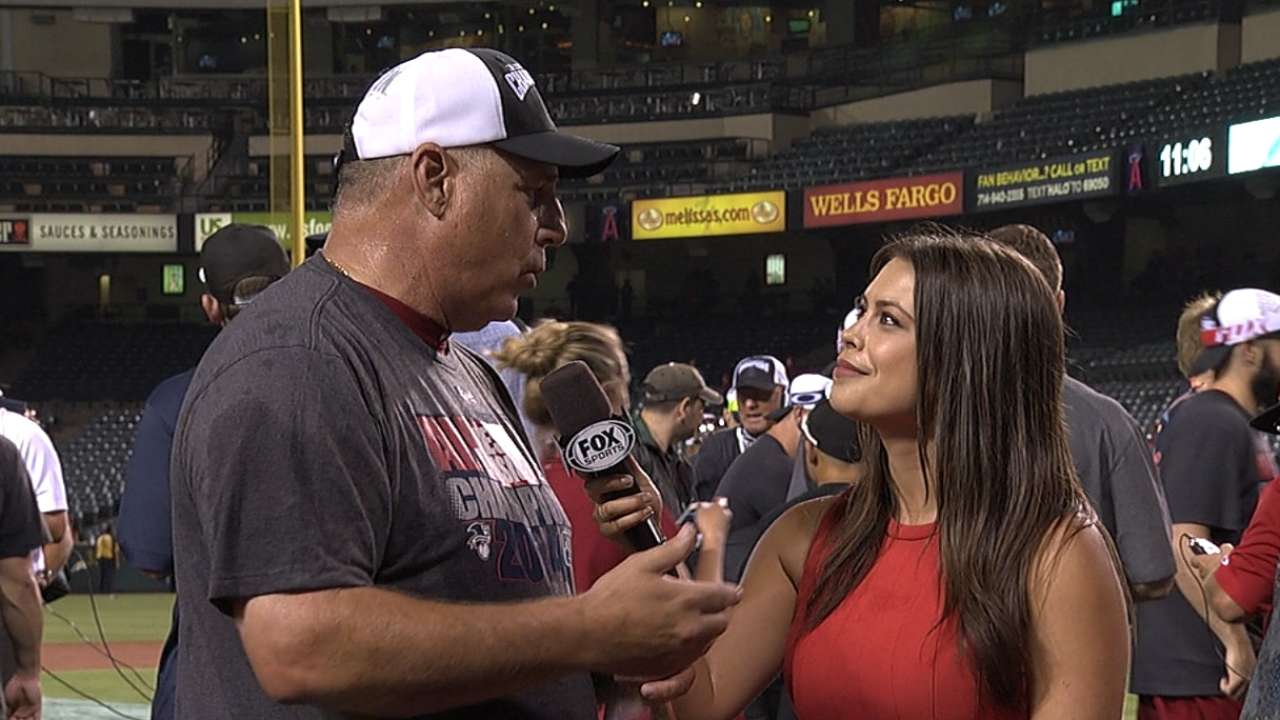 The Angels' history can be traced back to the club's origins in 1961, but their postseason past -- and success -- can largely be attributed to one man: Mike Scioscia.
The franchise missed the playoffs in its first 18 seasons of existence and appeared in just 16 playoff games in the 39 years before Scioscia became the Angels' manager prior to the 2000 season. But in Scioscia's 15 seasons (counting this one), he has led the Angels to the postseason seven times, including six American League West crowns.
Scioscia guided the Angels to their only World Series title in 2002, and he captured three straight division championships from 2007-09. When the Angels open the AL Division Series on Thursday (6:07 p.m. PT, TBS), it will be their first postseason appearance since that run.
Here is how the Angels have fared in the postseason:
Last time they made the playoffs: 2009. Riding, a high-powered offense and talented rotation to 97 regular-season wins, the Angels ran away with the AL West, topping the Rangers by 10 games. Their division championship capped an eight-year span when they made the playoffs six times.
Last time they won a playoff series: 2009. The Angels had never beaten the Red Sox in a playoff series -- and had been eliminated by them in both 2007 and '08 -- before sweeping Boston in the ALDS. The starting rotation allowed just 11 hits in 20 2/3 innings in the ALDS, but the Angels stumbled in the AL Championship Series, losing to the eventual World Series champion Yankees in six games.
Last time they won the AL: 2002. Facing the Twins in the ALCS, the Angels dropped a one-run decision in Game 1, but rebounded to win four straight games by outscoring Minnesota 28-10 to win the pennant. Adam Kennedy earned ALCS MVP honors by hitting .357 and blasting three home runs.
Last time they won the World Series: 2002. San Francisco and Anaheim staged a World Series for the ages -- complete with pitcher's duels, offensive explosions, late-game comebacks and even a Game 7 -- before the Angels broke through for the franchise's only World Series championship. Due to their lockdown bullpen and dynamic offense, this season's Angels have drawn comparisons to the '02 club.
Overall DS record: 3-3 in six series, 10-12 in 22 games, .455
Overall LCS record: 1-5 in six series, 13-19 in 32 games, .406
Overall WS record: 1-0 in one series, 4-3 in seven games, .571
Overall postseason record: 5-8 in 13 series, 27-34 in 61 games, .443
Matthew DeFranks is an associate reporter for MLB.com. Follow him on Twitter @MDeFranks. This story was not subject to the approval of Major League Baseball or its clubs.