Cubs top Crew in finale for strong finish to season
Alcantara hits go-ahead double in sixth; Rizzo hits 32nd home run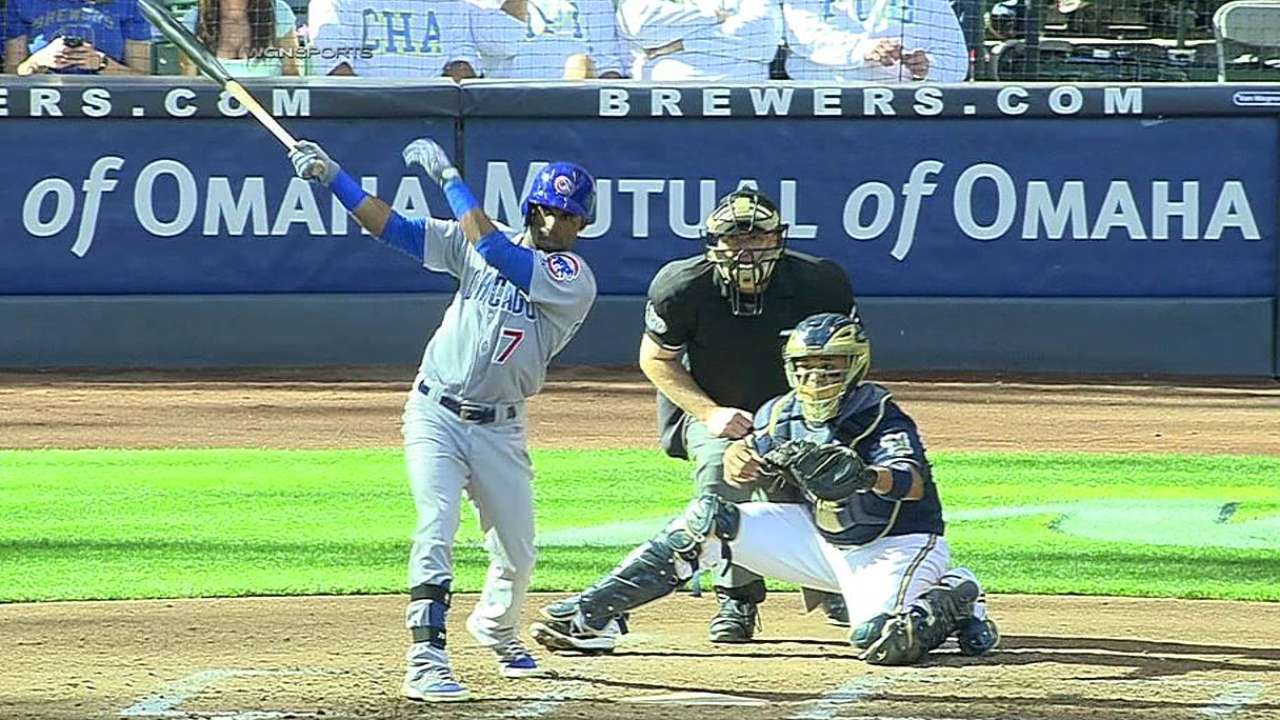 MILWAUKEE -- The Cubs closed the 2014 season with a win and lots of momentum, and Anthony Rizzo made it clear what the goal is for next year.
"To be the [National League] Central champs," Rizzo said after hitting a two-run homer in the Cubs' 5-2 win over the Brewers on Sunday in the season finale in front of 33,837 at Miller Park. "[We want] to win the division, and obviously that's the playoffs, and we want to go deep.
"It takes a lot of work and we have a very tough division and teams aren't going anywhere in it, it's only getting better," Rizzo said. "That's our expectation, that's the message we want to send."
Rizzo collected three hits to finish with a career-high 150, and he scored on Arismendy Alcantara's tie-breaking two-run double in the sixth.
Under new manager Rick Renteria, the Cubs closed at 73-89, below .500 for the fifth straight season, but they did top last year's 66-win total and head into 2015 encouraged by the play of some of their top prospects, including Alcantara and Jorge Soler. It's the first time the Cubs have won 73 games since a 75-87 season in 2010.
"All those guys know we want to step it up, and we need to go into Spring Training prepared to be a better club with the expectations of us improving and making ourselves hopefully a topic of conversation throughout the season," Renteria said.
The Brewers, on the other hand, have to be wondering what happened after leading the division for 150 days only to miss the playoffs.
Jacob Turner picked up the win, starting in place of Kyle Hendricks, who was scratched after the Cubs decided the rookie right-hander had reached his innings limit. Turner improved to 3-1 in six career games (five starts) against the Brewers, which included a win at Wrigley Field on Sept. 1.
"It's definitely a good way to finish," Turner said.
Chris Coghlan walked to lead off the game against Brewers starter Mike Fiers, stole second and one out later, tallied on Rizzo's home run. Rizzo is the first Cubs left-handed batter to hit 32 homers in a single season since Rick Monday did so in 1976.
There were other positives. Hector Rondon notched his 29th save, converting his last 15 opportunities. Neil Ramirez closed with a 1.44 ERA. The Cubs nearly posted their third winning month, ending September 12-13.
Rizzo finished with a .286 average, an encouraging sign after struggling to hit .233 last year.
"When he left the season last year, he spoke to a lot of guys who were here and they went over some of the things he needed to work on, and he took it upon himself and he worked diligently to see what he needed to improve upon," Renteria said of the first baseman, who showed better strike-zone awareness.
"He's got it in him to continue to improve and get better," Renteria said. "What he did is no surprise to a lot of us who believed he could be this type of player, and I'm sure he'll want to do better."
There were most likely some who didn't think Rizzo could turn it around after batting .141 in 49 games with the Padres in 2011. And there are likely some who don't think top prospect Javier Baez (.169, 95 strikeouts) can bounce back. Rizzo's message: Just wait.
"It'll be nice for them to be able to see what happened," Rizzo said of the young players on the Cubs. "It's not always easy to make midseason -- especially getting called up to the big leagues, things move a little fast here -- adjustments. When they can finally get that weight off their shoulders, and see what happened, it'll be nice."
Rizzo even brought up how he did Opening Day when he struck out three times against the Pirates. He's motivated.
"Me, personally, I'm going into the offseason with a lot more fire under my belt," he said. "There's always optimism, and you can see it everywhere. We just have to keep developing as individuals and developing as a team."
Carrie Muskat is a reporter for MLB.com. She writes a blog, Muskat Ramblings, and you can follow her on Twitter @CarrieMuskat. This story was not subject to the approval of Major League Baseball or its clubs.