Disappointing season ends with loss to Cubs
Fiers allows four runs, three earned; Lucroy lifts average above .300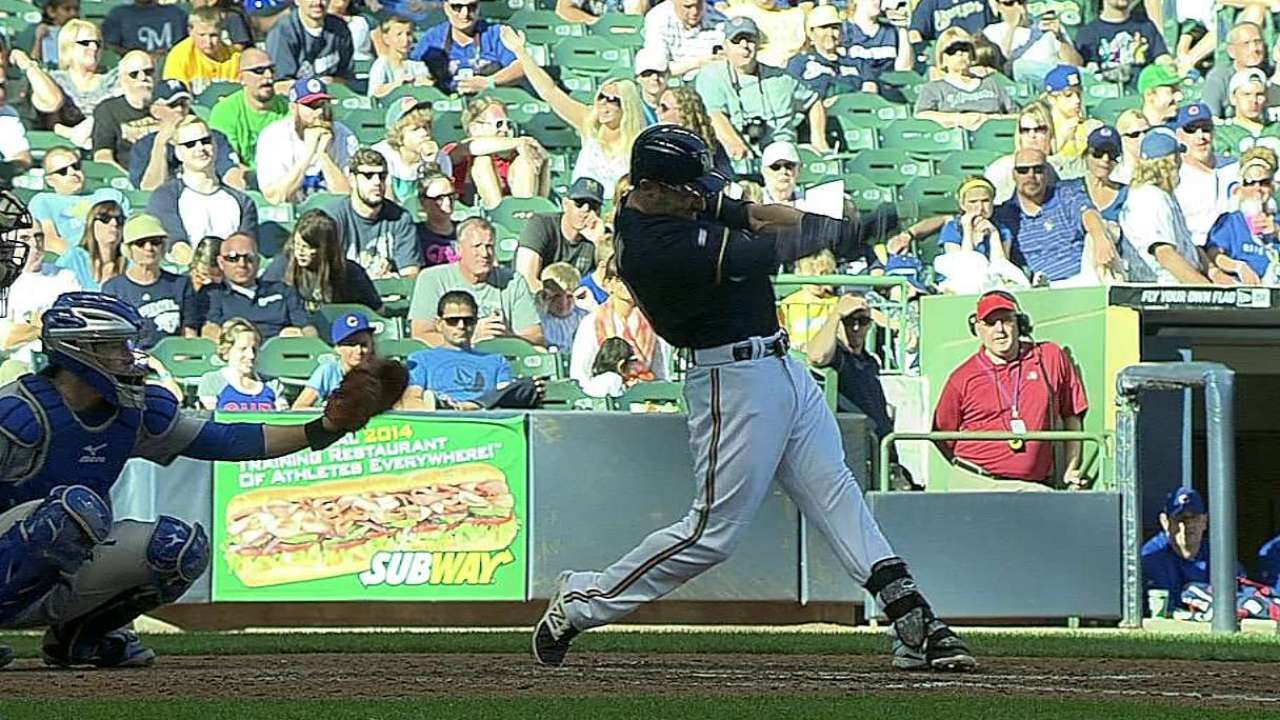 MILWAUKEE -- A 5-2 loss to the Cubs in Sunday's season finale gave the Brewers 22 losses in their final 31 games, and launched what could be Milwaukee's most compelling offseason in memory.
On one hand, a team that spent 150 days in first place has its starting rotation returning intact for 2015, a closer under contract and controllable talent at six of the eight defensive positions -- all six aged 31 or younger on Opening Day, including four former All-Stars. On the other hand, the Brewers are coming off a second-half collapse that bounced them from postseason contention and so disappointed principal owner Mark Attanasio that, for the first time in his tenure, he did not address the team Sunday before players scattered for the winter.
With a top-down review already underway, the Brewers appear at a crossroads.
"As far as shakeup, it could be," general manager Doug Melvin said. "We might turn the roster over a little bit. We might have to do that. It's too early to say that."
Sunday's loss, with starter Mike Fiers allowing four runs (three earned) on six hits in six innings, catcher Jonathan Lucroy collecting the two hits he needed to finish with a batting average above .300, and reliever Will Smith tying for the National League lead with his 78th appearance, left the Brewers with an 82-80 record for the year, good for third place in the NL Central. They finished eight games behind the division-champion Cardinals and six games behind the Pirates, who secured the top NL Wild Card spot.
It was a modest finish for a team that went 20-7 to start the season, climbed as high as 19 games over .500 before the end of June, and still stood 15 games over .500 and in first place on the morning of Aug. 26, when an extra-inning loss in San Diego began the Brewers' slide.
"I would trade all the hits I had this season just to be in the postseason," said Lucroy, who singled in the sixth inning and again in the eighth to push his average to .301 for the season (or more precisely, .30085). "I don't know how other guys feel, but guys worked hard, played hard, and it didn't go our way. We just slumped a few times this year. Two long losing streaks, that's what beat us."
The cause of those losing streaks -- a 1-11 stretch in June and July, and a 3-16 stretch in August and September -- will be investigated in the weeks to come.
During a long media session on Sunday morning, manager Ron Roenicke responded with surprising candor when asked whether he believed the pressure of playing in first place got to his players.
"Yes, I do," Roenicke said. "I think, especially for some younger guys, I think it's very difficult. It may be [the answer]. It's a grind to be in first and having teams trying to catch you all the time and trying to maintain that. If you go into a slump, you think, 'We have to hold on and get it back again.' It's a grind.
"That's part of it, though: Do you have grinders on your team to get through that part? Do you have grinders on your staff making sure guys are doing the right things and staying positive? A lot goes into that."
The Brewers' review will include an assessment of Roenicke, who is under contract through next season with a club option for 2015, and his coaches, whose contracts expire next month.
Roenicke told reporters "I did the best that I thought I could do," and said he was operating with the assumption he would return for a fifth season.
"If they think I'm not doing the job that I should be doing, then you try to make an improvement. And same thing goes for the coaches. Same thing goes for the players," Roenicke said. "If there are some things we can do different with the players in improving this, then we need to do it. If it's taking the same personnel, players, and working with them and trying to get them better, then that's what we have to do.
"And we do have to do something. We can't fall in a skid this long offensively and not figure that we need to try to do something a little different."
Adam McCalvy is a reporter for MLB.com. Read his blog, Brew Beat, and follow him on Twitter at @AdamMcCalvy. This story was not subject to the approval of Major League Baseball or its clubs.