Cueto first Reds hurler with 20 victories since '88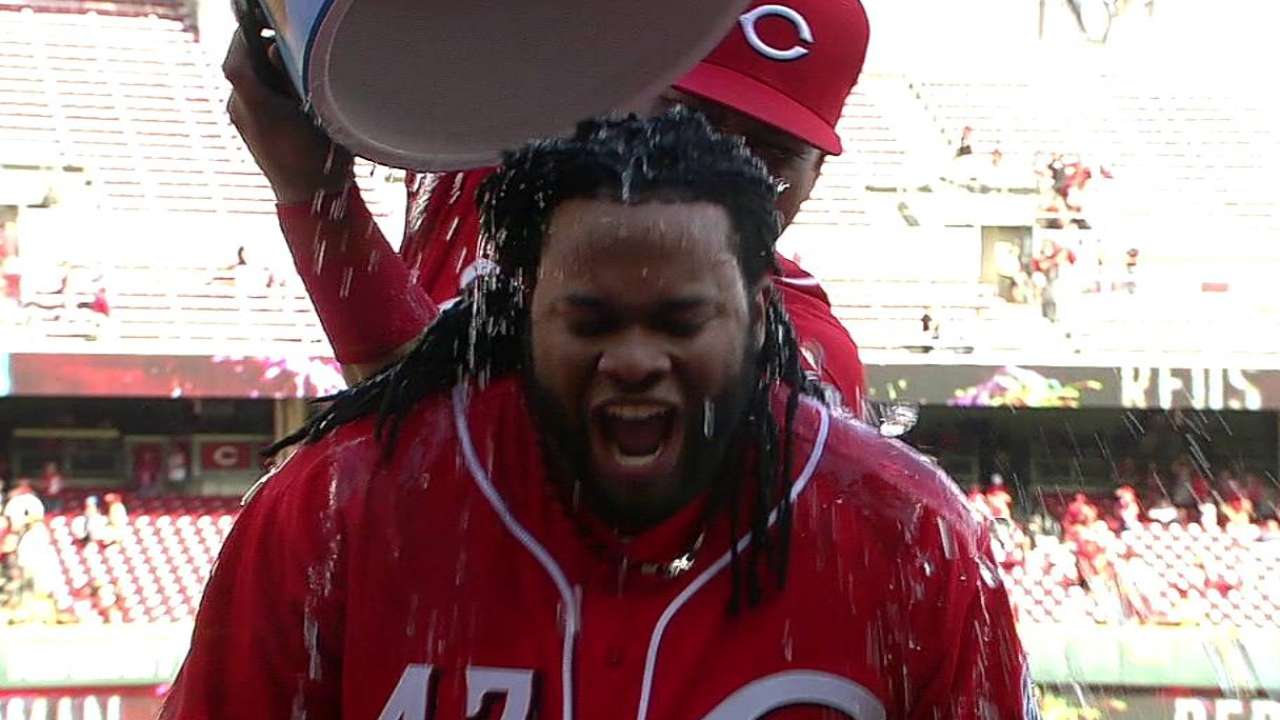 CINCINNATI -- Until Johnny Cueto defeated the Pirates on Sunday, the last time the Reds had a 20-game winner, Ronald Reagan was president of the United States, the Berlin Wall was still fortified and "Don't Worry, Be Happy," by Bobby McFerrin was the No. 1 song on the charts.
That previous pitcher was left-hander Danny Jackson, who went 23-8 with a 2.73 ERA and 15 complete games over 35 starts in 1988. Cueto ended at 20-9 with 2.25 ERA in 34 starts after a 4-1 win over the Pirates in which he pitched eight innings and drove in the game-winning run with a single in the bottom of the eighth.
"A lot of people, including my mom, said, 'I want 20 games.' A lot of people in Spring Training said they want 20 games," Cueto said through interpreter Tomas Vera. "I thank God for being able to commit and give them what they ask for. It's not just my personal goal, it was more than one person -- including my mom -- and I'm doing it for them."
Unfortunately, Cueto's 2014 season could potentially resemble Jackson's in two bittersweet ways.
The 1988 and 2014 Reds did not make the playoffs, and like Jackson, Cueto probably won't win the National League Cy Young Award because a Dodgers pitcher had an even better year.
Jackson was second to Orel Hershiser, who also had a 23-8 record but posted a 2.26 ERA and led the league with 267 innings and eight shutouts while finishing the year with a record 59 consecutive scoreless innings. Kershaw, a strong NL MVP candidate, finished this season 21-3 with a Major League best 1.77 ERA and six complete games in 27 starts.
"It's definitely a tough thing for Johnny; I know that would be a great honor for him," catcher Devin Mesoraco said. "You feel bad, but at the same time you have to give Clayton a lot of credit. The year that he had was unbelievable."
"It's been Kershaw's year, but I'd love for Johnny to be able to get the acknowledgment that goes with, not just being in the conversation, but actually winning the award," Reds manager Bryan Price said. "And it doesn't look like that's a probability."
Cueto refused to concede the award to Kershaw.
"You don't know what's going to happen," Cueto said. "Nothing has happened yet. I've got my own numbers. I have my innings, I have my strikeouts -- look where I'm pitching. I don't know that. You guys, the media, are the ones who know what's going to happen. I've got my numbers."
Cueto will also be dueling for consideration with another 20-game winner in Adam Wainwright. Here some of the numbers that Cueto accumulated this season:
• No. 1 in the NL in innings pitched with 243 2/3 innings.
• Tied for No. 1 in the NL with Stephen Strasburg. Both had 242 strikeouts after Cueto struck out seven on Sunday.
• No. 1 in opponents' batting average.
• No. 2 in NL ERA behind Kershaw.
• Cueto is the first pitcher to win 20 games for a team with a losing record since R.A. Dickey with the Mets in 2012.
• Cueto pitched at least eight innings and allowed two or fewer earned runs 15 times in 2014.
"I think overall that Johnny understands that he had a really great year," Reds third baseman Todd Frazier said. "There is no short of great there. He really exceeded my expectations, especially being hurt the year before. He worked hard. Knowing him and emotions he brings, he's going to do it day in and day out."
Among Reds pitchers, it was one of the greater seasons in the franchise's history.
• Cueto is the first right-handed Reds pitcher to reach 20 wins since Sammy Ellis in 1965.
• Cueto's 2.25 ERA is the lowest by a Reds pitcher since Gary Nolan posted 1.99 mark in 1972.
• It's the most strikeouts in a season by a Red since Mario Soto had 242 K's in 1983.
• One of three pitchers besides Noodles Hahn (1901) and Jim Maloney to notch at least 20 wins and 235 strikeouts.
• Most innings pitched for the club since Jose Rijo had 257 1/3 innings in 1993.
"I think it just speaks to the year that he's had," Mesoraco said. "We haven't had as much success as what we would like as a team, but Johnny, 20 wins, it hasn't happened for a long time here, so it's a very great accomplishment for him."
Mark Sheldon is a reporter for MLB.com. Read his blog, Mark My Word, and follow him on Twitter @m_sheldon. This story was not subject to the approval of Major League Baseball or its clubs.