Cueto helps own cause by plating go-ahead run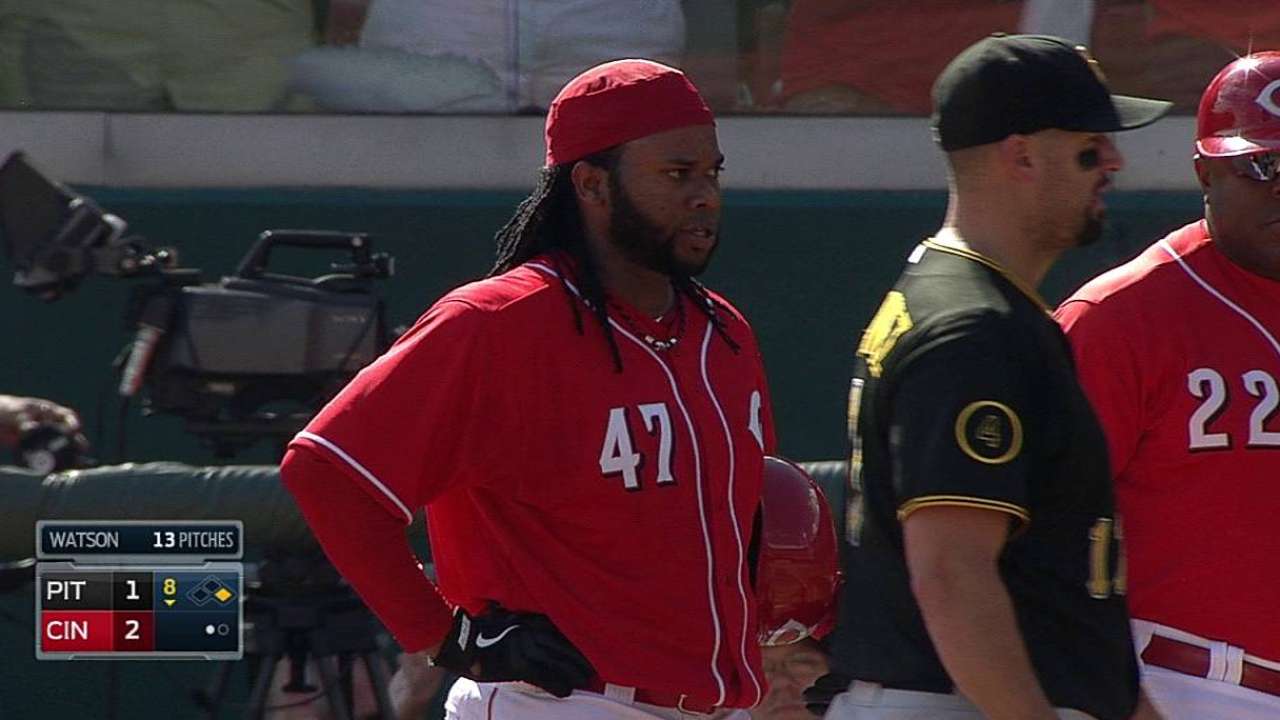 CINCINNATI -- With the Reds and Pirates tied in the eighth inning at Great American Ball Park on Sunday, Cincinnati manager Bryan Price decided to let starter Johnny Cueto -- in search of his career-high 20th win of the season -- bat with a runner at third and one out.
In a seven-pitch at-bat in which he barely got a piece of a 2-2 sinker from Bucs reliever Tony Watson to stay alive, Cueto grounded a 96-mph sinking fastball up the middle with the infield drawn in to put the Reds ahead, 2-1.
"I still don't understand this. I don't understand that at-bat," Cueto said through translator Tomas Vera. "I told my manager I want to hit, and he gave me the confidence to do it. So I went out there and got the hit, and I still don't understand it.
"I have 104 pitches and there's a man on third. I mean, I don't understand why he trots me out. At the same time, I'm really happy and I'm happy he's confident in me and I went on to get my lead. That's what I don't understand -- he could have brought in a pinch-hitter, but he believed in me."
Going into that at-bat, Cueto was batting .119 (8-for-67) with two RBIs on the season.
"I feel in this situation that when push comes to shove, we have a guy that has pitched 240-plus innings for us. If there is anybody that earned that opportunity, it was Johnny," Price said. "To me, it was more important than everything else today. It really was. I put Johnny Cueto above everything else -- including our ballclub, including the playoff race, etc., because I felt like he earned it.
"I wasn't so unsure he wouldn't put the ball in play right there and actually drive in that run by putting the ball in play with the infield in. I don't know if I could have done that with any other pitcher we have."
Kristopher Negron followed with a two-run homer off Justin Wilson to make it 4-1 Cincinnati.
Closer Aroldis Chapman came on in the ninth to close it out, picking up his 36th save of the season and making Cueto the first Reds pitcher since Danny Jackson in 1988 to win 20 games in a season. Cueto also became the first Cincinnati right-hander to win 20 games since 1965.
By defeating the Pirates, Cueto and the Reds knocked Pittsburgh out of contention for a National League Central title. The Pirates will host the Giants in the NL Wild Card Game at PNC Park on Wednesday.
Manny Randhawa is an associate reporter for MLB.com. This story was not subject to the approval of Major League Baseball or its clubs.