After sim game, Kershaw on pace for NLDS opener
Dodgers ace could return on short rest; wins fourth straight ERA title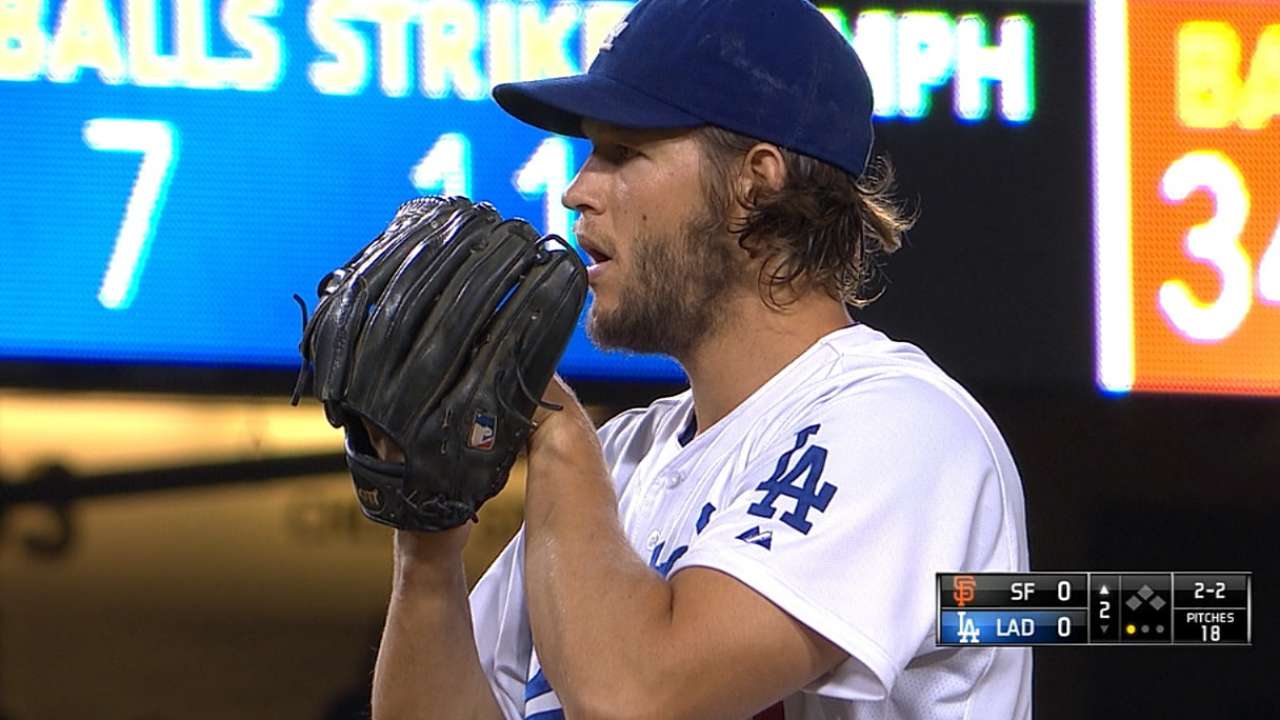 LOS ANGELES -- Clayton Kershaw, the Dodgers' expected starter for Game 1 of the National League Division Series on Friday, threw a 32-pitch simulated game Sunday that might have had more to do with prepping to start a potential Game 4 of the NLDS on short rest.
Kershaw's sim game came with three days of rest from his last start. Coincidentally, that's the same amount of rest he would get if the Dodgers bring him back to pitch Game 4, as they did last year against the Atlanta Braves.
With Hyun-Jin Ryu's availability still uncertain as he recovers from a sore shoulder, starting Kershaw on short rest in Game 4 would allow Game 2 starter Zack Greinke to start a decisive Game 5, if necessary, on regular rest. To this point, manager Don Mattingly has not announced his rotation.
Kershaw became the first pitcher ever to win four consecutive ERA titles (1.77) and also led the league with 21 wins (as he did in 2011), an .875 winning percentage, six complete games and a ratio of 10.8 strikeouts per nine innings.
He missed a strikeout title and second pitching Triple Crown by three strikeouts, but the left-hander is the first MLB pitcher to win 21 games in as few as 27 starts since at least 1901.
Kershaw will likely have a bullpen session Wednesday in preparation for his Friday start against the Cardinals.
"It was kind of a tough situation," said Kershaw. "It was either short rest now or really don't pitch at all. So I got some work in, and it was good, and now I'm kind of on a normal five-day [routine] until Friday, so that was kind of the plan."
Kershaw and Mattingly had discussed possibly pitching out of the bullpen during the weekend series with the Rockies. Kershaw said a simulated game allowed him to keep a normal routine and that Mattingly left the decision up to him.
"You try to keep as same as the season as possible," Kershaw said. "It's obviously different with all the workouts instead of games and stuff. For me, it'll be pretty close to the same. And now, Sunday through Friday, it'll be normal, so that's good."
Kershaw went 1-0 with a 0.69 ERA last year in two NLDS starts against Atlanta, but he struggled in the final game of the NL Championship Series against the Cardinals, allowing seven runs on 10 hits in four innings.
Kershaw said he feels more prepared for the postseason this time around.
"I think experience helps, especially with the same team," he said. "We kind of have the same guys back. As far as me personally and as the team's concerned, I think we have a little bit of an idea of what's coming up."
Ken Gurnick is a reporter for MLB.com. Michael Lananna is an associate reporter for MLB.com. This story was not subject to the approval of Major League Baseball or its clubs.