Shoemaker confident about ALDS; Hamilton less so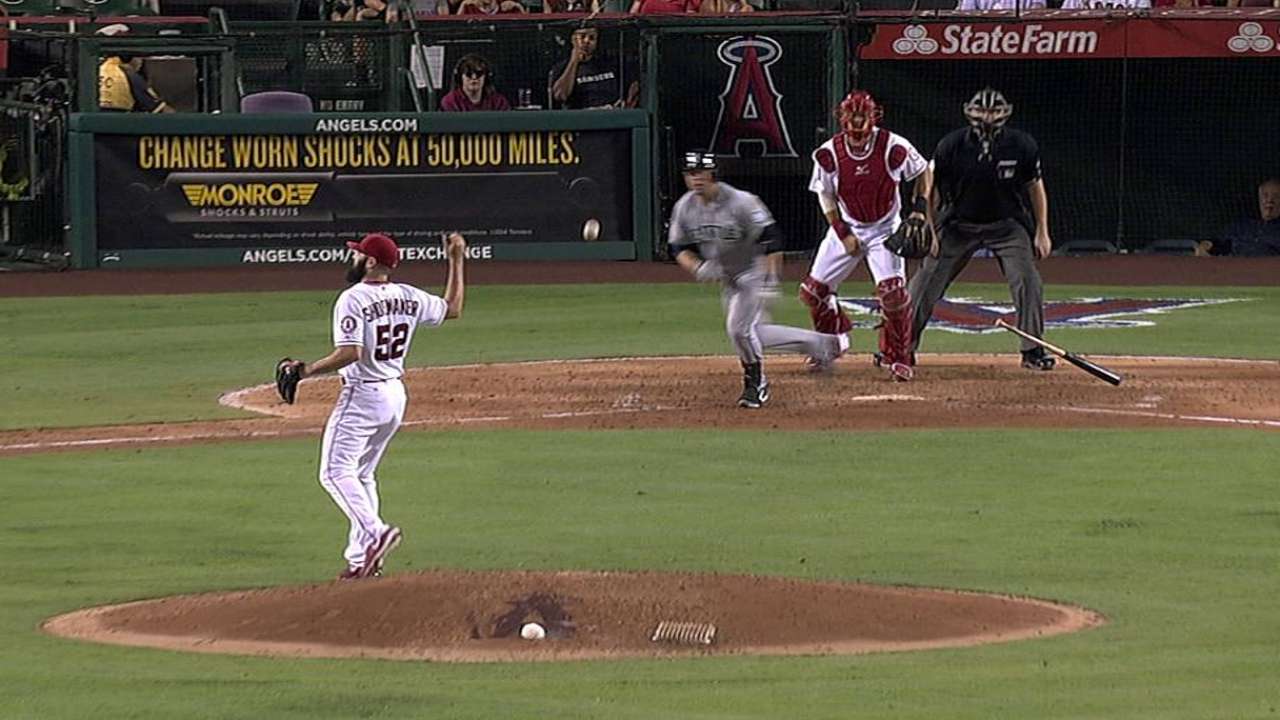 SEATTLE -- Matt Shoemaker threw a 30- to 40-pitch bullpen session at Safeco Field on Sunday morning and feels "very" confident he can start in the American League Division Series, barring an unforeseen setback.
Josh Hamilton spent time before the regular-season finale taking soft-toss swings in the cage, throwing long toss, doing some running exercises and tracking pitches during Shoemaker's session, but he will need to push it harder on Monday and Tuesday before knowing if he can play in the first round, which kicks off on Thursday.
Hamilton, who will finish the season having played in just one of the Angels' final 22 games, didn't feel the spasm around his right chest/ribcage he did when he hit off a tee earlier in the week, a sensation that made it difficult for him to even breathe. But he finished his swing with two hands on the bat, which he never does in games.
"I'm going to have to just swing," Hamilton said. "So tomorrow will be another big day."
Hamilton is slated to take batting practice on the field at Angel Stadium on Monday and Tuesday, and see some live pitching at some point before ALDS rosters are due on Thursday morning. Throwing is no longer an issue, his back no longer bothers him when he runs and the pain he felt while swinging on Sunday was tolerable.
"The pain isn't the issue; it's the spasm part of it," said Hamilton, who took four days off from striking a baseball because of those spasms. "As long as I can play and not spasm, I'll be fine. That means I have to get after it the next couple of days, push it a little bit, because I can't baby it, then get in the game Thursday and it happens."
Shoemaker, rehabbing from a mild strain in his left oblique since Sept. 15, played catch for six straight days leading up to his first bullpen session, gradually ramping up the intensity and the distance until taking part in an unrestricted long-toss session on Saturday.
The 27-year-old rookie threw all of his pitches on Sunday, finished throwing at full intensity and felt only "a touch" of tightness, which diminishes with each passing day.
"Hopefully, in a couple of days, I won't even feel it all," Shoemaker said. "I think that's a big possibility."
The next step for Shoemaker is to face hitters at Angel Stadium on Tuesday or Wednesday, then start either Game 2 or 3 of the ALDS. Asked if he's confident he'll start in the ALDS, he said, "Very much."
"Each day has felt better," he added. "This is the first time we got full intensity off the mound. We'll find out more tomorrow."
Alden Gonzalez is a reporter for MLB.com. Read his blog, Gonzo and "The Show", and follow him on Twitter @Alden_Gonzalez. This story was not subject to the approval of Major League Baseball or its clubs.