Zimm's no-no the latest in run for National League
Nats right-hander tosses ninth straight feat by Senior Circuit pitcher to tie mark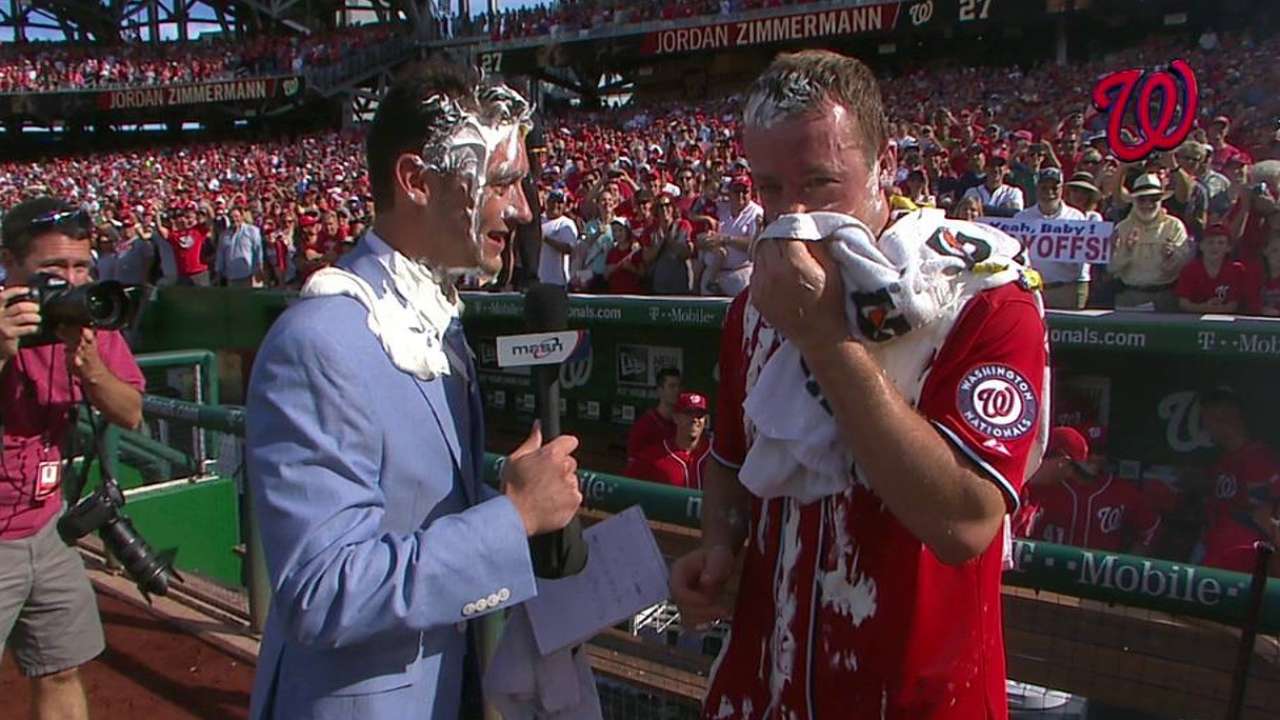 Jordan Zimmermann's no-hitter on the last day of the 2014 season for Washington marks the ninth in a row by a National League pitcher, setting an NL record and tying the longest such modern Major League Baseball streak set by the American League from 1908-1912.
Since Felix Hernandez threw the last AL no-hitter for Seattle on Aug. 15, 2012, the NL has dominated in the no-no department like never before.
This run was started by Homer Bailey no-hitters on Sept. 28, 2012, and July 2, 2013, and was followed by gems from Tim Lincecum, Henderson Alvarez, Josh Beckett, Clayton Kershaw, Lincecum and then a four-pitcher combo by Philadelphia earlier this month. Five of those NL no-hitters have come in this season alone.
The only other time the NL threw eight no-hitters in a row was a streak bookended by Sandy Koufax no-hitters in 1963 and '65 In fact, Koufax threw three of his four career no-hitters during that particular run, one each season. It might have been nine in a row, but on June 14, 1965, Jim Maloney of the Reds lost his no-no when he surrendered a leadoff homer in the 11th (and then one more hit) in a 1-0 loss at the Mets.
On Sept. 18, 1908, Bob Rhoads pitched a no-hitter for Cleveland, starting a run of nine consecutive AL no-hitters that culminated with Earl Hamilton's victory for the St. Louis Browns on Aug. 30, 1912.
This also marks the third consecutive year that the NL has pitched a no-hitter in the final week of the regular season. Bailey's first no-no came on the final Friday of 2012 at Pittsburgh (the season ended the next Tuesday), and Alvarez threw his on the last day of '13 at Miami.
Other no-hitters on the final day of the regular season in modern MLB history were tossed in 1975 by four A's pitchers at the Angels and in 1984 by Mike Witt for the Angels at Texas.
Mark Newman is enterprise editor of MLB.com. Read and join other baseball fans on his MLB.com community blog. This story was not subject to the approval of Major League Baseball or its clubs.