Alvarez views thrilling no-hitter from different perspective
Marlins starter tossed no-no nearly one year before being on opposite end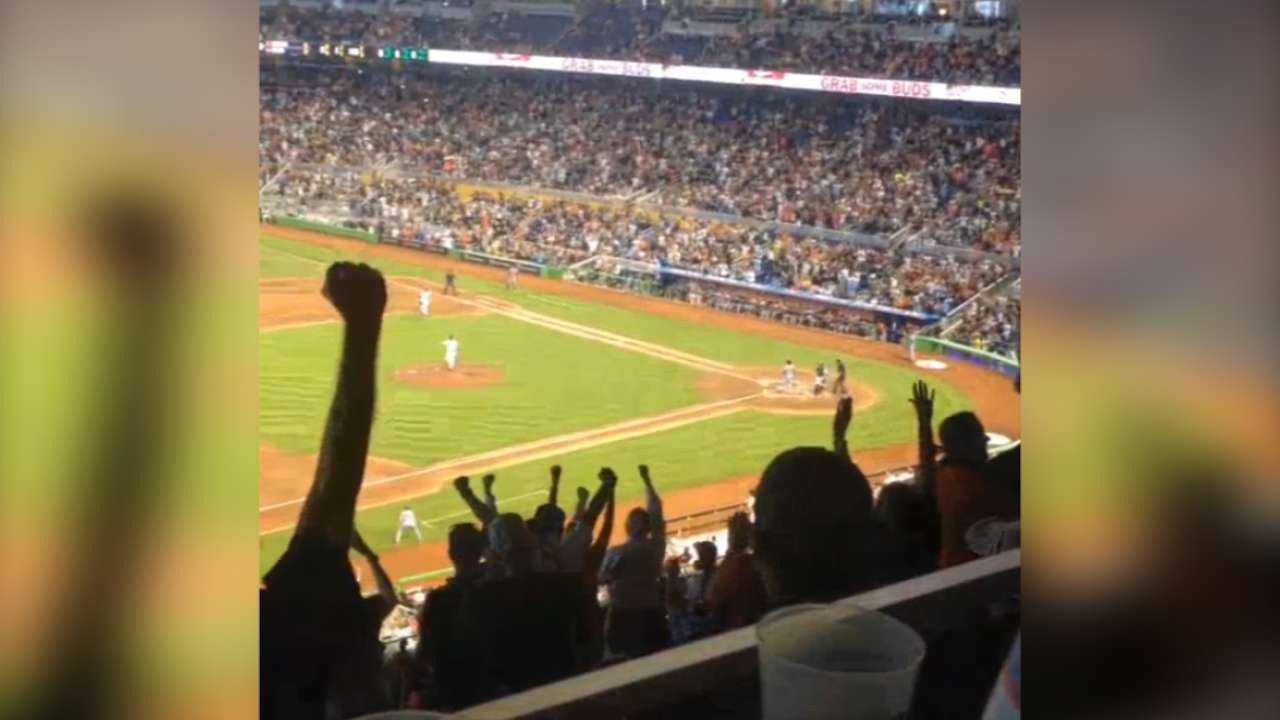 WASHINGTON -- History sometimes repeats itself, and entering Sunday, Marlins manager Mike Redmond was thinking Henderson Alvarez might again have a memorable final day of the season.
Redmond was certainly right. Alvarez found himself part of history, but this time, it was in reverse. It was Jordan Zimmermann being mobbed by his teammates after no-hitting the Marlins in Washington's 1-0 victory in front of 35,085 at Nationals Park.
On a day that could have been about playing out the string, baseball showed how quickly fate can turn. Zimmermann struck out 10 and walked one, Justin Bour with two outs in the fifth inning, in a masterpiece that lasted two hours and one minute.
"I had a vision -- it was of Henderson doing it again," Redmond said. "Not against us."
The twist is simply too poetic, or maybe it falls into the category: "That's baseball."
What are the odds? On Sept. 29, 2013, Alvarez no-hit the Tigers at Marlins Park in the season finale. The final score was, coincidentally, 1-0. On Sunday, he was on the mound in a defeat that will go down in Nationals' lore.
"You don't normally see too many no-hitters as it is," Miami reliever Mike Dunn said. "And then in the final game, to have it two years in a row. ... We were lucky enough to be on the other side of it last year.
"We lost, 1-0, but it's always fun to see something like that happen. You just always hope you're on the other end of it."
Alvarez didn't have no-hit stuff on Sunday. He scattered 11 hits, but he was effective enough to allow just a second-inning Ian Desmond home run.
"Things just happen from one year to the other," Alvarez said. "It was just his day, excellent day for him."
The Marlins had their hard shots, but each time, the ball found a Nationals' glove.
There were several standout defensive plays, but none more dramatic than Steven Souza Jr.'s diving catch in the gap in left-center to rob Christian Yelich with two outs in the ninth inning.
"We hit some balls hard, but I've seen a few no-hitters, and that's kind of the way they roll," Redmond said. "But you give him credit. He mixed his pitches, kept us off balance and shut us down."
Literally the final out of the game was Miami's most impressive hit. If Souza doesn't make that play, Yelich may wind up on third, representing the tying run.
"I was just running," Yelich said. "I thought it was going to be in the gap, and then I heard the crowd go crazy. That's when I knew it was bad news for the Fish right here.
"That's baseball for you. A year ago, we were on the other side of the clubhouse, celebrating Henderson's no-hitter. It's funny how that works, I guess."
Joe Frisaro is a reporter for MLB.com. He writes a blog, called The Fish Pond. Follow him on Twitter @JoeFrisaro. This story was not subject to the approval of Major League Baseball or its clubs.