MLB.com Columnist
Richard Justice
Having done baseball proud, Jeter's legacy will endure forever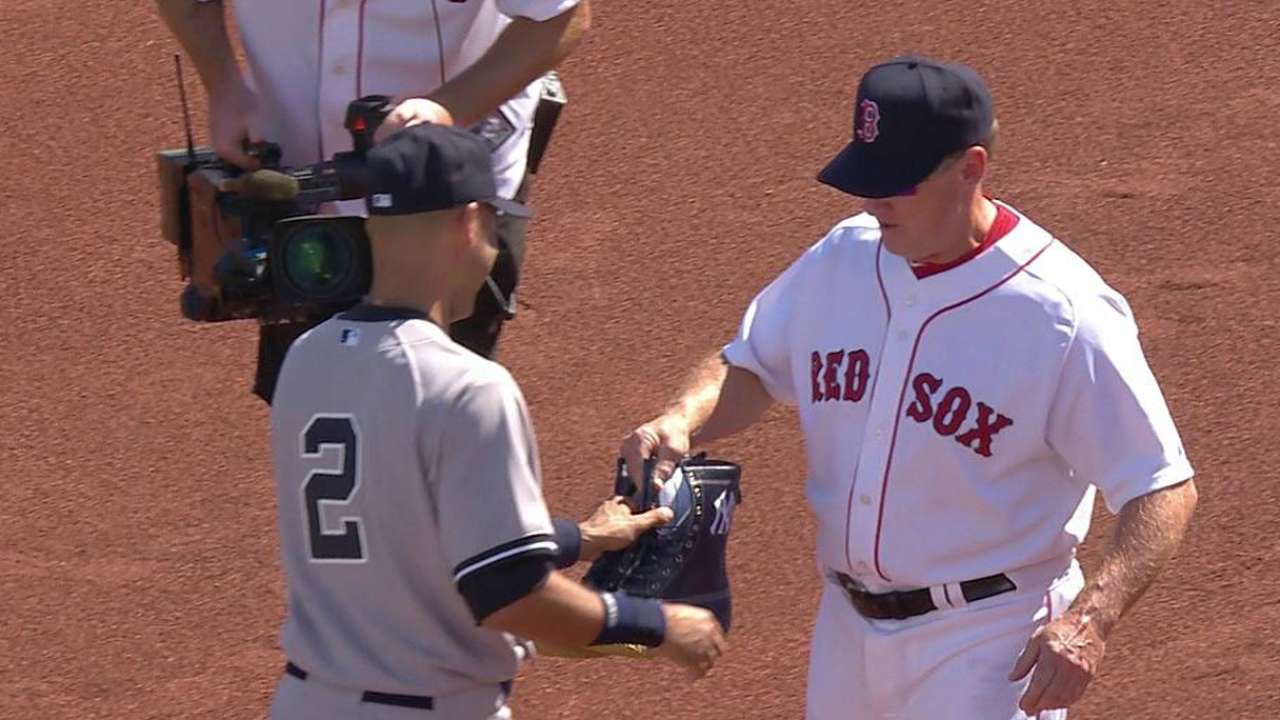 BOSTON -- Derek Jeter said goodbye the way we always figured he might. That is, he did his job. Isn't that the thing that defined him for 20 seasons?
When he takes a deep breath and reflects on all of it, he's sure to look back and take pride in always being part of a greater whole, a team.
He stepped to home plate for the final time in the top of the third inning on a sun-splashed Sunday afternoon at Fenway Park.
It had been another day of ceremony and emotion as the Red Sox honored him with a pregame ceremony that was absolutely perfect.
He stood alone at shortstop as a parade of Boston legends walked onto the field to shake his hand.
Carl Yastrzemski was the first. Rico Petrocelli followed and then other Red Sox greats -- Jim Rice, Fred Lynn, Luis Tiant, Tim Wakefield and Jason Varitek.
And then some of Boston's legendary captains -- Bobby Orr of the Bruins, Troy Brown of the Patriots and Paul Pierce of the Celtics.
After that, Red Sox third-base coach Brian Butterfield stepped out of the home dugout and headed toward Jeter.
This surely was a moment Jeter will hold dear, one that brought a flood of memories. Butterfield is one of the game's legendary instructors, and he was a coach with the Yankees when he first met Jeter in 1994.
Jeter was 19 at the time and coming off a season in which he'd made 56 errors. Butterfield helped remake Jeter as a defender, got his career off and running.
David Ortiz led a parade of Red Sox players onto the field. He embraced Jeter warmly, followed by others, ending with Dustin Pedroia.
The Red Sox replayed Jeter's Ice Bucket Challenge for ALS on the video board, and Pete Frates wheeled himself across the infield. His battle with ALS inspired the Ice Bucket Challenge across the country.
He was followed by the perfect finishing touch. Michelle Brooks Thompson grabbed a microphone and walked across the diamond belting out of rousing version of "Respect."
Jeter lined out to Red Sox shortstop Jemile Weeks in the first inning, then stepped back up in the third with Ichiro Suzuki on third base.
With the Yankees already leading, 2-0, Red Sox manager John Farrell pulled his infield close.
Jeter pounded a 93-mph Clay Buchholz fastball onto home plate. It sailed high into the air, and when it came down, it bounced off the bare hand of Red Sox third baseman Garin Cecchini.
Jeter legged out the hit, and Ichiro scored. As Yankees catcher Brian McCann stepped from the dugout and headed toward Jeter to run for him, another packed house realized it was over.
Jeter embraced Red Sox first baseman Allen Craig and then a parade of others as cheers echoed through the majestic old ballpark. They began with "Der-ek Je-ter" and as he entered the dugout, changed to, "Thank you, Der-ek."
That this place where the Red Sox and Yankees have had so many tough, tense battles would rally around one player from the other team should be one of the lasting tributes.
"I don't know how many players can do that in any sport," Yankees manager Joe Girardi said. "But I think it shows you the respect he has even against your toughest rival. That was pretty special."
He took a place at the top of the dugout to watch the rest of the afternoon, maybe to exhale a bit and attempt to grasp that this was it.
Later, when asked for about the 100th time what legacy he would like to write for himself, Jeter answered simply.
"You want to be known as someone who had respect for the game, respect for your teammates, respect for the fans, respect for the media, played the game hard," he said.
He said again and again he is leaving with zero regrets.
"I'm happy being known as a Yankee," he said. "That's the only thing I've ever wanted to be, the shortstop of the New York Yankees, and I had an opportunity to do that for 20 years. Being remembered as a Yankee is good enough for me."
Before the game, Girardi informed Jeter he needed two hits to tie an MLB record of 18 seasons with at least 150 hits, held by Ty Cobb, Pete Rose and Tris Speaker.
"I never played this game for numbers, so why start now?" Jeter said. "I'm tied with Hank Aaron [with 17 seasons of at least 150 hits]. That's enough for me."
His RBI was the 1,311th of his career and came in his 2,747th game. The hit was his 3,465th and nudged his career batting average to .310.
"I had a blast," Jeter said. "I had an opportunity to do what I wanted to do and all I ever wanted to do. Not a lot of people can say that. I've been fortunate. There is not one thing I would change. This is what I wanted to do."
As impressive as his numbers are, they won't be the first thing people remember about Jeter. When people think of him, they're likely to recall that he was a big part of one of the great runs the Yankees ever had, that he was on 16 teams that went to the postseason and that he batted .308 on the game's biggest stage.
They'll remember that he handled good times and bad with grace and with dignity. In that way, he did his sport proud. His story can't be told strictly with mere numbers, and as the cheers fade away, his true legacy will endure forever.
After the game, Girardi choked back tears when he was asked what it had been like to manage Jeter.
"It's been a blessing," he said, his voice cracking, "to manage a guy that's what you want in every player. What you want every player to care about. What you want every player to fight for. What you want every player to do."
Richard Justice is a columnist for MLB.com. Read his blog, Justice4U. This story was not subject to the approval of Major League Baseball or its clubs.