Zimmermann's no-hitter a true team effort
Sixteen position players combine to support dominant outing in finale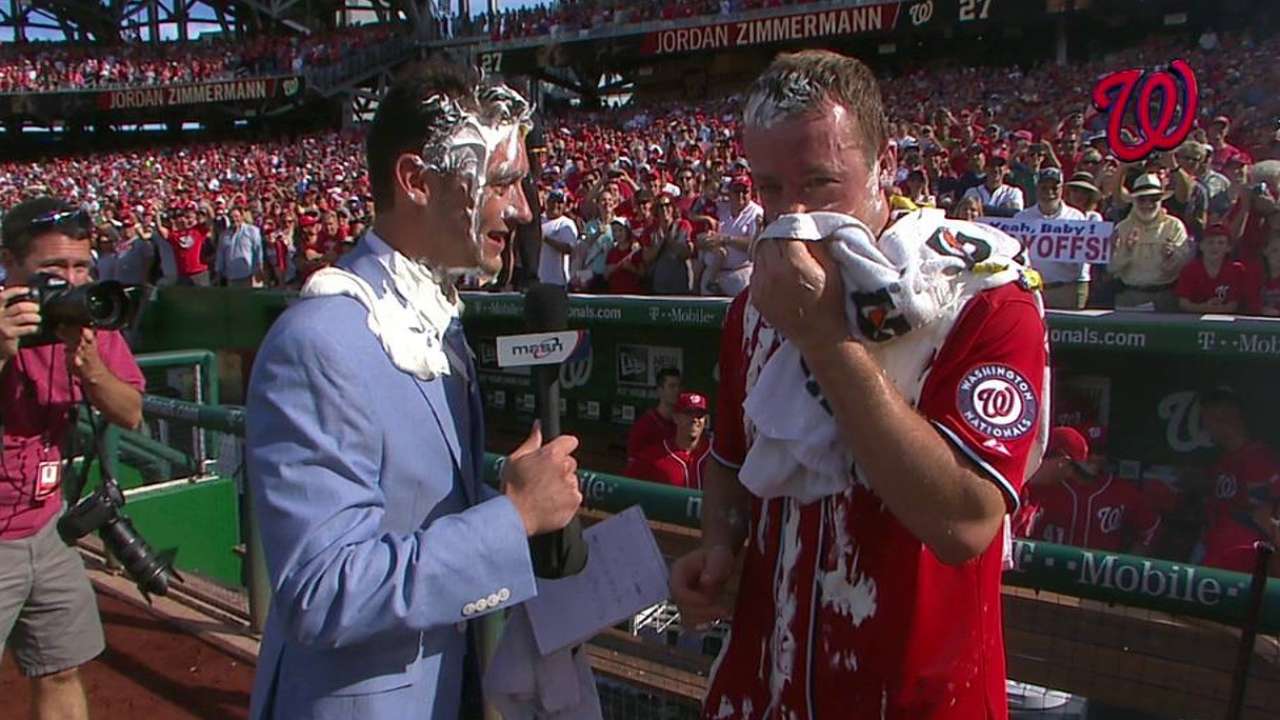 WASHINGTON -- In the Nationals' section of the box score for Jordan Zimmermann's no-hitter, 16 names are listed above the pitcher's. Some were starters, some backups. Some have been with the team all year, while others have made only cameos. Some are franchise cornerstones, and a few won't be on the team's roster for the upcoming National League Division Series.
All of them got to contribute to a rare achievement on Sunday afternoon, as Zimmermann blanked the Marlins for nine innings in the regular-season finale.
"I think it's special, because you could literally say it's a total team effort," said veteran utility man Kevin Frandsen, who played the final six innings at third base. "Our whole objective is to go into a game to help us win, let alone in that situation, play our butts off and hopefully get this guy a special [accomplishment]. I think it says a lot about the guys that came into the game and played their butts off and were ready."
With the Nats already having clinched home-field advantage in the NL postseason, manager Matt Williams substituted early and often. Center fielder Denard Span came out first, after his third-inning double broke the club record for hits in a season. Left fielder Ryan Zimmerman exited last, with Steven Souza Jr. replacing him for the ninth inning. Among Washington's eight starting position players, only catcher Wilson Ramos played the whole way.
One of those replacements, Souza, made the play of the game, saving the no-no with a spectacular diving catch in the left-center field gap with two outs in the ninth. He was one of two rookies in the outfield by the end.
Next to him in center was 23-year-old Michael Taylor, who spent much of this season at Double-A Harrisburg and came into Sunday with a total of 13 Major League games under his belt. In about the sixth inning, Taylor found out he might go into the game as a defensive replacement. Two innings later, he found himself jogging out to his position with Zimmermann six outs from history.
"It definitely got your blood pumping pretty quick, to go into a game and know you've got to make every play out there," Taylor said. "It was pretty cool just to be a part of it."
It's a feeling that Jeff Kobernus can understand. The 26-year-old has spent most of the past two-years at Triple-A Syracuse, while appearing in 28 games for the Nats. When he replaced Asdrubal Cabrera at second base to start the sixth inning, it was only the third time he had taken that position in the big leagues.
"You think about that stuff and see it on TV," Kobernus said. "But to be out there, it's definitely a pretty unbelievable feeling."
Kobernus figured he would get a chance to go into the game at some point, and when he ran onto the field for the sixth, he glanced up at the scoreboard and saw the zero in the Marlins' hit column. The pressure only built from there, but Kobernus managed to handle the two routine grounders hit his way.
"You kind of just go back into tricking your mind into thinking it's just another game and to go out there and make the plays," Kobernus said.
The experience wasn't new to everyone, though.
Nate Schierholtz, signed as a Minor League free agent last month, saw Jonathan Sanchez throw a no-no and Matt Cain a perfect game in his days with the Giants. For Sanchez's performance, Schierholtz entered the game in the second inning, but Sunday was an even crazier situation. He pinch-ran for Span in the third and stayed in the game to play right field, before moving to center in the fifth then back to right in the eighth.
As the afternoon wore on, Schierholtz felt something like a playoff atmosphere descend on the stadium.
"It locks you in even more as a player, and you know that you've got to dive for anything," Schierholtz said. "There's 100 percent tension there on every pitch."
During Cain's perfecto, Schierholtz had watched as Giants right fielder Gregor Blanco laid out on the warning track for a highlight-reel grab in the seventh inning. With Sunday's game in the final two innings, he thought to himself, "You know, we haven't really had one of those extraordinary plays."
Souza, playing his 20th Major League inning in left field, provided that for the 27th out. He was the 15th Nats player to record one.
"All these guys can play at any given time, and they were all ready today," Zimmermann said. "We got some of the guys out of there early and brought some of those other guys in. They were playing great all day, and that's a complete team win."
Andrew Simon is a reporter for MLB.com. Follow him on Twitter @AndrewSimonMLB. This story was not subject to the approval of Major League Baseball or its clubs.