Pickoff play highlights Ramos' first career no-no behind plate
Throw to first redeems catcher after wild pitch, gets Zimmermann to eighth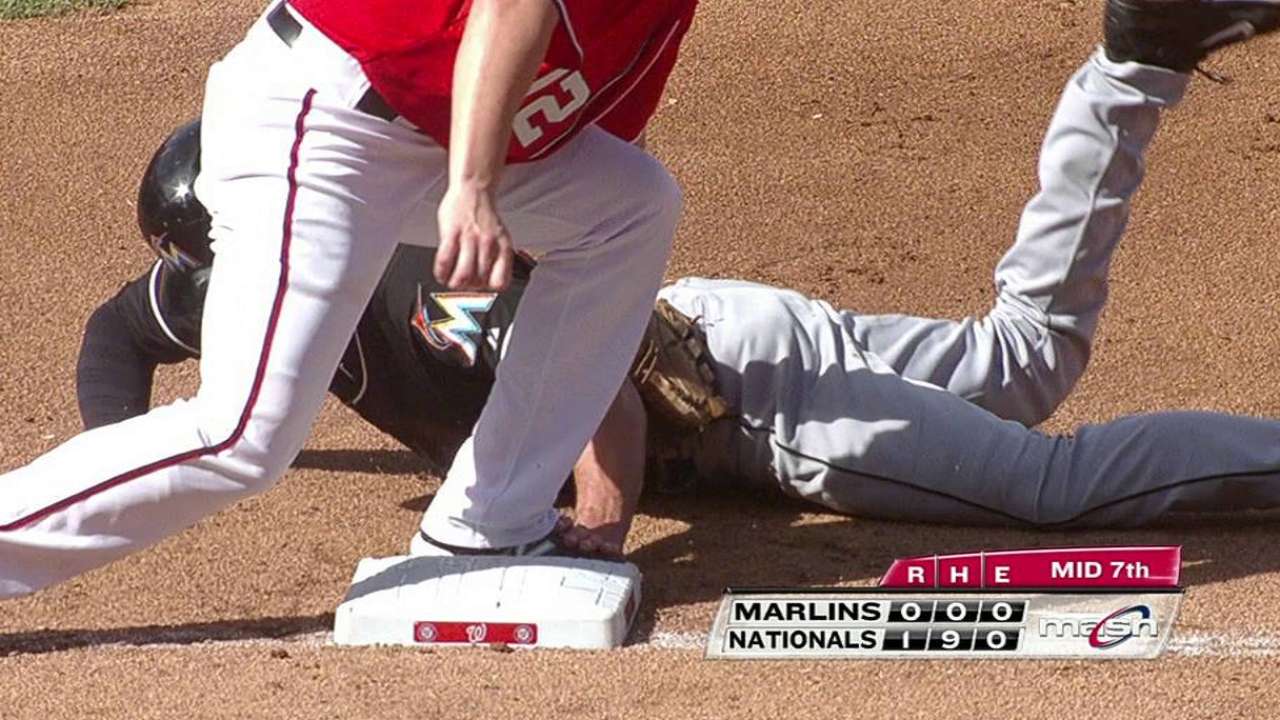 WASHINGTON -- With two outs in the seventh inning of Jordan Zimmermann's no-hitter on Sunday afternoon, the right-hander bounced a curveball that Miami's Garrett Jones swung over for strike three. But a pitch that should have ended the inning didn't, as the ball caromed off the left arm of Nationals catcher Wilson Ramos and bounced away for a wild pitch.
Jones reached first base, giving the Marlins their second baserunner of the game and perhaps the opening they needed to interfere with Zimmermann's chance at history. Ramos, however, didn't waste time earning his redemption. As veteran outfielder Reed Johnson stepped to the plate and fell behind 0-1, Ramos formulated a plan.
"I know Jones isn't gonna steal," Ramos said. "But after the first pitch, he got off the base a lot, and I said, "OK, I'll call a slider. If this guy swings, [Jones will] be out of position, and I think I'm gonna make a play."
When the first baseman is playing behind the runner, the Nats might put on a designed pickoff play, manager Matt Williams said. But with Tyler Moore holding Jones near the bag, it was up to Ramos to see the opening and Moore to get there in time.
The play worked to perfection. Johnson waved at Zimmermann's down-and-away slider, and Ramos came out of his crouch, firing a strike to first. Moore caught it in front of the bag and slapped the tag down on Jones, who dove back head-first. Umpire Gary Cederstrom called him out.
"That was huge," Zimmermann said. "[Johnson] gives me problems, so to get out of that inning and get a fresh inning facing him was good."
Zimmermann notched six more outs, and while the seven starting defenders behind him all changed throughout the game, Ramos stayed. It was the first no-hitter of his professional career, Majors or Minors, fulfilling a significant goal.
"I didn't care about my at-bats," Ramos said. "[Going] 0-for-3, ground balls, double plays, I don't care about that in that moment. I was concentrating on calling a good game.
"I can't explain how happy I feel right now what I did behind the plate today."
Andrew Simon is a reporter for MLB.com. Follow him on Twitter @AndrewSimonMLB. This story was not subject to the approval of Major League Baseball or its clubs.