What a difference a year makes for Angels' Dipoto
GM chats with MLB.com about rebounding from '13, relationship with Scioscia, these playoffs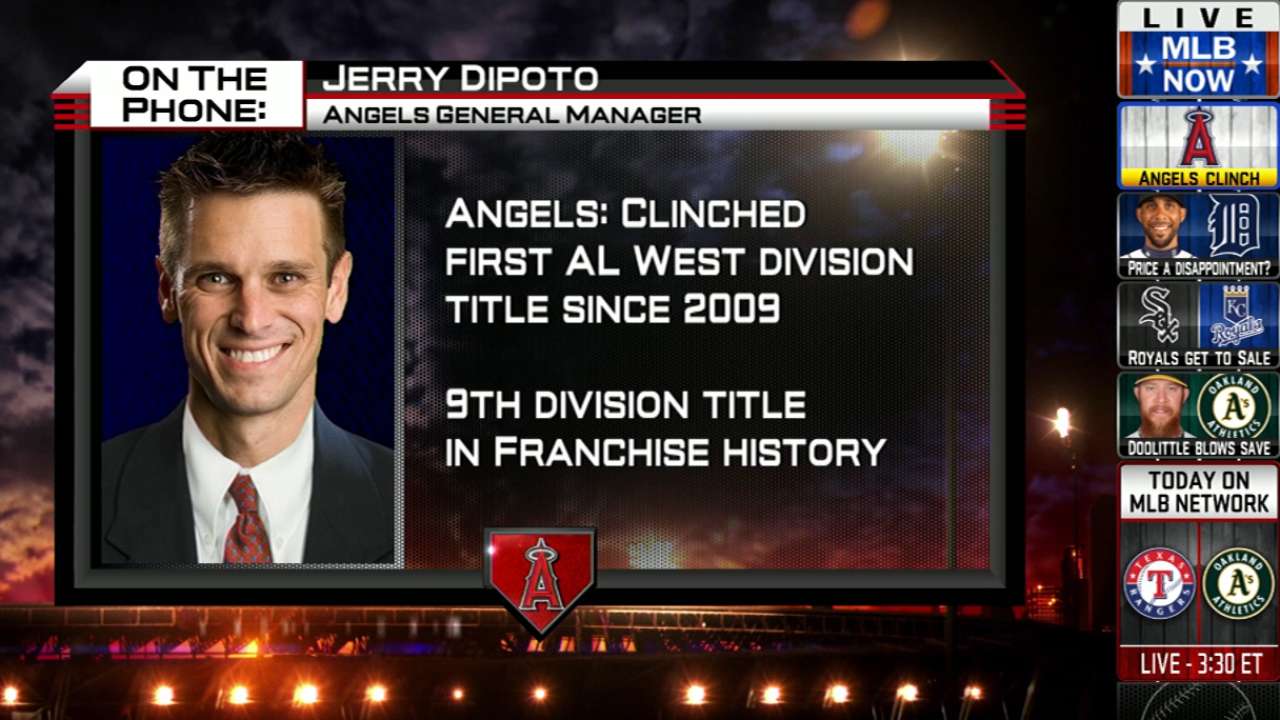 At this time last year, Angels general manager Jerry Dipoto didn't even know if he'd still have a job.
The Angels were winding down an 84-loss season, extending their string of playoff absences to four years despite a bevy of high-priced commitments by their competitive owner, Arte Moreno. Meanwhile, reports swirled about a fracture in Dipoto's relationship with longtime manager Mike Scioscia, and the prevailing sentiment was that one of them had to go.
Now, Dipoto presides over an Angels team that finished with baseball's best record and locked up home-field advantage throughout the postseason. The GM's 2015 option was picked up nearly three months ago, and he and Scioscia are doing just fine, thank you very much. Winning, as they say, cures all.
Before the American League Division Series kicks off against the Royals at Angel Stadium on Thursday (6:07 p.m. PT, TBS), Dipoto sat down with MLB.com for some questions.
MLB.com: What would you identify as the biggest reason your Angels went from spending only two days above .500 in 2013 to finishing 2014 in first place?
Dipoto: It's probably two-fold, makeup being first and foremost. To me, for winning teams, it always comes back to makeup. We have really good makeup. It's a resilient bunch. They believe in one another, they work hard, they play hard. The group we had last year -- very solid makeup, not nearly as resilient as this group here.
No. 2 is that until we got into August [when both Tyler Skaggs and Garrett Richards suffered season-ending injuries], we didn't have to deal with any debilitating injuries. We were without Kole [Calhoun] for about six weeks, we were without Josh [Hamilton] for close to two months, and in the time those guys were out, others stepped up.
MLB.com: You're going into the postseason with home-field advantage throughout October, but you'll also enter the ALDS without knowing what you'll get out of Matt Shoemaker (left oblique) and Hamilton (right chest/ribcage). What do you think of your chances?
Dipoto: With Josh having missed these last three weeks, we understand how he can help us, and we also understand that he might not be there, so we're prepared either way. In Shoe's case -- he's done a lot better. Right now, he's in a pretty good place. ... We're very confident right now that he's going to be able to do the things that he does and has done, and we'll take it day by day.
But I think as important as anything, we're a team. It's a 25-man team. No matter what has happened, whether it be when Kole and Josh were hurt earlier in the season, or when Garrett and Tyler went down late, this team just finds a way to pick it up. Sometimes it comes from areas you wouldn't expect, and sometimes the guys that lead the charge are the guys that have been around. One through 25, they've just done a great job.
MLB.com: What was key to you and Scioscia finally getting on the same page this offseason, and how did that help set the foundation for this season?
Dipoto: It took time. Mike and I have always gotten along very well. There have been times when we like each other more than others, like any other two people who work together. He's had 15 years of success here, been outstanding for this organization, and he had a template of things that he believed in, and I came in with my own ideas. And it takes time to work those things out. Here we are in our third year together, and I think we've done a nice job in covering up the gaps that existed previously. Some of that was just in our belief, some of that was with what we were trying to get to, some of it was simply better communication.
MLB.com: We've seen several franchises -- most recently the Phillies -- eventually crumble under the weight of large contracts. How do you keep that from happening with the Angels, while also competing for championships each season?
Dipoto: One of the tricks is to make sure you achieve good balance. The revenue streams from Arte allow us to do some things with our payroll that many teams just don't have the ability to do. It's one of our strengths; we might as well use it. But we also have to be aware that we need other guys to develop on the other side of the roster -- the young player, the 0-3 [years of service time] who's still in that $0.5 million earnings range -- because they offset the cost of the guys on the top side.
We understand what our model is and we have to stay with that model. We can't be pushed in the direction to do something north, where we have to go above and beyond. I've heard the comment, 'We're all in.' We're all in every year, but we have to do it with good balance. And that means we have to be a little bit more aware of how our roster ages. I think one of the great misconceptions is that we have an old and aging roster. We really don't. ... We have a nice balance on our team.
MLB.com: In tune with that, how important was it to stay away from the big free-agent contract in the offseason?
Dipoto: Critically important. We needed to stay flexible; we needed to create flexibility on our roster. It was really hard for us to trade Mark Trumbo and Peter Bourjos. They're quality guys, they're quality Angels, born and bred through the system, and good players. But we needed to turn them into functional and flexible pieces -- guys that fit our roster better. And in the case of Fernando Salas and Tyler Skaggs and Hector Santiago, that can give us that affordable, controllable, optionable pitching that we just didn't have.
MLB.com: Looking ahead, you're not going to have Skaggs next season because of Tommy John surgery, and Richards is going to be coming off major knee surgery. How much urgency will you put on acquiring starting pitching via free agency this offseason?
Dipoto: The well isn't dry. We have Jered Weaver, we have C.J. Wilson, we do have Garrett Richards -- who we anticipate coming back -- we have Hector Santiago, we have Matt Shoemaker. We do still control the rights to Wade LeBlanc once this season is done. We do have Cory Rasmus next year, we have Drew Rucinski. Right there, we're eight deep. So right now, we don't view it as critical, or some game of Russian Roulette we're getting ready to play in the free-agent market.
Alden Gonzalez is a reporter for MLB.com. Read his blog, Gonzo and "The Show", and follow him on Twitter @Alden_Gonzalez. This story was not subject to the approval of Major League Baseball or its clubs.