Butler reports back soreness after final start
Club's second-ranked prospect scheduled for Arizona Fall League action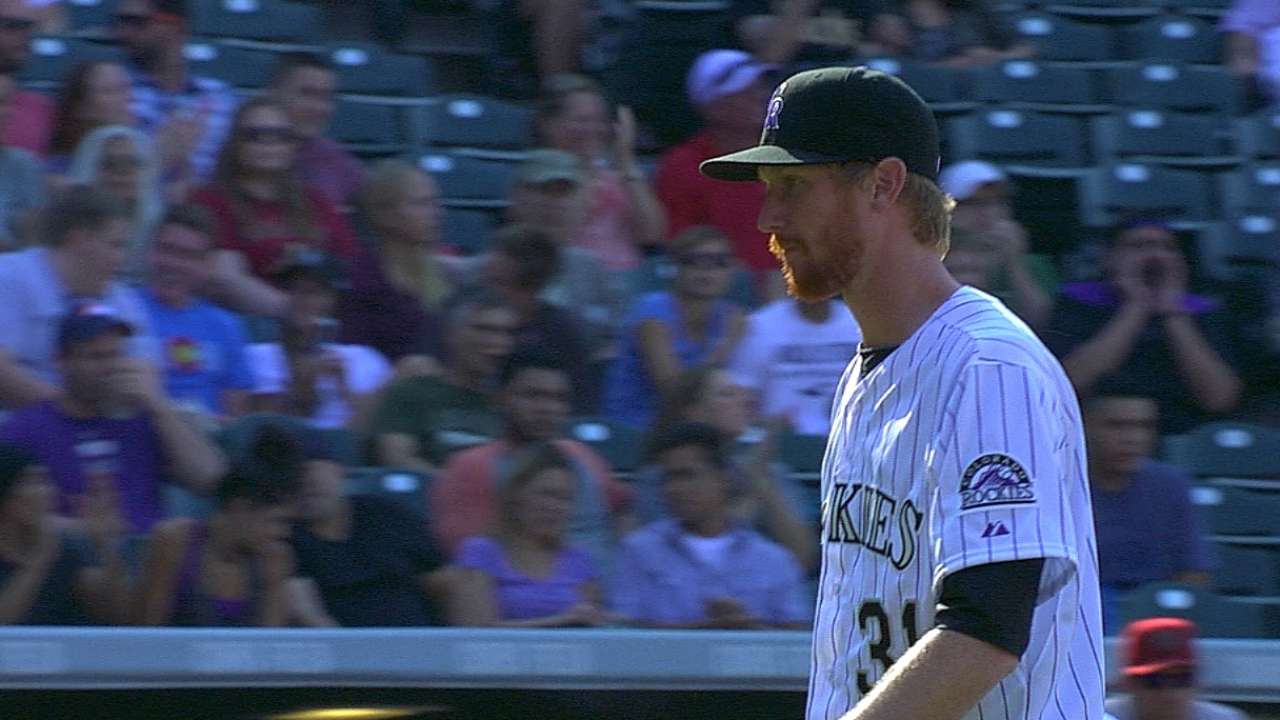 LOS ANGELES -- The soreness that has accompanied Rockies right-hander Eddie Butler through what was supposed to be a breakout season resurfaced Sunday morning.
Butler threw 4 2/3 innings -- with subpar velocity and effectiveness that decreased by the inning -- in the Rockies' 6-5, 12-inning loss to the Dodgers on Saturday night. He reported upper back soreness the next morning. It marked the end of a regular season during which Butler dealt with a rotator cuff strain that showed up immediately after his June 6 Major League debut.
Butler, the club's No. 2 prospect according to MLB.com, is expected to go to the Arizona Fall League this week. Although the soreness is bothersome, he talked to head athletic trainer Keith Dugger to relieve his mind.
"Soreness has been a normal thing this year, but it's been abnormal for my life," Butler said. "I talked to 'Doogie' and said I was a little sore today, and he said, 'Yeah, you'll feel a pinch.'"
Last year, in his first full pro season after being a supplemental first-round Draft pick in 2012, Butler, 23, struck out 143 and posted a 1.80 ERA in 149 2/3 innings. He looked electric this spring in his first big league camp. But there was a noticeable drop in velocity from the beginning of the regular season at Double-A Tulsa.
Butler put up numbers strong enough to earn the June callup. After the first start, a home loss to the Dodgers, the Rockies placed Butler on the disabled list and had him modify his training program to take care of muscles that might have been neglected in the past.
Butler finished up with a Tulsa team that went to the Texas League Championship Series. He returned to defeat the D-backs with an effective six-inning performance last Saturday, during which he gave up one run on five hits but struck out just one. He didn't strike out any against the Dodgers on Saturday, and gave up five runs on eight hits.
The fastball velocity is around 91-92 mph, instead of 94-96 that he showed regularly in the past.
"I was happy last night early on because the sinker was good -- if the 'velo' is not there, if I have a sinker, I'll be all right," Butler said. "I'll try to work back to the velocity."
Butler's issue, with health and velocity, could be rooted in his loss of a consistent arm slot. The Rockies are counting on Butler finding his form this offseason so they aren't doing any chicken-and-egg investigations next year.
"We've seen him command the ball with velocity," Rockies manager Walt Weiss said. "That's who he is. We're seeing him at the end of the season right now. Maybe that's a factor. He's a mid 90s guy that can sink it and command it at that velocity."
Thomas Harding is a reporter for MLB.com. Read his blog, Hardball in the Rockies, follow him on Twitter @harding_at_mlb, and like his Facebook page, Thomas Harding and Friends at www.Rockies.com. This story was not subject to the approval of Major League Baseball or its clubs.