Braves close out rough September with win in Philly
Bonifacio's leadoff homer in first sparks cast of relievers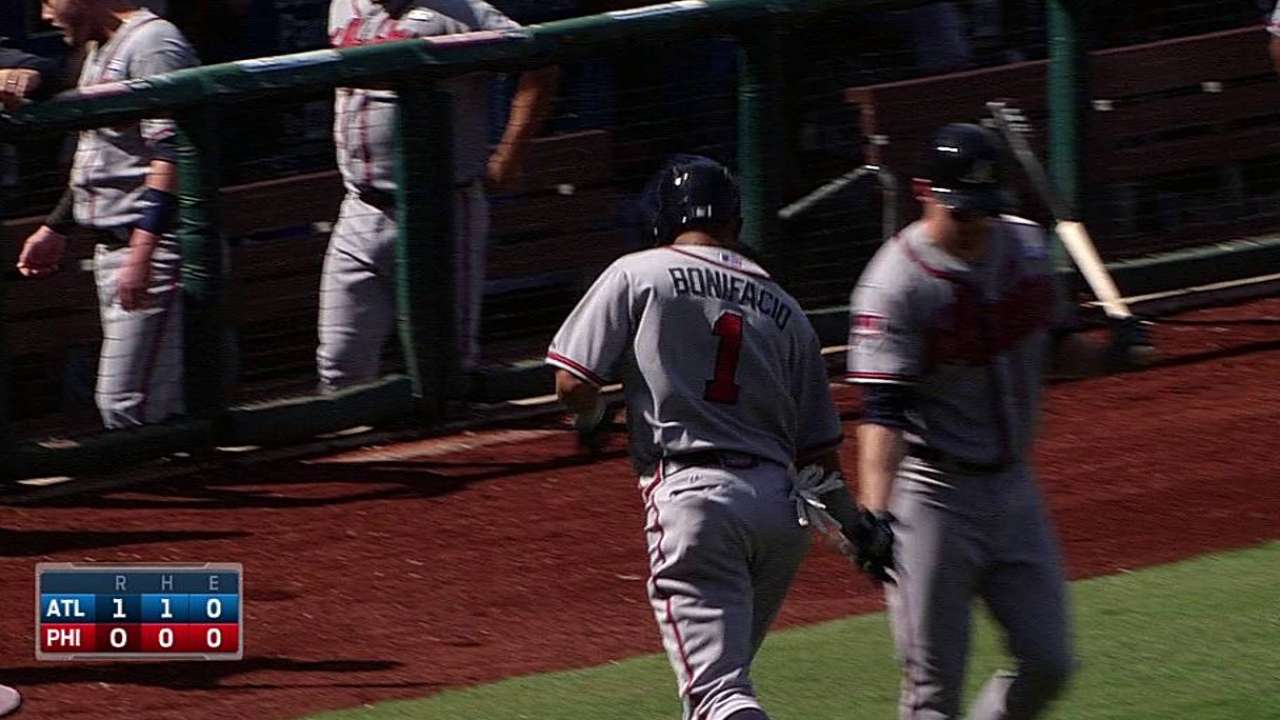 PHILADELPHIA -- Though the resulting satisfaction did not erase the effects of the misery experienced over the past few weeks, the Braves exited their most disappointing season in more than two decades with a reason to smile and look forward to next year with hope that it proves to be much different.
There wasn't much reason for optimism as the Braves entered Sunday afternoon's regular-season finale without a starting pitcher and a lineup that was absent a few regulars who opted to rest. But courtesy of a two-run first inning, they conquered an otherwise dominant Cole Hamels and claimed a 2-1 win over the Phillies.
"Everybody is happy that's the last game of the season, but everybody is happy that we also won so that we can take that into the offseason," said Braves first baseman Freddie Freeman, who started each of the 162 games played during this often trying season.
When the Braves gather for Spring Training next year with what will likely be a noticeably different roster, they will attempt to distance themselves from what they felt while winning just seven of 25 games in September. But as they packed their bags and prepared to head home on Sunday, they were attempting to appreciate that they ended this long campaign by enjoying a second consecutive win for the first time since Aug. 29.
"It's going to be a nice flight going home," Braves manager Fredi Gonzalez said. "It's a two-game winning streak and hopefully when the season starts up we can pick that up because it's been hard. It's been difficult."
The Braves were not officially eliminated from the postseason race until Sept. 21, but they essentially sealed their fate somewhere in the process of losing 18 of the first 24 games in September, a month that began with Hamels and three Phillies relievers combining to throw a no-hitter at Turner Field.
When the Braves scratched Alex Wood from Sunday's start because of left forearm stiffness, Gonzalez joked that the group of relievers he would use in this finale might match Philadelphia's accomplishment. Although that didn't happen, James Russell and four other Atlanta relievers managed to outpitch Hamels, who was utterly dominant after the first inning.
There was not any indication that Russell was affected by the fact that he was told Saturday night that he would be making his sixth career start and first since 2011. The southpaw, who had most of his success against right-handed hitters this year, surrendered two hits over four scoreless innings -- his longest outing since May 22, 2011.
"It's a fun way to end the season," Russell said. "It's a shame we couldn't make a better push for the playoffs. But we still had fun in Game 162."
The Braves had allowed just three hits before the Phillies tagged David Carpenter for a pair of hits and a run during the eighth inning. But Carpenter's ability to limit the damage to the run that scored on Ben Revere's double-play groundout preserved the early support provided by his teammates.
"The whole time you're thinking about what Bobby [Cox] says, 'You just never know when you're going to win,'" Gonzalez said. "You come in and get four hours of sleep, tossing and turning and figuring out how to use your bullpen. Our guys were terrific."
Emilio Bonifacio's second career leadoff homer got things started for the Braves, who saw each of their first four hitters reach safely against Hamels, who also surrendered an RBI single to Freeman before recording his first out of the day.
"He's phenomenal," Freeman said. "The stuff he had going in the first inning, he's not usually 95 with a 92 mile per hour cutter. The stuff he was throwing in the first inning, I don't know how we got two runs off of him. You saw it the rest of the way. He just absolutely shut us down the rest of the way."
After stumbling out of the gate, Hamels looked more like the pitcher that limited the Braves to just one run in the 20 innings that encompassed his three previous starts against them this year. The three hits he surrendered within a span of the first four hitters he faced proved to be the only ones he allowed during a gutty eight-inning effort, delayed momentarily after Tommy La Stella's comebacker grazed his lip in the second inning.
But Hamels' effort was not enough to add to the recent woes experienced by the Braves, who managed to produce a pleasant conclusion to a season they would like to soon forget.
"Everybody seemed to be playing hard until the end of the season," Freeman said. "That's what you want to be. You don't want to give up and we definitely didn't do that this year."
Mark Bowman is a reporter for MLB.com. This story was not subject to the approval of Major League Baseball or its clubs.