Phillies know changes coming after last-place finish
Hamels allows two runs, fans seven in eight innings in season finale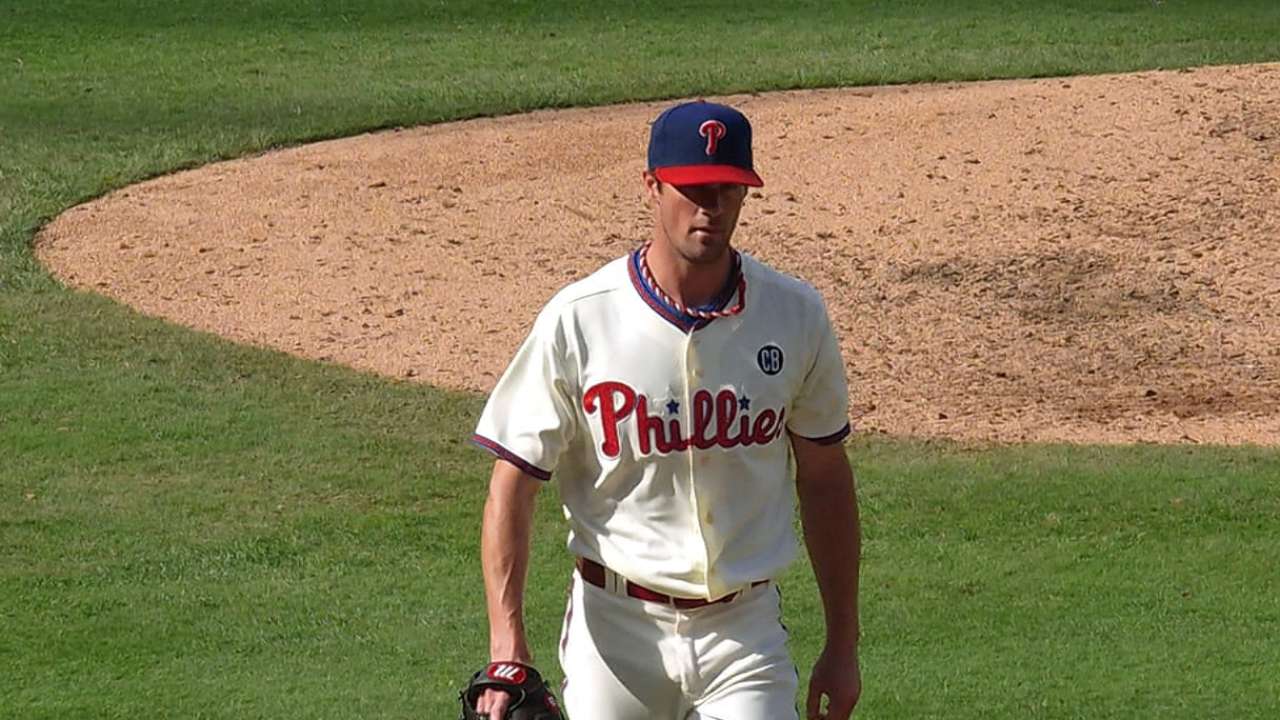 PHILADELPHIA -- The Phillies had cleaned out their lockers and packed their things into boxes long before they played Sunday's season finale at Citizens Bank Park.
They had known for a long time they would not play past Sunday. They could afford the head start.
The Phillies lost to the Braves in their 162nd game, 2-1, to finish 73-89, their same record as last season. It is the organization's third consecutive season without a winning record, and their first last-place finish in the National League East since 2000, despite a franchise-record $180 million payroll.
The team drew 2,423,852 fans, a nearly 20 percent drop from last season and its lowest season total since its final year at Veterans Stadium in 2003, when they drew 2,259,948.
"We started rebuilding this year," Jimmy Rollins said. "It started with the bullpen and that was a big part of the rebuilding phase. It's finding ways to score runs (next season) with the guys you have and one or two guys they may go get and guys to fill in the bench. Rebuild was something we started this year and we played like a rebuilding team in all honesty."
There is little question changes are coming to the roster and elsewhere in the offseason. The status quo won't cut it.
"Things are going to be different," Rollins said. "How much and who? We don't know. We can't even begin to try and answer that question."
The Phillies had few positives in 2014, but Cole Hamels was one of them. He had the best season of his career, despite a 9-9 record.
He allowed two runs in the first inning to hand the Braves a 2-0 lead. It included a home run to Emilio Bonifacio. Hamels suffered a scare in the second, when Tommy La Stella hit a ball up the middle that grazed him on his upper lip.
Hamels remained in the game and did not allow a hit the rest of the way. He allowed three hits, two runs, one walk and struck out seven in eight innings to finish with a career-best 2.46 ERA.
But Hamels' individual performance hardly served as a moral victory. He will turn 31 in December and he enters the third year of a six-year, $144 million contract extension he signed in July 2012 because he believed the Phillies would be competitive.
"I think when everybody becomes a free agent they make choices," Hamels said. "And I think the choice for everybody, at least I hope, is to go to an organization and a team that wins. So when you're in that sort of parameter and when things don't go your way, or they're not going in the direction you envision, it makes it tough. It makes the season go a little bit longer. And I know some frustrations can kind of come out. You really do learn the true character of a person."
The Phillies will listen to offers for Hamels in the offseason because he is their best player and could bring back the greatest haul. Hamels sounded open to it, but said he hopes to stay.
"I understand the situation," he said. "All good things come to an end. I understand the organization and what they have to do. I know they have to make some changes. I can't say or tell them what to do, I'm just one piece. If I can just be accountable for who I am, then they can just check it off their list of somebody hopefully they'll want in the organization that will provide them with a winning attitude and a winning vision.
"I understand if it has to happen. I wouldn't hold any grudges, but it would be tough to leave."
Asked how far he thinks the Phillies are from contending again -- because it looks like they are far away -- Hamels said, "I have to agree with that given what's transpired over the last two years. But I don't know what changes needs to happen and I'm glad I don't have to make those changes."
But changes are coming. That is a certainty.
Todd Zolecki is a reporter for MLB.com. This story was not subject to the approval of Major League Baseball or its clubs.