Ryu encouraged by 40-pitch mound session
Simulated game up next for Dodgers lefty; on track for Game 3 of NLDS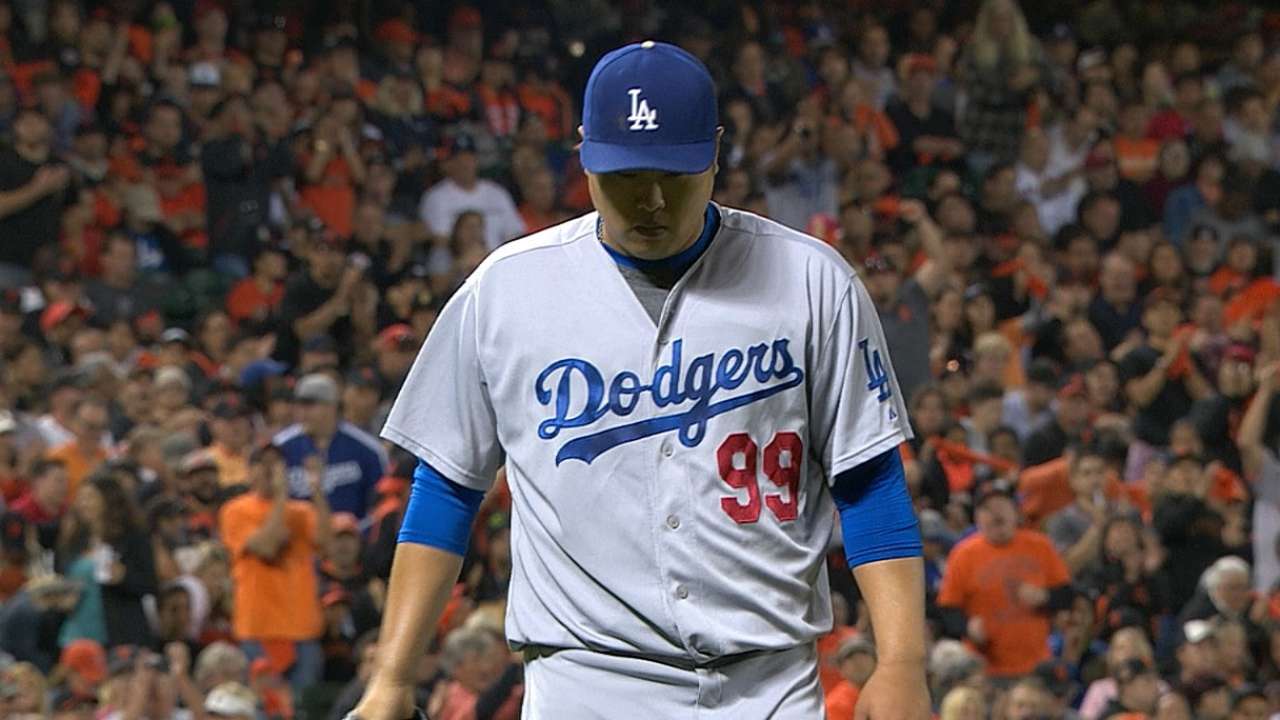 LOS ANGELES -- Dodgers left-hander Hyun-Jin Ryu said he is optimistic he will be ready to pitch in the playoffs after throwing a 40-pitch bullpen session Sunday with no discomfort in his left shoulder.
"It went very well. I didn't feel any discomfort in my shoulder," said Ryu, who hasn't pitched in a game since leaving after one inning Sept. 12 in San Francisco. "Very positive result."
Manager Don Mattingly, who stood in the batter's box for the last 20 pitches of the workout, said Ryu looks ready to him, as long as he comes out of this test without a setback. He said Ryu's fastball was clocked at 85-86 mph, which he said was close to maximum without the adrenaline of facing opposing batters. The final exam will be Wednesday, when Ryu faces hitters in a simulated game.
"His fastball was good, his curveball is better than last year, he used all of his pitches," said Mattingly. "As we sit here today, it's another encouraging sign. We'll see how things are tomorrow, it's another big day. He hasn't been asked to do this at this effort level. We'll just have to see how he comes out of this and if he comes out OK, the sim game on Wednesday."
As the No. 3 starter, Ryu's spot in the playoffs wouldn't come up until Monday, Oct. 6. A simulated game on Wednesday would put him on a five-day cycle. Ryu, who generally does not throw bullpen sessions, noted that when he returned from a similar injury in May, he pitched a simulated game first.
"I can't throw a practice [Minor League] game and a sim game is what I did last time and it worked," said Ryu, who won his first four starts after being reactivated. "I feel it's very important."
Ken Gurnick is a reporter for MLB.com. This story was not subject to the approval of Major League Baseball or its clubs.