Chapman's season proves historically dominant
After terrible injury, closer comes back to break multiple strikeout records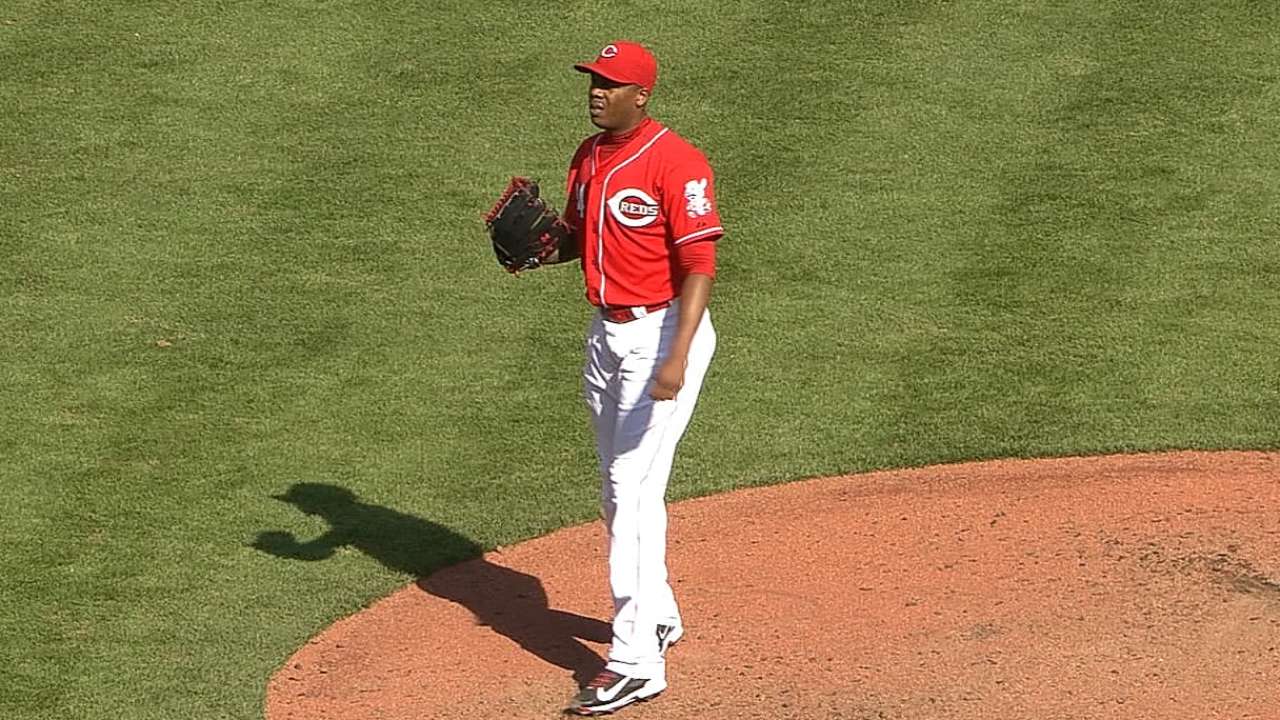 CINCINNATI -- Reds closer Aroldis Chapman turned in one of the most dominant seasons by a relief pitcher in Major League history in 2014.
Chapman set new Major League records in strikeouts per nine innings (17.67), strikeouts-to-hits ratio (5.05-to-1), and highest percentage of batters struck out (52.4 percent). He also shattered the record for most consecutive relief appearances with a strikeout (39 by Bruce Sutter), establishing the new mark of 49 straight from Aug. 21, 2013-Aug. 13, 2014.
Chapman also became the first pitcher since the PitchF/x tracking system was installed in 2006 to finish the season with an average fastball velocity of more than 100 mph (100.3).
The fastest pitch Chapman recorded this season was a 104.53 mph fastball to the D-backs' Paul Goldschmidt on July 28.
"I really don't look forward to breaking or doing any kind of records," Chapman said through translator Tomas Vera. "That's not on my mind. When I go in there, I go in there to do my job and to close the game and get it done. Records are something you can't control. Records are what destiny gives to you."
Chapman's dominance has been even more impressive considering the horrific injury he sustained during Spring Training, when he was hit in the face by a line-drive comebacker by the Royals' Salvador Perez. The force of the impact caused fractures of his nose and above his eye, as well as a mild concussion.
But the 26-year-old came back stronger than ever, much to the amazement and relief of his teammates. Chapman missed 35 games, making his season debut on May 11 against the Rockies and striking out the side.
"I was worried about my career. It means a lot [to come back]," Chapman said. "Today after I threw the last pitch, I kind of got tears a little bit. I felt really emotional for what happened the whole season. It was not just important for me to do what I did, it was just important for my family, as well, that I came back and do what I did."
One of Chapman's closest friends on the Reds, catcher Brayan Pena, beams with pride when discussing Chapman's return.
"To see him laying down on the hospital bed and wondering, 'Am I going to pitch again? Am I going to continue to do what I do best?' And being able to witness his recovery and the way that he bounced back when a lot of people had doubt about how he was going to be … he never had any doubt," Pena said.
"He read a couple things, people wondering about the mental aspect of the game and whether it would affect him and stuff like that -- what if someone hit a comebacker or something like that. But he said, 'No, I'm very focused on my recovery first, and then I'll go out there and do what I do.' It's just part of the game, and he understood that."
Third baseman Todd Frazier has had a unique vantage point during home games when Chapman was on the mound, adjacent to the visiting team's dugout.
"You look at the other team in the dugout, and it's kind of quiet," Frazier said. "It's a little awkward. To have him out there, it's pretty nice."
When asked if he thought there was another pitcher behind whom it would be more comfortable to play defense, Frazier couldn't come up with anyone in the game today.
"Maybe Nolan Ryan, Jim Maloney, just to think of a couple," he said.
No vantage point could be as interesting as that afforded to a catcher when Chapman is firing his incomparable fastball toward home plate.
"The fans, they embrace the 100-mph [fastballs] -- when I say the fans, I mean all baseball fans," Pena said. "Because when he goes on the road, people say 'Oooooh' and are surprised and stuff like that. But being behind home plate and being able to see those pitches and then being able to shake hands after winning a game with a guy like that, it's amazing."
Manny Randhawa is an associate reporter for MLB.com. This story was not subject to the approval of Major League Baseball or its clubs.