Veteran Giambi unsure of future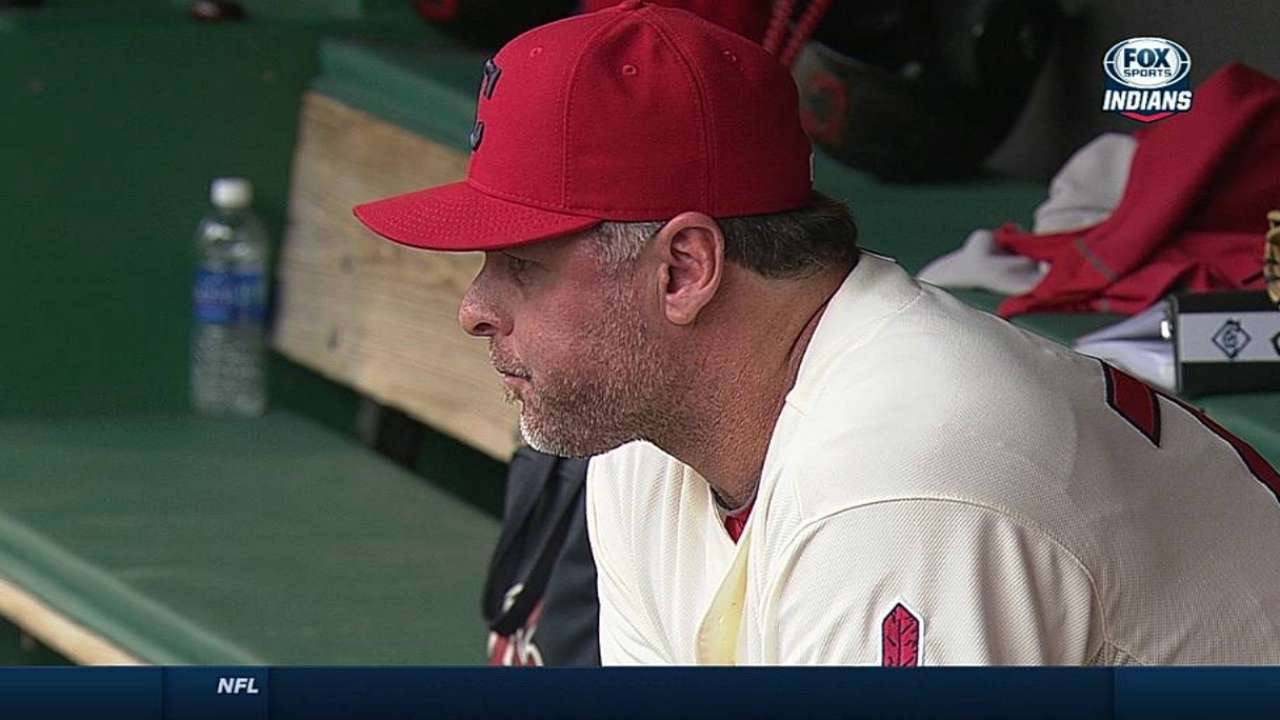 CLEVELAND -- The time will come for veteran Jason Giambi to sit down and ponder his future in the game. Standing at his locker inside the Indians' clubhouse on Sunday morning, Giambi said that time had not yet arrived for him.
Following Sunday's game against the Rays, Giambi will have completed his 20th season in the Major Leagues. The 43-year-old designated hitter has yet to say one way or another if he will try to return as a player next year. For the moment, he said he has only one goal on his mind.
"I'll go home and enjoy my family," Giambi said. "That's the biggest thing I've got on my plate right now -- just go home and enjoy every minute of that. And then I'll worry about what the universe has got in store for me next."
Indians manager Terry Francona helped convince Giambi to sign with Cleveland prior to last season to provide the young team with a veteran leader in the clubhouse and a potent batter off the bench. Providing leadership has been Giambi's primary focus over his two seasons with the Tribe, and he was thrilled to have that chance.
"The biggest thing that I came here to do was help the young kids," Giambi said. "I never lost sight of that."
Francona said he hopes Giambi's influence rubbed off on his teammates and the staff.
"I hope on myself, too," Francona said. "This guy brings so much. He's so special to be around. You savor it and take what you can."
In 26 games this season, Giambi hit just .133 (8-for-60) with two homers and five RBIs between multiple stints on the disabled list. Last year, Giambi hit only .183 in 71 games, but he contributed nine homers, including a blast that will live on in Indians folklore. On Sept. 24 last season, Giambi launched a pinch-hit, walk-off homer against the White Sox to help Cleveland's push to the playoffs.
Over his 20 seasons in the Majors -- spent with the A's, Yankees, Rockies and Indians -- Giambi has posted a .277/.399/.516 slash line with 440 home runs. He is one of only 24 players in baseball history to have at least 400 homers, 400 doubles, 1,300 walks and 1,400 RBIs in a career. He took home the American League Most Valuable Player Award in 2000 with Oakland.
Giambi just is not sure what will come next.
"I've been playing this game since I was five years old," Giambi said. "That's your whole life. If you look at it, it's 40 years of doing the same thing. It's been unbelievable. It's been fun. But, I still haven't made a decision about what I'm going to do yet. Who knows?
"Maybe somebody's looking for a broken-down 44-year-old by then to kind of take a few extra hacks. We'll see. I don't know. I'm not worried about that."
Quote to note
"It's a remarkable feeling. I want to thank the fans for that. That's something that's not thrown around. It was a special moment and I appreciate that."
-- Outfielder Michael Brantley, on fans chanting "M-V-P!" during Saturday's game
Smoke signals
• Corey Kluber is one of four pitchers (six times) in the past 20 seasons (1995-2014) to end a year with at least 18 wins and 260 strikeouts with an ERA of 2.50 or better. Randy Johnson (1995, '97), Roger Clemens ('97) and Pedro Martinez (1999-2000) also accomplished the feat. Of those previous five instances, four resulted in a Cy Young Award for the pitcher.
• For the final lineup of the regular season, Francona starteed six rookies (starter T.J. House, shortstop Jose Ramirez, first baseman Jesus Aguilar, second baseman Zach Walters, catcher Roberto Perez and center fielder Tyler Holt). In all, Cleveland has used 11 rookies this year.
• The Indians will end this season with the most combined relief appearances by an AL team in baseball history. Entering Sunday's season finale, their 571 relief games ranked third all-time in the Majors behind the '12 Rockies (575) and '07 Nationals (588).
Jordan Bastian is a reporter for MLB.com. Read his blog, Major League Bastian, and follow him on Twitter @MLBastian. This story was not subject to the approval of Major League Baseball or its clubs.