Howard hasn't considered future outside of Philly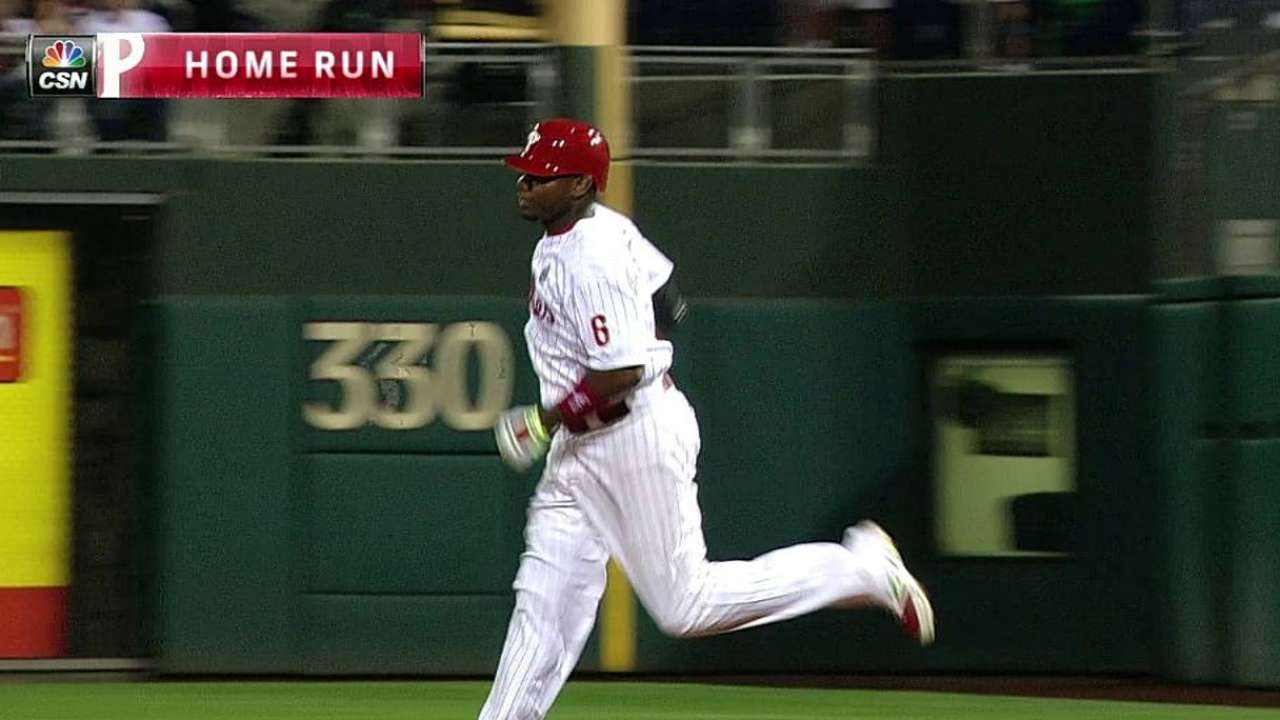 PHILADELPHIA -- Ryan Howard said Sunday morning he has not considered his future in Philadelphia, which means he had not given much thought to the possibility Sunday could be his final game with the Phillies.
It could be.
"Do you think it's my last game as a Phillie?" Howard said.
The Phillies are expected to try to trade him to an American League team, understanding they will have to pay the majority of the remaining $60 million of his contract over the next two seasons. The Phillies would like to get younger and more athletic, and moving Howard would give them flexibility in the infield with a potential mix of Chase Utley, Darin Ruf and Maikel Franco at first base.
Sources said in July the Phillies discussed the possibility of releasing Howard in the offseason, which Phillies general manager Ruben Amaro Jr. denied. But the fact the Phillies broached the subject shows they at least feel a change at first base could help them.
"That's a question for those guys upstairs," Howard said. "I'm not really thinking about that."
But what about a fresh start somewhere?
"It just hasn't been anything that's crossed my mind," he said. "I have no clue. There are always possibilities because it's business or whatever, but it's never crossed my mind."
Howard hit .242 with 14 home runs, 50 RBIs and a .757 OPS in 69 games through June 19. His OPS ranked 81st out of 170 qualified hitters in baseball. But since then he has batted .205 with nine home runs, 45 RBIs and a .630 OPS in 83 games. His OPS ranks 137th out of 154 qualified hitters in that span.
His 95 RBIs are fourth in the National League. His 23 home runs are tied for 13th. But Howard also has 468 runners on base during his plate appearances entering Sunday, which ranks third in baseball. He has knocked in 15.4 percent of those runners, according to Baseball Prospectus. That ranks 53rd out of 137 batters with 500 or more plate appearances.
"It's not necessarily where I wanted it to be, but at the end of the day I'm happy with it," said Howard, who missed much of the previous two seasons with left leg injuries. "The biggest goal was being able to finish the season. This was my first full season in two years. It's kind of getting used to the length, the travel, all that kind of stuff again. Still been able to go out there and put up 20-plus homers and 90-plus RBIs after not playing for a couple years and not finishing a whole season, it's a starting block."
If the Phillies are unsuccessful in their efforts to move Howard, he presumably will return as the everyday first baseman, although manager Ryne Sandberg could get the OK to play Ruf or Franco more frequently in a platoon situation. Sandberg wanted to try that in July, but reversed course after Amaro publicly backed his first baseman, perhaps recognizing bigger regular-season numbers would improve their chances of moving him.
But if Howard is back, will he be in his familiar cleanup spot?
"If I'm back, why would I not be?" he said.
Howard entered Sunday with a .694 OPS in 599 plate appearances in the cleanup spot. His OPS ranked 471st out of 476 hitters with 550 or more plate appearances in the cleanup spot since 1914, accordings to StatsPass.com. His 90 RBIs ranked 351st.
Those numbers are one reason why the Phillies are going to pursue Cuban outfielder Yasmany Tomas, who is a 23-year-old corner outfielder with power. They simply need more power in the lineup.
Howard said he recognizes the team will need to make changes if they have any hopes of returning to the postseason in the future. The Phillies are no longer an elite team. They've had three consecutive seasons without a winning record, and this year will finish in last place in the National League East for the first time since 2000.
"I think there's definitely some changes that are on the horizon," Howard said. "What all those changes are, I don't know. I don't make all those decisions. But I'm sure there will be some."
He could be one of them, which leaves his future uncertain.
"Am I going to be playing baseball?" Howard said. "Yeah, I'll be playing baseball, so my future is certain in that aspect. But you guys are bringing up questions about whether it's going to be here or not, so I don't know. That's questions for the guys upstairs. But I'll be playing baseball."
Todd Zolecki is a reporter for MLB.com.
This story was not subject to the approval of Major League Baseball or its clubs.