Top prospect Rodon could start, relieve next season
Club's No. 1 Draft pick in '14 'important part' of Sox future, says GM Hahn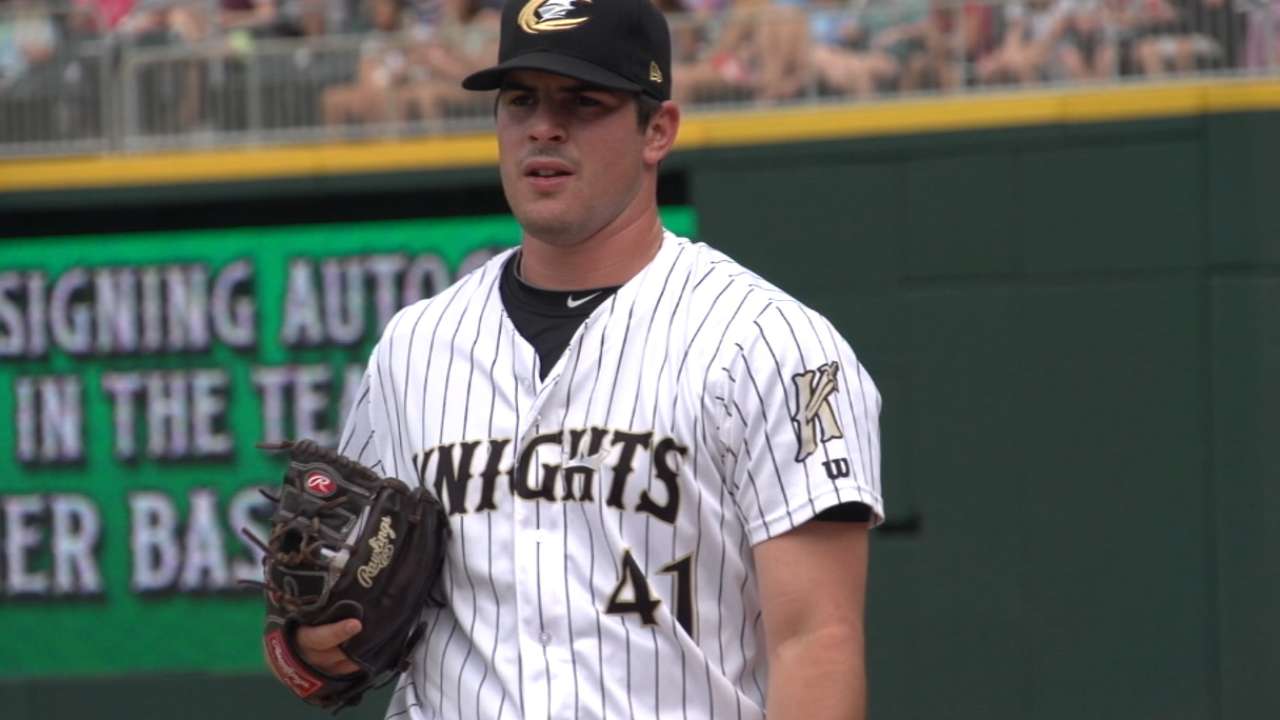 CHICAGO -- The White Sox view Carlos Rodon as competition for the 2015 rotation coming out of Spring Training. There's also a chance Rodon could break camp as part of the bullpen next April.
"It's conceivable he could be a member of the bullpen in 2015 at some point," said White Sox general manager Rick Hahn, who spoke of the team's top pick in the 2014 First-Year Player Draft and third selection overall as part of Sunday's season-ending interview. "I do believe, much like when we had Chris Sale in a similar situation, that his long-term future is at the front end of a rotation, but we are not necessarily committed that it has to be on Day 1 as part of a rotation in order to get to that spot."
After throwing 24 2/3 innings over stops with the Arizona Rookie League White Sox, Class A Winston-Salem and Triple-A Charlotte, Rodon is resting. He soon will connect with White Sox pitching coach Don Cooper and Minor League pitching coordinator Curt Hasler to develop an offseason program.
"He's going to be an important part of what we've got going on here for the next several years," said Hahn of the 21-year-old Rodon, who fanned 38 and walked just 13. "He's going to have the opportunity coming into camp in 2015 to start that process in April of next year. If it's April, though, or it's June, July, August, whenever it does occur, 2016, it doesn't change the fact that we think this kid has a very bright future once it does get started at the big league level."
Ranked as the club's No. 1 prospect by MLB.com, Rodon would present an interesting candidate as a closing option. But as Cooper pointed out, the young southpaw figures to start next year in Charlotte's rotation, the White Sox rotation or in the White Sox bullpen, but not anointed as closer right from the start.
Hahn doesn't seem concerned about the possibility of having four lefties in the rotation, with Rodon potentially joining Sale, Jose Quintana and John Danks. He wants good pitchers, as opposed to a specific lefty-righty break.
As for a clear-cut closer option, at the bare minimum, Hahn wants more choices for manager Robin Ventura.
"Obviously the bullpen is an important area that we need to upgrade this year," Hahn said. "We enter this offseason with a couple of pieces that improved their stock over the course of the season, Jake Petricka and Zach Putnam … even Javy Guerra and Daniel Webb at times showed a level of progress you can be pleased with. Eric Surkamp, as well, over the last five, six weeks.
"There's some elements there that are going to be part, we feel, potential parts of a championship club. At the same time, there's zero doubt in our mind that we need to make some bullpen upgrades. We've talked about this for several years. I've never been of the specific mindset that someone has to be anointed 'the closer,' and only pitch in the ninth inning with leads of three runs or less. I don't think that's necessarily the ideal way to deploy what should be your best reliever. So, it's not imperative in my mind we go out and sign or acquire someone who has 150 lifetime saves and say, 'This is the guy.'
"If that happens, from a market standpoint that that player's available and he's available for a cost we see as reasonable, fantastic," Hahn said. "But the overall goal of the bullpen is going to be to acquire multiple options, potentially from the right and left side … many of which could be end-game options for us."
Scott Merkin is a reporter for MLB.com. Read his blog, Merk's Works, and follow him on Twitter @scottmerkin. This story was not subject to the approval of Major League Baseball or its clubs.