First-year manager Renteria already looking ahead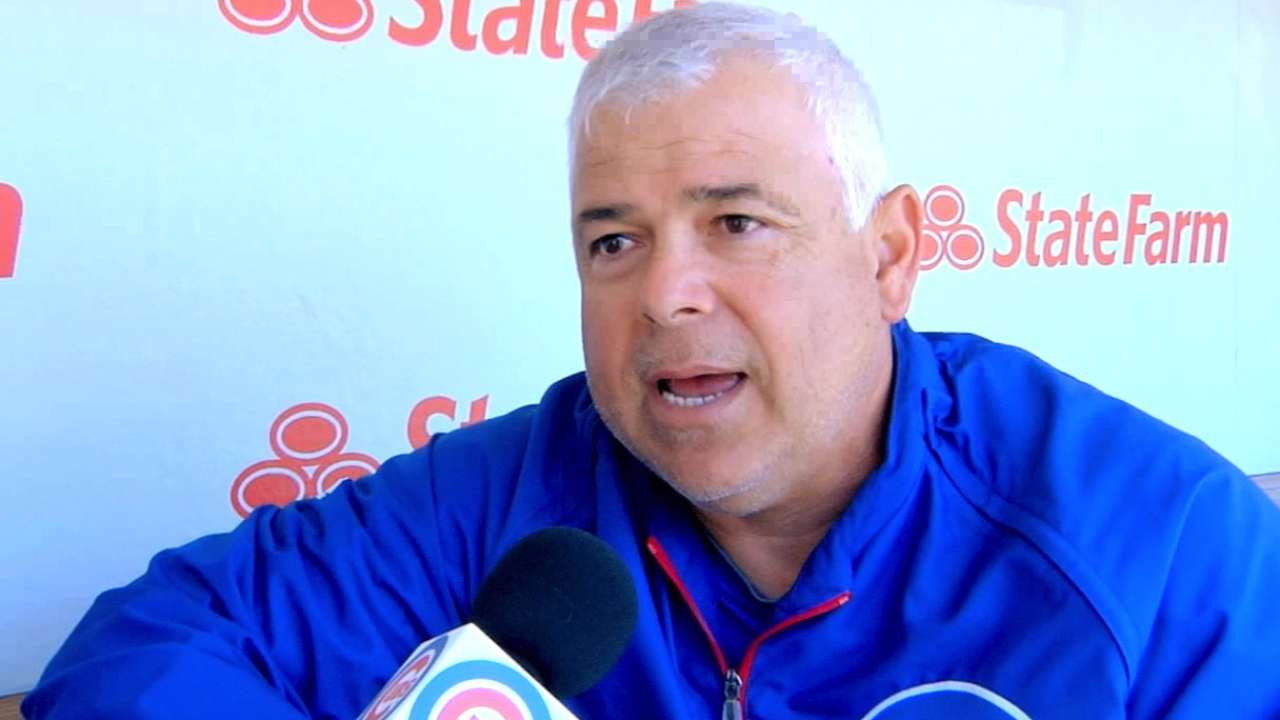 MILWAUKEE -- A year ago, Rick Renteria was a bench coach with the Padres, finishing up his sixth season on their big league coaching staff. All he knew of his plans for the offseason was that he was going to have hip replacement surgery five days after the last game.
But he got a call from Cubs general manager Jed Hoyer while Renteria was still in the hospital recuperating from the procedure, asking if he'd be interested in managing. On Sunday, Renteria ended his first year as Cubs manager, and he was eagerly looking ahead to 2015. By the way, his hip is fine.
"I obviously have a bird's-eye view of these guys in terms of how I feel about them, in terms of what I think they need to improve upon, in terms of how I view us in putting a club together next year in order to understand how we're going to attack the season," Renteria said Sunday before the season finale.
"It was an important year in that regard. I don't have to deal with the surgery, I don't have to deal with the interview process, and preparing to get to know everybody from a distance. This [offseason] will be more geared to just trying to prepare for the coming season."
Renteria, 52, will head home to California on Monday, and although the Cubs finished with their fifth straight season under .500, there were encouraging signs. They went 41-40 at home, posted two winning months (June and August) for the first time in a season since 2009, topped their 2013 win total, and got a good look at some of their top prospects.
Renteria had to overcome losing two of his starting pitchers in early July when Jeff Samardzija and Jason Hammel were dealt, but he said the Cubs "stabilized" over the last few months.
"They should go into the offseason preparing again -- that's the message for them," Renteria said of his players.
He plans on watching video of the games to compile teaching points. Besides all the rain in the Midwest, the only other surprise in his first year on the job was the amount of time Renteria had to budget for media briefings.
Renteria had high expectations this season, and he will have high expectations next year.
"Why wouldn't anybody want or have goals to have success in the coming year? I do," he said. "I'm laying extremely high expectations. I laid them before everybody this year. A lot of people fear laying them out there because if you don't obtain them, there's a consequence of not obtaining them.
"I don't worry about anything other than just doing my job," he said. "Part of it is laying expectations."
Cubs players end the season understanding each other and believing in themselves, Renteria said.
"In the end, it's about performance, and in the end, it's about winning -- that's the bottom line," he said. "That's what the goal is."
Carrie Muskat is a reporter for MLB.com. She writes a blog, Muskat Ramblings, and you can follow her on Twitter @CarrieMuskat. This story was not subject to the approval of Major League Baseball or its clubs.