Colon posts 15th win, reaches 200 innings in Game 162
Alderson indicates that coaching changes are unlikely, right-field wall may be moved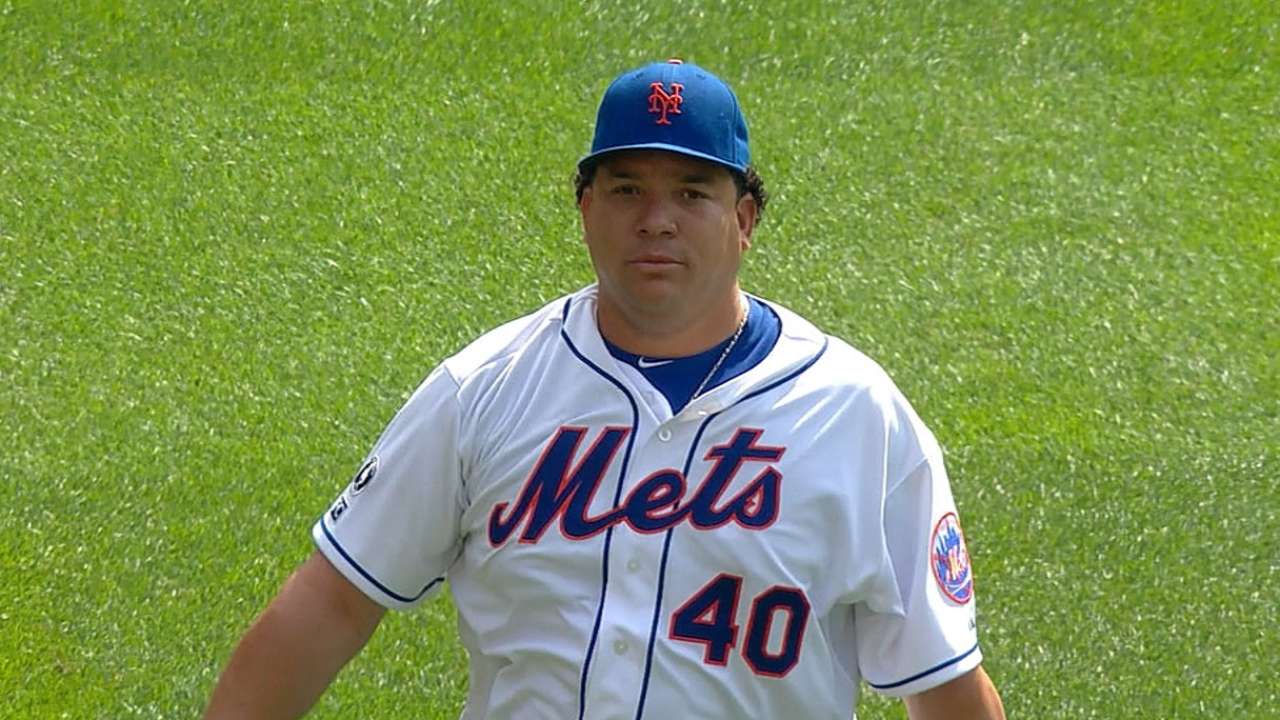 NEW YORK -- In the hours prior to Sunday's season finale at Citi Field, Astros second baseman Jose Altuve delivered a gift to Bartolo Colon: a signed bat, featuring an inscription in Spanish. The token of goodwill perhaps bought Altuve some karma; he finished 2-for-4 against Colon to become Houston's first ever batting champion.
Colon, for his part, completed his eighth season of at least 200 innings and his eighth with at least 15 wins. He did it all at age 41.
"It's one of the most significant things for my personal goals, personal career," Colon said through an interpreter, "because I accomplished something that is hard to accomplish at my age."
Some other picked-up pieces from the Mets' 162nd and final game of the season:
• General manager Sandy Alderson cautioned reporters not to "assume there will be any changes" to manager Terry Collins' coaching staff. The team plans to announce its plans later this week, though significant turnover is unlikely. Pitching coach Dan Warthen and bullpen coach Ricky Bones guided the Mets to the National League's sixth-best ERA and the franchise's fewest runs allowed over a 162-game season since 1990. Bench coach Bob Geren is a longtime Alderson ally, while third-base coach Tim Teufel is a well-regarded organizational staple.
If a change comes, it could occur at hitting coach, where Lamar Johnson took over from Dave Hudgens in May and did not oversee much improvement (a .239/.307/.370 slash line, versus .237.309/.352 under Hudgens). Though Alderson would not say whether Triple-A manager Wally Backman is a candidate for the big league staff, there is no obvious spot for him.
• The Mets are "likely" to move portions of their outfield fence in next year, according to Alderson. The area in question is in right-center field, almost exactly where Lucas Duda hit his career-high 30th homer on Sunday.
• Japanese pitcher Daisuke Matsuzaka's stateside career, which began seven years ago amidst massive hype and an eight-figure contract, may be coming to a quiet end. A pending free agent, Matsuzaka said he has not yet considered whether he would like to pitch in the United States or Japan next season, but that he wants to sign somewhere as a starter. Matsuzaka started only nine of his 34 games in 2014.
• Outfielder Kirk Nieuwenhuis remained hospitalized Sunday with an infection. Nieuwenhuis missed the season's final three games, finishing with a .259 average and .828 OPS. He will be out of Minor League options next year, making him a prime candidate to make the team as a reserve outfielder.
• Jacob deGrom is due to be married on Nov. 8. It should be an eventful few days for deGrom; the Baseball Writers' Association of America will announce its postseason awards, including National League Rookie of the Year, the following week.
Anthony DiComo is a reporter for MLB.com. Follow him on Twitter @AnthonyDicomo. This story was not subject to the approval of Major League Baseball or its clubs.