Harang interested in returning to Braves in '15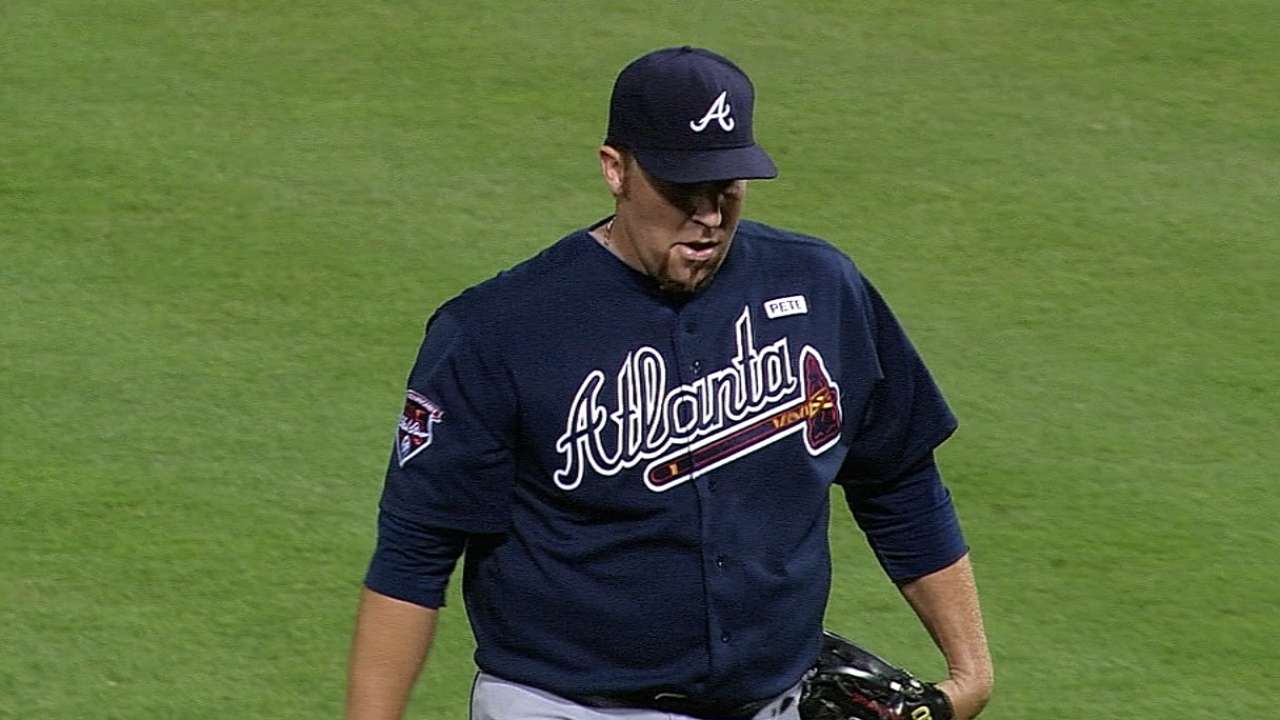 PHILADELPHIA -- As Aaron Harang bid adieu to Braves manager Fredi Gonzalez before Sunday afternoon's regular-season finale against the Phillies, he expressed his gratitude and said that he would be interested in pitching for Atlanta again next year.
This might have seemed improbable when Harang joined the Braves during the final week of Spring Training to seemingly temporarily fill a void in an injury-depleted starting rotation. But during the six months that followed, the veteran right-hander established himself as a valuable asset in this rotation that faces some uncertainty heading into the 2015 season.
As things stand, Julio Teheran, Alex Wood and Mike Minor are the only starting pitchers projected to be part of Atlanta's starting rotation next year. The club will have to decide what to do with Kris Medlen and Brandon Beachy, who will both likely be sidelined through most or all of April while recovering from what was a second Tommy John elbow surgery for both.
Coming off a season when they were reminded of the value of starting pitching depth, the Braves will at least have to discuss the possibility of re-signing Harang, who posted a career-best 3.57 ERA and logged 204 1/3 innings in the 33 starts he made this year. This level of success certainly was not predicted when he was unsigned until the Indians gave him a Minor League deal after Spring Training started.
"It's been a pleasure to watch him pitch every fifth day," Gonzalez said. "He's been a tremendous presence in the clubhouse."
Once he was released by the Indians and signed by the Braves a few hours later, Harang found himself with his sixth organization in one calendar year. But instead of being just a filler, he proved to be one of the bright spots for the Braves during this disappointing season.
Harang ended up allowing two earned runs or fewer in 67 percent (22 of 33) his starts. The only Atlanta starters with a better percentage were Julio Teheran (70 percent, 23 of 33) and Alex Wood (79 percent, 19 of 24). Ervin Santana, who made $14.1 million this year, accomplished it in just 45 percent (14 of 31) of his starts.
"I just had a rough year last year," Harang said. "It was really frustrating at times. To come back this year and make all my starts and give us a chance to win, it's gratifying to think about all the work I put in in the offseason and during the season to make sure I was ready to go."
Mark Bowman is a reporter for MLB.com. This story was not subject to the approval of Major League Baseball or its clubs.