MLB.com Columnist
Bill Ladson
Rizzo Q&A: Nationals GM talks special team
Washington's success due to combination of experience, chemistry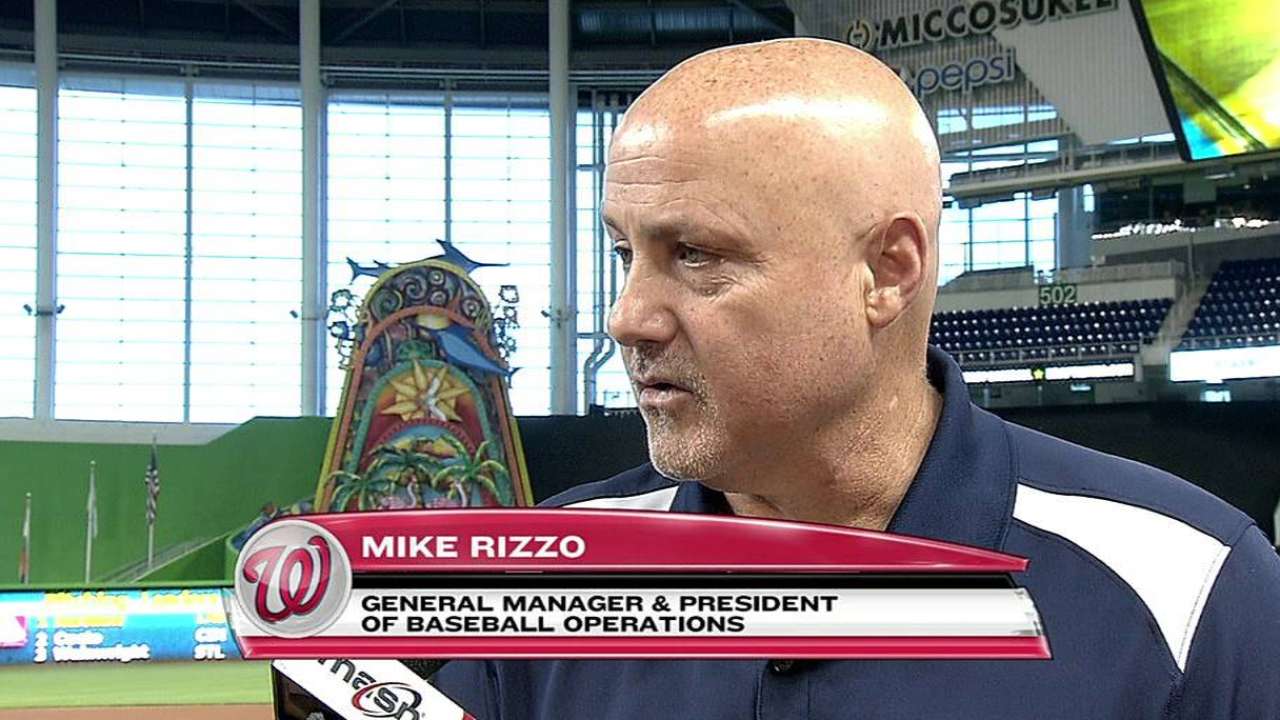 Since Mike Rizzo became the general manager in 2009, the Nationals have won two National League East titles in 2012 and '14. Rizzo, obviously, wants to add a World Series ring to his accomplishments. MLB.com caught up with Rizzo recently to talk about the success of the Nationals.
MLB.com: What makes the 2014 Nationals so special?
Mike Rizzo: It's a great group -- not only talented, but they are really into the team concept. They really care about the whole rather than the individual. I think that separates them from other talented clubs.
MLB.com: After the Nationals won the NL East title a couple of weeks ago, you were emotional. Why?
Rizzo: I always get emotional. We won the National League East Championship. We all worked hard for this. We are in this thing together. We are together for seven months. It's good to see the guys celebrate. You really root for guys when you know the inside story about trials and tribulations about personal stuff, what guys have gone through. It's amazing. We are all family here. When family does well, you get emotional.
MLB.com: After the clincher, the first thing you mentioned was your scouting and player development people. Could you talk about how much they have helped the team?
Rizzo: They don't help. They drive the train. The reason every one of these players is in this clubhouse and winning championships for us is because a scout scouted them and the Minor League development guys developed them. The only reason we don't know about them is because they are never here. We won the championship, I'm drinking champagne, but we have 14 guys grinding it out at a ballpark trying to watch it on their cell phones. They are the ones missing birthdays and their son's first Little League game. It's for us to have the success that we have.
MLB.com: The Nationals endured a lot of injuries this year. Why were you able to overcome them?
Rizzo: We had guys who stepped up at the right time. We had role players that played an integral part of the season. We had a mindset that we have great depth on this club and we can survive this. It's a testament to [manager] Matt Williams, the way he handled the lineups and the roster. He really handled the psyche of the players. Other teams have had injuries, but [haven't been able to get] through them so hot. When you talk about the middle of your lineup being gone for extended period of time -- [Bryce] Harper, [Ryan] Zimmerman, [Wilson] Ramos, and [Adam] LaRoche -- you better have good depth in the organization. You better have good bench players who are now everyday players. They have to step up. Guys like Kevin Frandsen went out to left field for the first time in eight years and played it great.
MLB.com: Despite the injuries, you never panicked. Why?
Rizzo: We know the character on this team. We know the character in this coaching room. I have confidence that we have the personnel to do it. If I felt there was a move to be made, we made it. We knew the timetable of the guys that were coming back. We knew that we had the personnel to play good enough to survive the injuries and they took off.
MLB.com: Is this team better than the 2012 team?
Rizzo: I think it's a different team. We are two years mature, we are two years more experienced. We are two years more battle-tested. We've come through a lot of adversity since 2012. We've thrived on it, and I think we are better for it.
MLB.com: When did you realize that you had a special team?
Rizzo: I realized it in January. I thought this was a great ballclub. We had the right chemistry. We had the right roster construction. We were ready to take off. If guys had the years that they were supposed to have, we were going to have a successful season.
MLB.com: What concerns to do you have about the Nationals going into the postseason?
Rizzo: I'm not worried about anything. Your hopes are guys play up to their capabilities. If guys play up to their capabilities, we'll take our chances against anybody.
MLB.com: What was your most pleasant surprise this year?
Rizzo: I like the way everyone circled the wagons and really came through in some tough times, and the way Matt pulled these guys together through some tough times. In my opinion, he is the National League Manager of the Year. He has managed the team with the best record with a lot of difficulties along the way. He was really the steady hand and the common force that allowed us to go where we are at now.
MLB.com: Why did you think Williams was the right guy to manage the club?
Rizzo: He has a knowledge of the game -- first and foremost. He was a respected player. He played the game the right way. He has the respect of the players as a player walking into this place. But has the respect of the players as a manager. He had some tough decisions along the way. He showed extreme calmness through adversity and really exuded leadership when we needed it the most.
Bill Ladson is a reporter for MLB.com and writes an MLBlog, All Nats All the Time. He also can be found on Twitter @WashingNats. This story was not subject to the approval of Major League Baseball or its clubs.