B.J. Upton's season ends with club strikeout record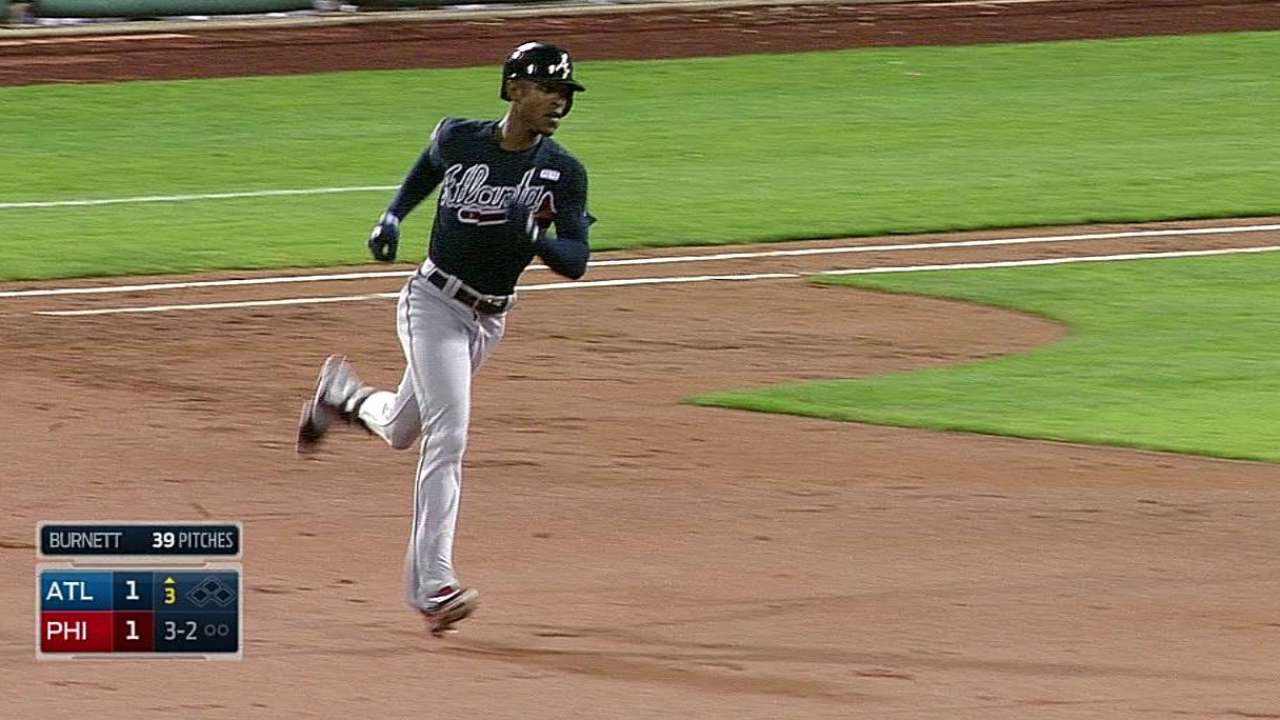 PHILADELPHIA -- When the Braves gave B.J. Upton a franchise-record five-year contract two years ago, they certainly were not anticipating the possibility that he would end his career in Atlanta with a franchise record that no player strives to set.
But if the Braves do indeed part ways with Upton this offseason, the veteran outfielder will exit with the dubious distinction of having struck out more frequently than any other Braves player during a season.
Upton broke Dan Uggla's franchise strikeout record (171) on Friday night and increased it to 173 on Saturday, which is when his younger brother Justin Upton tied Uggla's mark. Neither Upton played in Sunday's season finale.
Braves single-season strikeout leaders
Three of the 10 highest strikeout totals for a Braves hitter in a single season came in 2014.

| Player | Strikeouts | Year |
| --- | --- | --- |
| B.J. Upton | 173 | 2014 |
| Justin Upton | 171 | 2014 |
| Dan Uggla | 171 | 2013 |
| Dan Uggla | 168 | 2012 |
| Justin Upton | 161 | 2013 |
| Chris Johnson | 158 | 2014 |
| Dan Uggla | 156 | 2011 |
| Michael Bourn | 155 | 2012 |
| Jason Heyward | 152 | 2012 |
| B.J. Upton | 151 | 2013 |
This whiff record is simply a product of the tremendous struggles B.J. Upton has experienced while hitting .198 with a .593 OPS in the 267 games he has played since joining Atlanta. These marks easily stand as the worst among any Major League player who has played at least 250 games during this span. Mark Reynolds owns the second-worst batting average (.209) and Alexi Amarista owns the second-worst OPS (.612).
Instead of repeating the mistake that they made when they brought back Uggla this year and then ended up eating his remaining salary (approximately $19 million) midway through this season, the Braves are expected to be much more aggressive in their attempt to move B.J. Upton with a trade that might end up being a swap of bad salaries.
With Uggla having set the franchise record during each of his three full seasons in Atlanta, this marked the fourth straight season the Braves strikeout record has been topped. Before Uggla arrived in 2011, the record was the 147 strikeouts Andruw Jones notched in 2004. Jones' previous record total now ranks as the 11th-highest mark.
Mark Bowman is a reporter for MLB.com. This story was not subject to the approval of Major League Baseball or its clubs.