Youngsters help Tribe cruise in season finale
House pitches five strong innings; Walters drives in two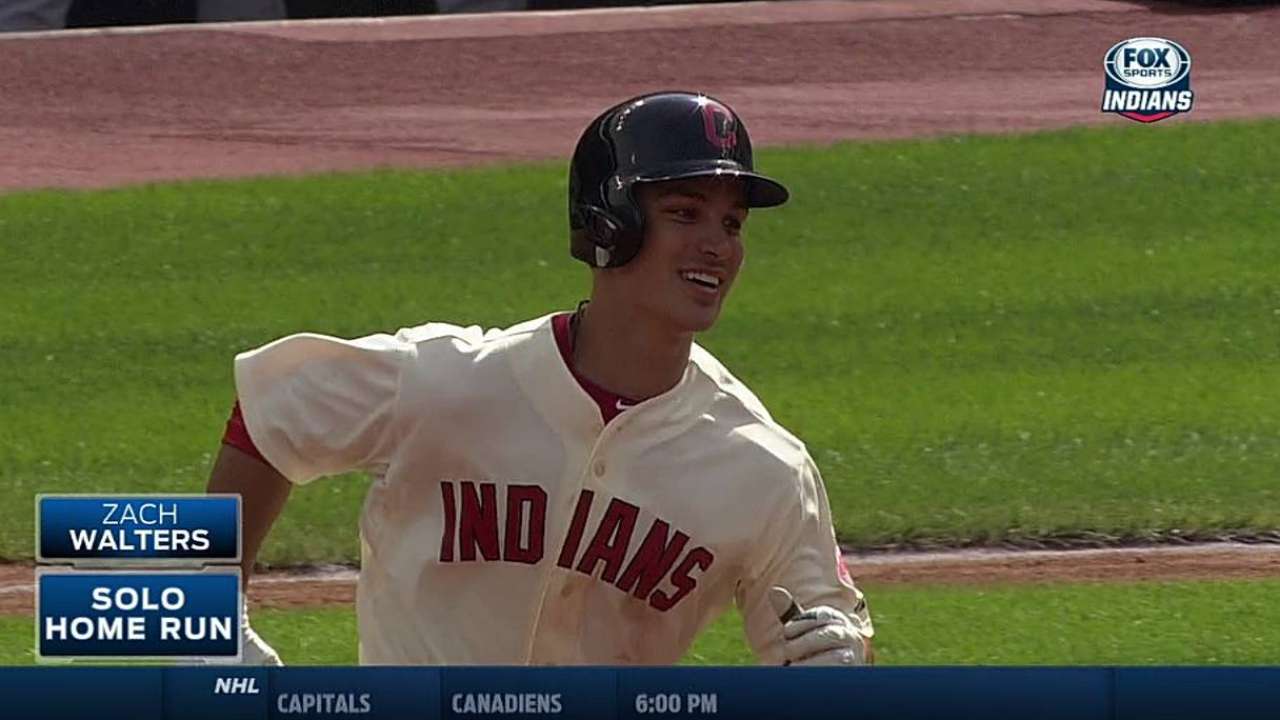 CLEVELAND -- Looking back is not something that Indians manager Terry Francona enjoys doing. Over the final two days of this season, with his team playing for pride rather than a trip to the postseason, Francona still did what he could to sidestep questions about the past six months.
Francona wants to know what the Indians are going to do next and plans on shifting his focus to identifying ways to improve the roster over the winter. For all the positives that existed within the 2014 campaign -- and there were plenty -- Sunday's 7-2 win over the Rays only reinforced the biggest letdown: Cleveland is not returning to the playoffs.
"We're trying not to skip a beat," Francona said. "It's 'OK, how are we going to get better moving forward?' That's where it helps. It takes away some of the disappointment, because you're just right into next.'"
This is not to say there was not disappointment in Cleveland's clubhouse on Sunday.
As center fielder Michael Bourn spoke with reporters, he could not help but notice Detroit's American League Central-clinching celebration being aired on one of the televisions in the room. Bourn and his Cleveland teammates would much rather have the sting of champagne in the eyes than the feeling that comes with being eliminated and getting an early start on the offseason.
"You never want to be going home," Bourn said, "especially when you see something like that going on on TV. They're celebrating another division title. We played with it until the end. We played meaningful games all the way until the last two. We gave it all we had. We fought. We just came up short."
Simply finishing with a winning record was not the goal for the Indians, who captured the AL's top Wild Card spot a year ago. The only similarity between the ending of the past two seasons is the fact that Tampa Bay was in the visitors' dugout for the final game at Progressive Field. At least in '13 it was for a raucous Wild Card Game that energized a city long-starved for a championship.
The Indians wanted desperately to build on that success this year.
"We came in here with high expectations," said outfielder David Murphy, who signed with Cleveland last offseason. "I joined a team that went to the playoffs last year and we had every expectation of doing that again and not even getting to a Wild Card Game, hopefully winning the division. Obviously, things didn't work out that way."
Indians fans will hopefully take some solace in the team's promising core.
During the '14 campaign, right-hander Corey Kluber turned into one of the elite pitchers in the game and is a contender for the AL Cy Young Award. Left fielder Michael Brantley made his first All-Star team and turned in a season worthy of votes for the league's Most Valuable Player Award. Catcher Yan Gomes, starter Carlos Carrasco and closer Cody Allen, among others, had strong years as well.
For the first time since the 2000-01 seasons, Cleveland enjoyed consecutive years with a winning record. The club won 92 games a year ago and ended with 85 this season. It was not enough, but it was impressive given the roster turnover that took place throughout the summer due to trades, injuries and subpar individual showings.
"We did about what we could do, when you look back, all things considered," Francona said. "I think we said since the first day, 'You play the game the way you can, and then you look up at the end and you take where you're at.' That's probaby about where we deserve to be."
While the Indians dealt with those issues, a kind of youth movement transpired on the field. The lack of big league experience infused into the regular lineup did not stop Cleveland from contending through its 160th game of the year. For the final game of the regular season, the Tribe put many of its young players on display.
Lefty T.J. House, who came up from Triple-A and solidified the back of the rotation, turned in five solid innings and limited the Rays to one run. House struck out two and scattered five hits, bowing out after only 49 pitches to let some relievers get some final work. Following House out of the bullpen were rookies C.C. Lee and Kyle Crockett, who grew into more prominent roles during the summer.
Rookie shortstop Jose Ramirez, who took over at the position after veteran Asdrubal Cabrera was dealt to Washington in July, had three hits and one RBI. Second baseman Zach Walters (acquired for Cabrera) belted a home run and added an RBI double. Center fielder Tyler Holt and catcher Roberto Perez -- two more of the 11 rooks used by the Indians this year -- had three hits combined.
Murphy (solo home run off Rays righty Alex Cobb in the second inning) and Carlos Santana (two-run single in a three-run seventh) also did their part in helping Cleveland cruise to an easy win in its season finale.
"You definitely want to make sure you have more games left at the end of the year," House said. "I think we're going to take this and kind of springboard ourselves into next year with a little chip on our shoulder to come out and play a little stronger. Hopefully at this time next year, the last game of the regular season, we'll be talking about the postseason."
As for this year's postseason, Francona is not sure he will watch a full game.
"I always get mixed emotions," Francona said. "I'm sure I'll probably have it on. There's always a certain amount of -- I know it doesn't sound good -- but almost jealousy, because you want to be there so bad."
Jordan Bastian is a reporter for MLB.com. Read his blog, Major League Bastian, and follow him on Twitter @MLBastian. This story was not subject to the approval of Major League Baseball or its clubs.