Red Sox end season with loss to Yanks in Jeter's finale
New York shortstop stops to shake Buchholz's hand while exiting game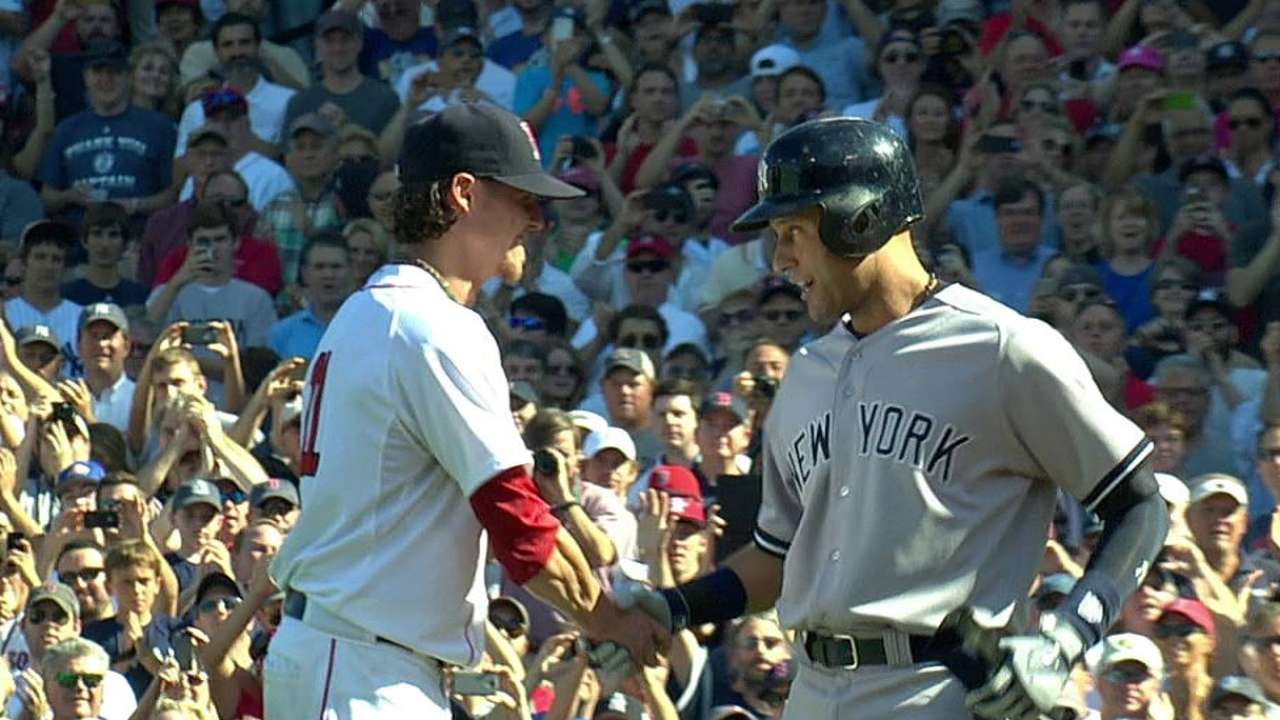 BOSTON -- While Derek Jeter swirled with emotions as his legendary career came to a close at Fenway Park on Sunday, the Red Sox weren't so nostalgic about the 2014 season coming to an end.
Sunday's 9-5 loss to the Yankees completed a 71-91 season for Boston. For the Red Sox, the last-place finish in the American League East came on the heels of a World Series championship season.
"We didn't anticipate the final record, but you play the games to determine that and it is where we are," said manager John Farrell. "We've got a lot of work to do and a lot of that has already begun. When we took the field on Feb. 15, this is not what we envisioned."
Now, general manager Ben Cherington and his staff will go about reshaping the roster, hoping for the same type of turnaround they helped spearhead between the 2012 and '13 seasons.
"We know where our shortcomings have been this year," said Farrell. "We have a clear to-do list. How we get to that point remains to be seen. With all people involved, we're confident we'll achieve that. There's a number of good things in place right now in terms of guys on this roster."
Most of all, Sunday was about Jeter -- as it should have been.
The Red Sox gave the Yankees' captain a warm sendoff with a pregame ceremony that included Boston sports legends Carl Yastrzemski and Bobby Orr.
"I mean, the Red Sox really know how to put together a good ceremony, just like the ring ceremony earlier this season," said Red Sox shortstop Xander Bogaerts. "Special moment, special day. The years pass by so quick. It was really special."
And just like on Saturday, Jeter had two at-bats and capped his day -- and this time his career -- with an infield chopper that third baseman Garin Cecchini couldn't make a play on.
"I saw the ball off the bat," Cecchini said. "I saw it hit -- we're taught that when it hits right down, you're supposed to come charging, so I came charging in. The thing was up in the stratosphere, you know? I tried to make a play, barehand it, and throw him out -- or throw Ichiro [Suzuki] out, whichever one wasn't closest to the base. I'm happy for him. He's had an awesome career. He was my childhood idol growing up. To be on the same field with him, that's an honor."
Jeter came out for pinch-runner Brian McCann amid a thunderous applause. As he jogged back to the Yankees' dugout, Jeter stopped at the mound and shook pitcher Clay Buchholz's hand.
"He didn't have to run over there to me," said Buchholz. "I was going to stand off the back of the mound because I knew it was going to be a little bit. It was surprising at first, but at the same time, that's why he's Derek Jeter."
Players in both dugouts stood and clapped as Jeter came out, as did a packed house of 36,879.
"When I ran past [Buchholz], I said, 'I know this is kind of odd but I just wanted to say I've enjoyed competing against you over the years and good luck,' Jeter said. "I had the opportunity to speak to everyone on the Boston team, but obviously not him because he was warming up. I thought it would be good to talk to him."
After the game, Buchholz referred to Jeter as "definitely the classiest player I've ever met."
In Jeter's first at-bat, he scorched a liner that shortstop Jemile Weeks snared out of the air.
"In the other dugout, they were like, 'Get out of the way, ole it,' or whatever," said Weeks. "So I guess after he got his first hit, he was going to leave the game. I messed that up a little bit but he still did it. The kind of guy he is, he probably wouldn't want it like that."
Jeter was clearly at peace with the way it ended for him.
"I would have loved to hit a home run like everyone else, but getting hits is not easy to do," Jeter said. "My first at-bat, I hit a line drive and unfortunately it was caught. I don't care how far it goes, where it goes. I have no ego when it comes to hits. It's either a hit or an out. I've gotten a lot of hits like that throughout my career, and they all count the same."
Buchholz gave up five hits and four runs over six innings, walking one and striking out four. The righty finished his season 8-11 with a 5.34 ERA.
The good news is that Buchholz pitched fairly well down the stretch and feels healthy going into the offseason.
"I mean, stuff is good," said Buchholz. "I feel really good about the stuff I throw. There were definitely games I felt a lot better about than others, but that's any starting pitcher in this game. I never could get on that roll you need to get on to have a successful season at this level. The best part about it is I'm healthy and I can go into the offseason healthy."
The Red Sox, who didn't have most of their regulars available due to injuries, were shut down by Michael Pineda. The righty fired 6 1/3 dazzling innings, walking none and striking out 10.
"That today was the final game, we knew that for a while," said Farrell. "That's not something that sits well because of what our expectations are every year, so it's disappointing. The game of baseball has been put to bed for the time being. Like I said, it's not what we anticipated."
Ian Browne is a reporter for MLB.com. Read his blog, Brownie Points, and follow him on Twitter @IanMBrowne. This story was not subject to the approval of Major League Baseball or its clubs.